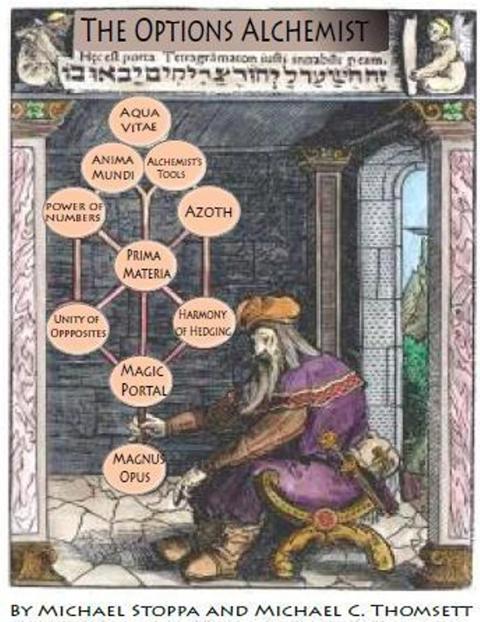 What are the 10 "secrets" of options trading? A new book has just been published that answers this question.
We options traders like to make lists. Sometimes they contain 3 items, at other times more. Imagine equating options secrets to the ancient art of alchemy. In doing this, you come up with 10 specific strategies and "rules" for smart options trading.
This is not a mystical trick of some kind meant to be clever or to convince anyone that there really are secrets to untold riches. It really comes down to common sense and recognition that smart trading demands research, analysis, self-discipline and, most of all, patience. I have been trying to make this point in the virtual portfolio trades offered at ThomsettOptions.com but it is an unending process of education and explanation - hard work but challenging in a very positive way.
So making up a list of 10 smart strategies and policies (or whatever number suits your style) is a good way to set up an options trading program. As an initial suggestion, here is one list of 10 every trader could benefit from:
1. Use the covered call as the first building block of a conservative strategy.
2. Seek ways to expand on the covered call to increase income while keeping risks in check (ratio writes, collars, dividend strategies, for example).
3. Remember the power of combinations; these add complexity and safety to your portfolio. (Synthetic strategies, butterflies, box spreads, for example).
4. Keep an open mind to new thinking about risk. Old ideas might change, upon review, so that long-held beliefs can be modified as you gain experience.
5. Take a second look at options for swing trading. Comparing options to stocks reveals the advantages options provide, potentially for less risk.
6. Use options not for speculation but for portfolio management. Smart, conservative strategies reduce risk while generating income.
7. Don't reject short options out of hand. Used in combination with offsetting long positions, you can set up hedges that do not expose you to high risks.
8. Review the advantage of short options in the last two months, when time decay is accelerated and thus, risks are reduced.
9. Remember, options expand the possibilities for diversification without necessarily increasing market risks.
10. Be patient. Even with experience, patience is a difficult skill to apply in trading options.
This is just my list, but other traders can certainly come up with their own thoughts on this. I like lists because they force me to focus my trading policies and to remember to review and define risks.
Going back to the Alchemy approach, my website partner Michael Stoppa and I have written a book that articulates this idea in the guise of the ancient science of Alchemy, and uses this to identify 10 "secrets" - and to explain them in an entertaining novel as well. This approach might help new traders to appreciate one way to methodically master the art of options trading. The book, which we call The Options Alchemist is different than most options books because it sets up the 10 "secrets" over a fictional set of characters. Anyone functioning in the trading world will appreciate the many characters involved, and those new to the industry and to options will be able to learn something new.