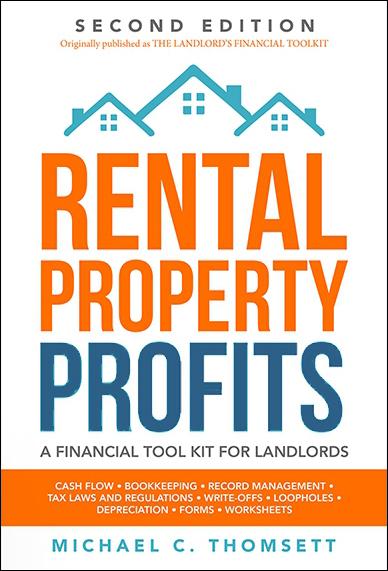 My latest book, "Rental Propert Profits" is being released and can be ordered now. The Amazon.com ordering link is at Rental Property Profits
Below the Table of contents:
Chapter 1 - The Nature of Real Estate Investing
Chapter 2 - Getting Started in Rental Property Investing
Chapter 3 - Cash Flow: The Essence of Rental Real Estate
Chapter 4 - Picking the Best Investment for You
Chapter 5 - Bookkeeping Basics for Rental Property
Chapter 6 - Keeping Track of Real Estate Transactions
Chapter 7 - Creating a Timely and Efficient Accounting System
Chapter 8 - Handling Depreciation for Rental Properties
Chapter 9 - Understanding the Tax Rules for Real Estate
Chapter 10 - Tax Reporting for Annual Income and Expense
Chapter 11 - Including Real Estate in Your Portfolio
Glossary
Index
The book is heavily illustrated, with 39 figures and 47 tables, and a total length of 250 pages. The illustrations include forms for rental application, rental agreement, receipts and payments journals, year-end worksheet, statement of condition, auto log, depreciation, cash flow calculations and much more. Also included are blank U.S. tax forms for all of the forms and schedules real estate investors need.
This is a practical book, based on my many years experience as a landlord and investor in the residential market.
Please take a look at the description on Amazon.com at Rental Property Profits and if you decide to buy, please leave a review. I will appreciate it!