By IBISWorld Risk Analyst Dale Schmidt


Since last summer, the American dollar has fallen in value in relation to the currencies of all of the top nations that
travel
to the United States. The Federal Reserve has allowed the value of the dollar to fall primarily to increase foreign demand for US products. Whether from North America, Asia (Japan, South Korea, China and India) or the European Union, people from other countries will find it cheaper to travel to the United States this summer than last summer.
In particular,
tourism
from Canada, which accounts for about 40.0% of all trips to the United States by foreign citizens, will experience a stronger summer than last year due to its economic recovery (with GDP growth at about 3.0% so far this year compared with a 2.5% decline last year) and the falling value of the US dollar against the Canadian dollar. Similarly, Japan has rebounded since last year—when its economy contracted by more than 5.0%—and the yen has strengthened against the dollar. Each of the world's major industrialized economies has mimicked this trend of strengthening economies and strengthening currencies against the US dollar, which will boost demand for the
US tourism industries
.
Transportation services

Due to the influx of travelers, the transportation industries are poised to jump ahead this summer. The recession caused demand for international and domestic air travel, as well as bus services, to drop off, and recent high gas prices have offered no reprieve for these damaged industries. An anticipated influx of foreign travelers this summer will boost demand once again, though, and help turn these industries around. For example, the International Airlines industry (IBISWorld report 48111a) suffered a revenue drop of 20.5% in 2009 due to weak consumer sentiment, low disposable incomes and high fuel prices. In 2011, IBISWorld expects revenue to grow 5.2%, driven primarily by the influx of dollar-holding tourists. Similar falls were experienced by the Domestic Airlines industry (48111b) and Scheduled and Charter Bus Services industry (48522) in 2009. But they, too, should experience recovery this summer as foreign tourists require their services upon arriving in the United States. Domestic transportation will also benefit more from the weak dollar since all fares must be paid in US dollars, whereas travelers can often pay for international trips in the currency of the nation of departure.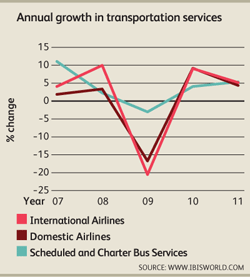 Tourist activities

Tourism-specific industries, such as Tour Operators, Convention and Visitor Bureaus and Sightseeing Transportation, will be an obvious beneficiary of any tourism increases. These industries rely specifically on visitors from other places (whether from within the United States or from outside) for almost all of their demand. Unsurprisingly, the demand for these services dropped precipitously in 2009 due to the recession. Tour Operators (IBISWorld report 56152) and Sightseeing Transportation (48710) experienced revenue drops of more than 10.0% in 2009, with Sightseeing Transportation dropping an additional 11.9% in 2010. Convention and Visitor Bureaus (56159) experienced a smaller decline because of business demand for convention space, which remained more stable during the recession than consumer trips for pleasure. IBISWorld expects strong growth from each of these industries this summer, however. A greater volume of international travelers will benefit the Sightseeing Transportation industry the most, as it bounces back from two straight years of rapid decline.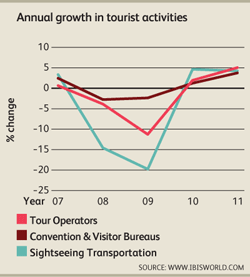 Lodging

Naturally, any tourists that travel to the United States will need a place to stay, so industries that offer lodging or housing are also poised for a summer boost. The three major accommodations industries—Hotels and Motels (IBISWorld report 72111), Casino Hotels (72112), and Bed and Breakfast and Hostel Accommodations (72119)—each suffered during the recession, with revenue dropping significantly in 2009. With worldwide economic growth slow to pick up and the high cost of fuel stymieing travel, 2010 offered little respite and revenue grew only marginally. Fortunately, the still-weak US dollar will attract visitors from economically strong nations around the world, and demand and revenue for the services of these industries are poised to jump this summer. The Bed & Breakfast and Hostel Accommodations industry in particular could grow faster than expected since foreign travelers, especially budget-minded young adults, are more accustom to these kinds of accommodations than the average American.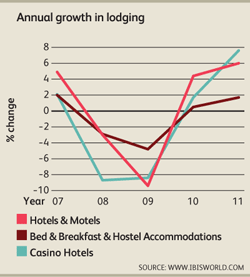 Entertainment

The entertainment services sought by foreign travelers will also win big this summer. While the greater number of travelers will naturally increase demand for entertainment, more travelers are more willing to spend on entertainment this summer compared to last, when the negative economic climate kept them frugal. The improved outlook this summer, combined with the cheap dollar, will encourage travelers to spend a greater amount on entertainment per trip. As a result, IBISWorld expects entertainment industries, especially Non-Hotel Casinos (IBISWorld report 71321), Amusement Parks (71311) and Historic Sites (71212), to grow strongly in the coming months.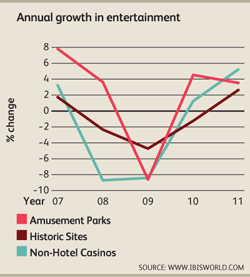 Logistics

Industries not directly involved with providing transportation, lodging and entertainment to foreign travelers will grow strongly during the next five years too. A lot of industries are involved in traveling to a foreign country, and IBISWorld expects the smaller services to boom as well. The Credit Card Processing and Money Transferring industry (IBISWorld report 52232) will grow as a result of spending- and financing-based activity associated with foreign tourists. Financial institutions charge fees to transfer money from other countries, thus, an increase in international travel will increase the amount of these fees collected by the industry. Similarly, the demand for Translation Services (54193) will increase as the number of inbound travelers increases. Finally, IBISWorld expects the weak dollar to increase the attractiveness of the United States as a business destination, leading to expansion of the Trade Show and Event Planning industry (56192).