As I alluded to in my last post, Cannibals, Coups, A Dictator and an Opportunity, the best way to collapse an economy and make housing affordable is a coup!
Since Fiji declared its independence in 1970 there have been four coups - two in 1987, one in 2000 and one in late 2006, the result of which stands until today. The military has been either ruling directly, or heavily influencing Fiji's government since 1987.
Current Prime Minister, Commodore Frank Bainimarama, overthrew the government of Prime Minister Laisenia Qarase in the military coup in December 2006.



The coups were all motivated by racial and ethnic tensions between the native Fijians and the Indo-Fijians (brought by the British in the late 1800's through early 1900's as slave labor).
The primary source of this tension between the two factions has been the voting system. Commodore Bainimarama has blamed Fiji's "communal voting" system for the ethnic tensions and a lack of a strong feeling of shared national identity and citizenship.
His plan is to abolish the communal (electoral) voting system in favor of a "one man, one vote" "common roll" system, with no ethnic distinctions between voters. He has also announced that a new Constitution would be introduced by 2013. It would amend the electoral system, abolishing communal voting, and lead to free democratic elections being reinstated in 2014.
On the surface that sounds like a solid plan, the only problem is that Commodore Bainimarama has promised free elections before, and it didn't happen. However, we have some confidence that he will keep to his word this time.
Even if free elections don't happen in 2014, it won't impact our decision to stay involved in the country as investors. Certainly free elections would send a message to the world that Fiji is once again open for business, but our opinion is that they are open NOW, and in fact this is our advantage. Investors act like pack animals, we'd rather be the lone wolf!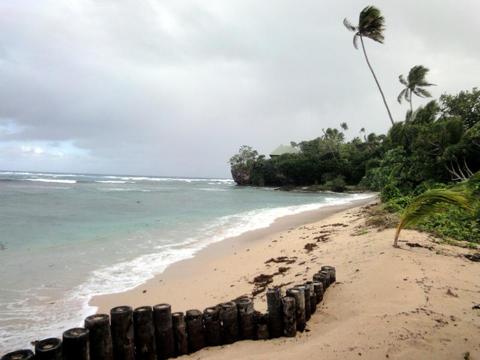 I'm Happy to Hang out Here While the Politics Works Itself Out!
As a result of the reforms, which many welcome, The Commodore is not an unpopular leader. He is by no means a murderous dictator, nor can he even be mentioned in the same sentence with a Chavez, Mugabe or a Jong Il.
One could argue that the system that prevailed before the coup, one that concentrated a lot of power in the hands of the "Chiefs", wasn't great either. Corruption was rampant, and it ran on both sides...the native Fijians and the Indo-Fijians.
The reality is that none of the guys that have tried running the country have any real political or business leadership experience. The Commodore is a military man, he will tell you that freely and openly. He is not a politician, yet he has kept the ship afloat.
Chris and I would argue that you don't need politicians leading countries any more than you want military men doing so, however, given a choice I'd almost rather have the military leader, especially one that isn't leading with outward aggression, bullets or mass executions. Fiji is STILL a peaceful and welcoming country.
What is needed is the rule of law, and free markets. I haven't seen many politicians deliver either, and if we have our way, maybe we can sit down with a few of Fiji's leaders and offer up our services! If anyone's interested let us know.
Despite Commodore Bainimarama's mild form of dictatorial rule, Fiji has been fully-suspended from the Commonwealth. It was also expelled in 1987 after the first two coups, but was readmitted 10-years later when democracy was restored, and re-suspended after the 2000 coup for 18 months.
The only other country to be fully-suspended in the history of the Commonwealth is Nigeria, during the rule of Gen Sani Abacha in 1995.
We think the place is getting a bad rap, and that the Brits, Aussies and Kiwis (along with the American's and others) are complete and utter hypocrites.
It's true that Fiji's military government has pulled a few stunts best reserved for places like Argentina and China. Until last year Fiji was still under Public Emergency Regulations (PERs). PERs were instituted in April 2009 when the former constitution was abrogated.
PERs restricted or regulated public gatherings of more than 3 people, filtered free speech, censored news media, and restricted internal travel, giving local and military security forces added powers.
Not ideal, we agree. However, those have been lifted and we've never felt any tension with people freely expressing their views. You certainly won't "disappear" in Fiji for speaking out.
Even with that, the people I've spoken to said the 2006 coup was mostly peaceful, and hardly noticed outside of Suva. In quite a few cases the locals told me that they supported The Commodore's initiatives, and that they believed he will keep his word and honor free elections. They also commented that if the vote were held now, he'd likely be freely-elected.
What will happen? We have no idea, but we're willing to speculate on the likely outcome.
The absolute best way to assess the situation for yourself is to put boots on the ground. To that end, we've managed our own coup, and pulled together our top-notch, A-list network in Fiji. They are going to spend a week with us, touring the island, talking about residency, real estate, banking, starting a business, retiring in Fiji, healthcare and anything else you can think of.
If you want to get the heck out of Dodge in early November, come join us in Savusavu, Fiji November 8th - 14th at the beautiful Koro Sun Resort on the island of Vanua Levu.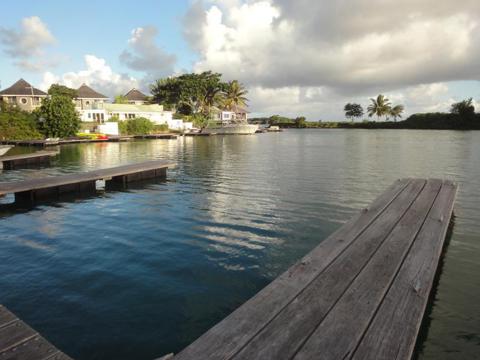 The Marina and Accommodation for our Meet Up!
You can get more details about what we're up to HERE.
- Mark
"The dissenter is every human being at those moments of his life when he resigns momentarily from the herd and thinks for himself." - Archibald MacLeish