The first thing most visitors to Fiji notice is how unbelievably cheap property is.
As I mentioned in the post, Our Favourite Place in This World, military dictatorships and coups in general are not good for business, and certainly not good for property prices. Chris and I however recognize that it's an opportunity.
I remember a story that Doug Casey used to tell. While travelling in a former African country embroiled in a civil war, he came across a castle that was selling for a couple hundred thousand dollars. He passed on it, and only a few years later saw it change hands for millions. Crisis breeds opportunity.
I wanted the inside scoop on Fiji's economic situation, the political risk and the opportunities for foreign direct investment, especially in real estate, so I met with a sharp young attorney while in Suva. He'll be speaking at our upcoming Fiji Meet Up.



He was very positive about his country's future and the promise of the 2014 democratic elections. We both agreed that now is the time to invest in Fiji. Properties across Viti Levu and Vanua Levu, the two main islands, are trading at levels seen over 10-years ago, and many have been on the market for a while.
What's our worst-case scenario? The elections don't happen and the Bainimarama government continues on its path of reforms, many of which are pro-growth, pro-Fiji. Best case, the elections happen and Fiji is once again embraced by its neighbours and the Commonwealth, and once-fearful investors, mostly Aussies and Kiwis, return in droves. Better late than never, lol.
We want to be positioned ahead of that wave.
Governments come and go. Opportunities to capitalize on fear come around less often. Let's look closer at living and doing business in Fiji.
Quick Facts:
Territorial tax regime. Essentially, if you earn your income offshore you get to keep it ALL.
No property taxes! How do you collect taxes from people on 100+ islands, many of whom don't even use paper currency..?
English speaking country.
Cheap as chips high-quality, locally-grown vegetables, fruits, fish and meats.
An abundance of cheap labor.
Depressed real estate prices. $10,000 per ocean-view acre on the outer islands is typical.
The friendliest people on earth.
Family and tradition are very strong in Fiji.
Nobody owns a gun, but there are LOTS of machetes!
At present, the indigenous Fijians own 87% of the land in the country, although it can be leased for a period of up to 99 years. All native land leases are managed by the Native Land Trust Board (NLTB) on behalf of the Fijian landowners. All the members of the NLTB are indigenous Fijians.
Freehold land can be purchased outright by anyone, including foreigners. Only 7% of Fiji land is freehold, so it sells for a premium, but when compared to other Pacific islands, where you CANNOT own the land, it's cheap.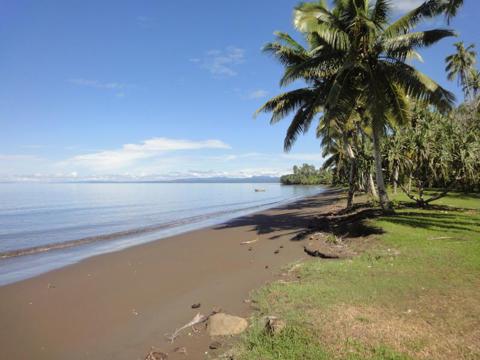 Beachfront for a Song!
Fiji uses the Torrens system of land registration which is incidentally one of the most robust legal land title system in the world. It's used in England, Australia and in New Zealand. All real estate property is registered in the local district and searchable. The Torrens certificate contains information regarding the land, improvements, ownership and encumbrances. The register is available to the public at the Registrar of Titles in Suva.
Like most of the developing world there is no MLS system, so you'll need to find a reputable realtor, someone you trust. A lot of the unimproved property you'll see listed has been on the market for literally years. Fortunately we have one of THE BEST realtors in Fiji, and he's going to spend a few days with us touring and discussing properties at the Meet Up.
Fiji lacks decent housing. Simply buying unimproved land, having a house built and selling it should net 30% + returns after costs. Not bad when you consider the precarious state of the US and European real estate markets.
Real Estate commissions are usually paid by the seller and range from 4-5% except on lower priced transactions in which the rate of commission may be higher. A Value Added Tax (VAT) also applies for non-residential properties at a current rate of 12.5%.
Real Property may be mortgaged as security for debt. Mortgages in excess of 60% loan-to-value with a ten-year term are common and acceptable. Local banks will lend to foreigners. Closing is fast, usually about 60 days.
Business Friendly Fiji
Worthy of note, in contrast to the depressed property market, despite the coups, the military government and the travel warnings, tourism has not been affected. Cruise ships are still coming, and Nadi's cosmopolitan Denarau Island resorts are full of Aussie and Kiwi families on holiday with their kids. Chris who has been involved in the country for over 6 years tells me that increasing amounts of Chinese and Koreans are holidaying as well.
The government has slashed taxes across the board to spur investment and development in the country. The corporate tax rate for resident companies has decreased from 35% in 2001, to 20% in 2012. For non-resident companies the rate has decreased from 45% to 20%. This is a free-markets, pro-growth move that one usually doesn't associate with a military government.
Furthermore, for those starting a new business in the tax-free regions, specifically the Northern islands of Vanua Levu and Taveuni, there are a range of incentives, including tax holidays from 5 to 13 years, dependent on the initial capital investment, and the specific industry.
Things like bio-fuels, organic agriculture, aquaculture, film and television, IT... All offer incentives and tax holidays, including import tax elimination and VAT discounts or credits. We'll get the scoop on all this at the Meet Up.
Also worth noting...Vodafone has invested a fortune in new cell towers throughout Fiji, so the 3G reception is excellent, including Internet. I'm told 4G is in the works. I was there for 6-weeks and my Internet was better than either Uruguay or Thailand. Chris finds it a vast improvement over New Zealand and much of Australia where he spends time. Plus, you won't find any Internet "police" here, monitoring your every move and reading your emails.
Residency and Nationalization
Fiji offers a few ways you can visit or stay permanently in the country. Visitor visas, Work/Study visas, Investor visas and a 3-year renewable Residence Permit on assured income (FJD$150,000 deposit and proof of income).
If you're just coming for a visit, nationals of visa exempt countries are granted a visitor permit valid for four (4) months on arrival. Extensions may be granted on application with a fee for a maximum of two (2) more months during the initial 4-month period, not after. It is possible to obtain a 4 month visitors permit, extend it for 2 months, leave the country and re-enter a couple days later and do it all over again. We know of people who live there like this.
Fiji also offers several schemes for investors, including a 7-year Investor Visa, whose main requirement is an investment of FJD$250,000 (about US$135,00).
If you own property you can obtain a renewable 3-year residency visa, which many do.
A foreign national can apply for Fiji citizenship if he or she has been lawfully present in Fiji for a total of five (5) of the ten (10) years immediately before the application is made. With the introduction of the multiple citizenship policy applicants do NOT need to renounce their other citizenship. There is a one-time FJD$5,692 Application fee, and no bond is required.
While on Vanua Levu I stayed at a nice private cottage owned by an American couple that have lived in Fiji for 11 years. They came from Hawaii in 2000, right after a coup. Originally they setup their bed and breakfast business via approval from the Fiji Investment Board, received work permits and ran it as the proprietor/employees.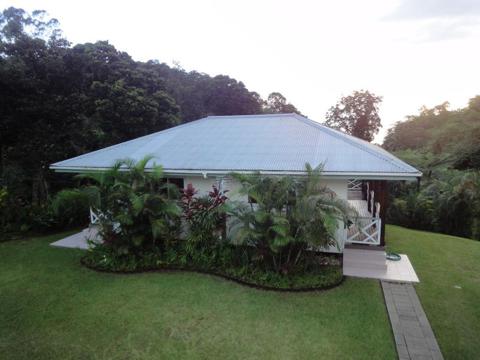 My "Office" for 6 Weeks... Not too Shabby!
11 years later the husband paid the application fee, applied for and received his Fijian passport with no problems. He is now "nationalizing" his wife using a spousal program that only costs about FJD$400, saving him a nice chunk of change.
Worth noting, the Bank of the South Pacific offers private health and life insurance in Fiji. The plan covers care in Suva Private Hospital, which is the best hospital in Fiji. It also covers overseas medical evacuation to Australia, New Zealand or India to receive care, even if care is available locally. Outpatient care, optical and dental are also available. Premiums for a 50-year old enrollee start at about US$600 per year.
Our Conclusion
Fiji is rich with opportunity, right here, right now. Real estate is cheap and supply is insufficient, business incentives are attractive and the tourist trade continues unabated.
If you're looking for something as an insurance policy or a place to hangout there is a growing trend towards self-sustaining homes on many of the outer islands such as Koro, Taveuni and even on the two main islands of Viti Levu and Vanua levu. We'll see some of these at the Meet Up, and will hear from experts on how you can set yourself up in the same manner.
Sunshine is all year round, which means solar works. Rainfall is not a problem living in the tropics, and many use collection tanks or source water from natural springs. Fiji has PLENTY of water, and it's free! Food security comes from your own garden, fishing on the beach and raising your own animals. What more do you need?
I should also mention that you don't have to rough it if you don't want to. I was in a little store owned by a Chinese shopkeeper in Savusavu, a tiny little yachtie port town. I bought a bottle of Trapiche Sauvignon Blanc for US$10 and a bar of Ghana dark chocolate for US$5. That same bottle is actually more expensive in Chile, which is hard to believe. For dinner we picked up a slipper lobster at the market for about US$7!
Life in Fiji can be good...very, very good!
- Mark
"You just never give up, no matter how hard the challenges are, and observe this world with a healthy dose of criticism and don't just follow the herd like somebody else might do." - Renny Harlin