Value always exists, somewhere...you just have to be determined to find it, and patient enough to wait when it isn't immediately available.
The West finds itself in a tough place right now. Deficits have swollen, tax receipts have plunged, derivative books are imploding...things are crazy globally.
As a result of all this insanity we are seeing some ridiculously cheap asset pricing. It's getting very easy to find bargains if you know where to look.
Right now my penchant for bargain hunting has led me back to the junior mining sector, where things have been on sale for quite a while. That sale is now looking more like a giveaway!
Gold stocks - are you kidding me? I have written about this sector a couple of times. It's true what the "smart" mining guys say - that most junior mining and exploration companies are worthless. However, many of the ones I've been watching for years, those with real assets, operating mines and cash in the bank are so cheap that I can't believe it!
Take Canaco, a Canadian-listed junior explorer focusing on a Tanzanian gold project. The company was the darling of the TSX-V until their initial resource estimate disappointed investors. The market decimated the company's shares, crushing them from over $6.50 to below .35!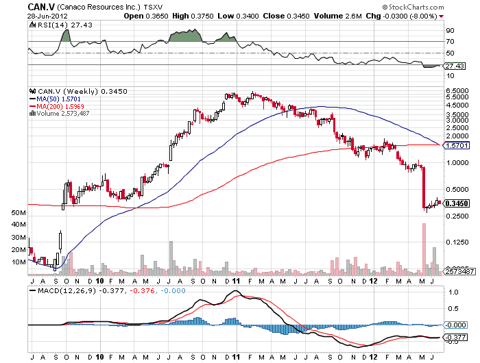 The result is that I can buy Canaco for less than it's cash in the bank, which is a respectable $95 million. The company trades at about .35 cents, yet it has .48 cents per share in cash.
This is an anomaly that won't last. Don't forget that they still have a decent gold property with around 1 million ounces of indicated and inferred gold ounces. I'm getting that gold for free.
The company's CEO, Andrew Lee Smith, said that he believes "Canaco's solid cash balance gives the Company a strategic advantage in this market." I think he's probably right. That cash hoard will get put to use. Maybe they'll use it to acquire another beaten-down peer, or drill more of their property and prove up more resources?
They pissed off a lot of investors when they disappointed, so it's likely to suck wind for a while. I'm happy to sop up the leftovers. I bought some last week, and I'll buy more as long as it stays this cheap.
You can find this story repeated across a swathe of junior resource companies, including: Canadian Phoenix (CXP.V), Phoscan (FOS.TO), GobiMin (GMN.TO), and Kobex Minerals (KXM.V) to name a few...
Keegan Resources is another that comes to mind. You aren't getting the cash at a discount, yet, but it's very close. The stock has been severely beaten down, but the company has over 5 million ounces of gold in all categories, valued at only $8/ounce in ground! They have almost $200 million in cash, or over $2.50/share. The stock is hovering around $3 as I write this.
There are no guarantees that these companies won't blow their cash hoards, burn through them or otherwise make bad decisions that erase that cash-to-market-cap discount. However, I'm a bit more comfortable putting my capital to work when I can get in on fire-sale situations like this.
This is also what we try to do when we get involved in private placements or private equity deals. We want to buy in on the cheap, and right now we're seeing those kinds of opportunities, because frankly, money is tight!
- Mark
"I was seldom able to see an opportunity until it had ceased to be one." - Mark Twain
Disclosure: I am long OTCPK:CANWF.