The Drumlummon Mine, near Marysville, Montana, USA, has the cachet and pedigree of a prospector's wildest fantasies.

Irishman Tommy Cruse first found placer gold in the area in 1876, insisting that a "motherlode" was the explanation for the stream deposits. Cruse eventually discovered at least part of the source, naming the mine "Drumlummon" for his Irish hometown.

Later finaced by the Rothschild family -- yes, that Rothschild family -- the mine was closed and allowed to flood in 1901. According to some, the Rothschilds let it flood after a boundary dispute because they wanted to keep it from others. Later, the Drumlummon was mined in the 1920s and 1940s above the flooded lower levels. All told, it yielded an estimated $29 million during the Rothschild ownership and several more million into the 20th century at a time when gold was worth $35/oz or less.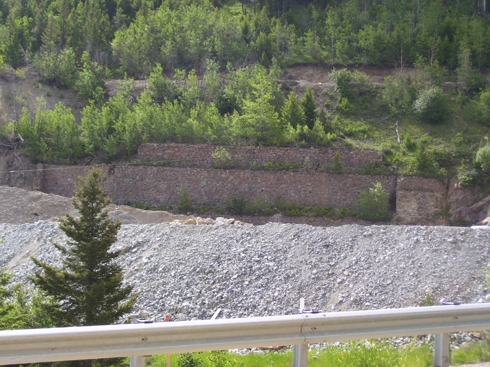 There's a saying in mining that "if you want to hunt an elephant, hunt in elephant country." Veterans in the Marysville communty talk about a motherlode never found, about tunneling under the mountain so vast that it would cave in if not filled with water. But this is all talk, and meanwhile, the Drumlummon has never been the beneficiary of modern mining methods.

All that changed in 2006, when RX Exploration (TSXV: RXE.V; pink: REXXF) started working the historic Drumlummon. Today, RXE owns the patented claims making up the Drumlummon, has staked claims adjacent to the mine, and owns 50 percent of the tailings from the historic workings. In 2008 they completed an NI 43-101 report with inferred resources of 155,518 tons containing 70,707 oz. of gold and 1,915,560 oz. of silver. As the price of gold broke $1200 in 2010, RXE started producing gold and silver from headings on their main vein and from backfill mucked from old stopes. In June 2010, they had successful test mill runs with high recoveries of gold and silver. In Summer 2010, they announced their first production, with over 4,000 ozt of gold and over 70,000 ozt of silver by year's end. In Spring-Summer 2010 RXE and the Drumlummon were featured in the New York Times and on the Today Show.

But strangely, at a time when gold is in the mainstream press and the Drumlummon itself has acheived national attention, RXE stock has been mostly unmoved by the promising news. It stayed below 60 cents CDN during summer 2010, rising to almost 80 cents CDN during the Fall precious metals rally, but never really breaking out. While true that miners generally have yet to catch fire like the precious metals themselves, juniors like First Majestic (AG), Great Panther (GPL) and Aurcana (AUN.V) nonetheless moved into dollars-per-share territory while RXE stagnated. RXE behaved more like an exploration penny than a producer sitting on "bonanza" style deposits -- one where old-timers talked of pillars laced with hundreds of thousands of dollars of gold and silver that could not be removed without collapsing the ceilings.

A possible partial explanation emerged this past May 2011. Several days after a standard company proxy mailing about an upcoming shareholder meeting and vote, a group identifying themselves as the "Concerned Shareholders" sent a May 17 alternative "gold" proxy identifying what they considered serious problems with the current board. Shareholder Bob Bannerman, vice president Mike Gunsinger, president and CEO Murray Nye, and director Max Polinsky stated that "after many attempts to resolve the issues civilly and internally," they "have lost confidence in the board." Although a general concern about emphasis on production going forward was mentioned, the problems identified seemed particular to the current board members and personal, and included:
invoices of > $700,000 (over 4 years) from John O'Donnell, chairman;
conflict of interest regarding CFO John A. Ryan, who is also president of JV partner Spruce Ridge Resources

Ltd. (TSXV: SHL.V)

;
an inappropriate focus on exploration instead of production by board nominee Wes Roberts.
Clearly blindsided by the alternative proxy,
RXE responded immediately
, stating: "your board is dismayed by the self-serving nature of the dissidents' action to take control of your company... your board intends to take all reasonable actions to ensure the interests of all shareholders are considered and protected." The release further urged no action with respect to the Concerned Shareholder's gold proxy. In the first week of June 2011, RXE announced a court-ordered postponement of the meeting to July 26, 2011, giving shareholders more time to become informed, as on June 7 RXE stock pumped 8 percent and set a yearly volume record on the news of the postponement and news from RXE about a proposed new board.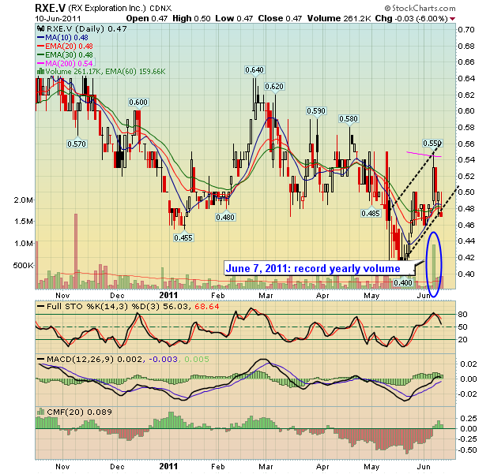 Even so, the charges and counter-charges are bewildering for the average shareholder, who is likely scratching his or her head about who and what to believe, and whom to vote for.
CFO John A. Ryan -- not to be confused with John P. Ryan, a former CEO at U.S. Silver -- said that it is not true that RXE favors exploration at the expense of production. "We need to be in both exploration and production," he said during a recent phone conversation; "for one thing, we need production to pay for the exploration." Regarding the alleged conflict of interest with his other company, Spruce Ridge Resources, Ryan says that Spruce Ridge's holdings only concern the old Drumlummon tailings, not future production -- "RXE owns 50 percent of the tailings too." About O'Donnell, Ryan says that the fees total over 4-5 years' of work (a claim also acknowledged by the dissident group) and include all the filings, placements, and reports; he says that the dissidents would have incurred the same costs had they done the work themselves.
The latter point is moot for the future of RXE, however, as O'Donnell has already stepped down
"in the best interests of the Company"
and is no longer running for the board. As further indication that the dissident move captured RXE's attention, the new slate of board nominees includes men with extensive mining, geological, and financial expertise, with experience at Barrick (ABX) and Kinross (
KGC
) among their credentials: Darren Blasutti, Lorie Waisberg, Hugh Argo, Alex Davidson, Louis Dionne, and Paul Parisotto.
Who to vote for? RXE will be sending out a "blue" proxy this week, which will act as both a current proxy and replace any previous shareholder vote, including the Concerned Shareholder group's "gold" proxy of May 2011. It is certainly possible that the Concerned Shareholder group may send out an additional proxy as well; when and if that happens, I will post an update.
In the meantime, one hopes that the additional mailings and press releases will help clear things up. If we're still scratching our heads over the details and infighting, at least maybe we will be able to make a slightly more informed vote before July 26 than we would have otherwise.