Canadian Split Share Corporations split the risks and rewards of dividend paying stocks into two components: dividends and capital gains.  This is typically achieved with a 40-60 split; for every two shares of Preferred there are 3 shares of Capital (Class A) shares, so a $25 unit would consist of a $10 Preferred share and a $15 Capital share.  As a result of the leverage created by doing so, the Preferred shares offer higher dividends than the underlying stocks and the Capital shares offer leverage on the capital gains or losses.  
It then follows that of the two types of shares offered by Canadian split share corporations, the Capital shares carry more risk. While the preferred shares reliably distribute dividends, holders of the Capital shares may or may not receive distributions, as they are dependent on the NAV (Net Asset Value) for determining whether or not distributions will be made. Due to the leverage inherent in the structure, the NAV and price can fluctuate rapidly in choppy markets.
December was another turbulent month for most stocks and some split shares have dropped to record lows. This is a good time to buy for those who have confidence the market is simply in a correction rather than moving steadily towards a bear market. With prices down, yields are up, but buyers of split shares who want steady income must be careful to check on the NAV, as some have dropped below the threshold for distributions, others are very close to the line.
The following tables list the Capital shares of Canadian Split Share corporations (NAV and prices as of December 31 for Quadravest products, January 3 & 4 for others), broken down into four sections:
Trading at a discount to NAV (Net Asset Value)
Trading at a premium to NAV
Under the NAV threshold for paying a distribution
Underwater - these shares have no intrinsic value
Capital shares trading at a discount to NAV

In November there were five trading at a discount, this month we are back to two, as it was in October. Both are relatively new, ENS is less than a year old, PRM slightly more than a year.
PRM regains its position at the top with a slightly lower discount than last month
ENS makes its second appearance in the discount section, although it is slightly lower this month
Capital shares trading at a premium to NAV
Despite the drop in prices in the last few months, many split shares are still trading at premiums, even though the prices are below average for 2018. The main factor is the drop in NAV due to drops in the underlying securities and the lag in investor reaction. The trend this month is increased premiums.

Premium increases since last report: OTC:CNDCF (TSX:BK), OTC:DVSPF (DFN), GDV, OTC:LFBCF (LBS), SBC, OTCPK:PRRMF (PIC.A), TXT.UN
Premium decreases: PDV, OTC:TDBSF.
OTC:CNDCF (BK) is back in the premium section, it tends to trade at a fairly shallow premium or discount.
GDV continues to trade at a very shallow premium although about 2% higher than last report
SBC almost always trades at a premium. At 8.79%, this is the highest the premium has been in a year. The average over the last year is 2.79%
TXT.UN, despite the NAV of $2.98 is not near the threshold as its minimum for the preferreds is $12.50 and the unit NAV is $15.61 and it pays a 7.5% of NAV rather than a fixed amount
LBS completed a Treasury Offering on November 19 with expected proceeds of $58.4 million. The share price dropped and has not yet recovered, although the premium has increased from 4.91% last month to the current 14.38%.
PDV - a very thinly traded stock, the premium can vary wildly depending on sales at the bid or the ask, it is about the same this month as last. It went through a consolidation or reverse stock split in December in which shareholders received about 0.8 units for every unit held.
OTC:TDBSF (XTD), despite the NAV of $5.93 is not near the threshold as its minimum for a distribution is $12.50 and the unit NAV is $15.93
DFN has increased about 10% over last report
PIC.A, despite the NAV of $4.72 is not near the threshold as its minimum for the preferreds is $15 and the unit NAV is $19.72. The premium this month is the highest recorded in a year. It has been higher than usual through December. Although it has been a few months since an Offering, due to the recent selloff it has not been above $7 since late October.
In the Doghouse (NAV below the threshold)

WFS (Strathbridge) has been trading at a large discount and will likely continue to do so, as it has not made a distribution since 2008.
SBN has returned to its position in the doghouse. As with FTN and FFN, distributions this month are on a day to day basis.
DF and LFE (Quadravest) are currently under the threshold for distributions. DF did pay in August and September, but not since. The last distribution from LFE was in February of 2018. LFE rebalanced in December in which unitholders received 1.049 Class A shares for each Class A share held.
LCS and OTCPK:DDWWF (DGS)are recent additions and have yet to climb back above their threshold
OTC:FNCSF (FFN) and OTC:FNNCF (FTN) are new residents in the doghouse. They have made some gains, but will need a good rally to resume distributions.
FCS.UN drops into Doghouse territory for the first time since tracking on this blog. It delisted from the TSX and listed on the NEO Exchange. It continues to be very thinly traded.
YCM (Quadravest) Has yet to make a distribution on the Class A shares since inception in 2007
OSP dropped to a zero NAV and has since slightly recovered. Buyers at $1.40 would enjoy an 85% yield should it resume distributions and make twelve consecutive payments
Underwater (not making distributions and no intrinsic value)
BSD.UN - distribution suspended since August of 2011 and a current NAV of zero.
FTU and XMF (Quadravest) remain underwater - The NAV does not even cover the redemption value of the Preferred shares, so the Class A shares have no underlying value.
In the case of FTU, the unit NAV is $7.72 which does not cover the $10 preferred share which means FTU is only worth buying if you project the NAV to surpass $10. It has not been above $9.80 since at least October of 2017, so that is a longshot. FTU shares were consolidated in December in which unit holders received 0.67 Class A shares for each Class A share held. In December the Preferred shares began receiving increased dividends of 10% of NAV. This fund was just extended until 2024.
In the case of XMF, the unit NAV is $6.19 which is even further underwater than FTU. The NAV of $6.19 does cover the Class I Preferred share (XMF.PR.B) at $5 but not XMF.PR.C Preferred which is also underwater by $3.81. Should that ever be made up, then XMF would begin to have value. This fund is scheduled to terminate on December 1, 2019.
Market yield is the distribution for one year divided by the price. As can be seen from this table and the one following this one, NAV Yield, when shares are bought at a premium, the market yield is less than the NAV yield. In other words, the investor pays more than the assets are worth, and receives less in terms of yield than the funds are actually paying.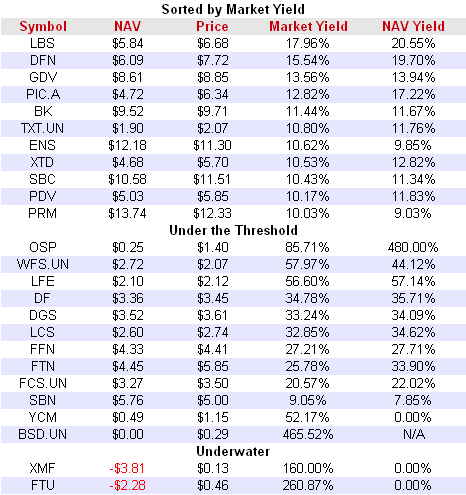 NAV yield is the yield the fund is paying based on NAV rather than share price. Higher NAV yields will draw down the NAV more quickly which means the underlying securities must have stronger performance to maintain the NAV.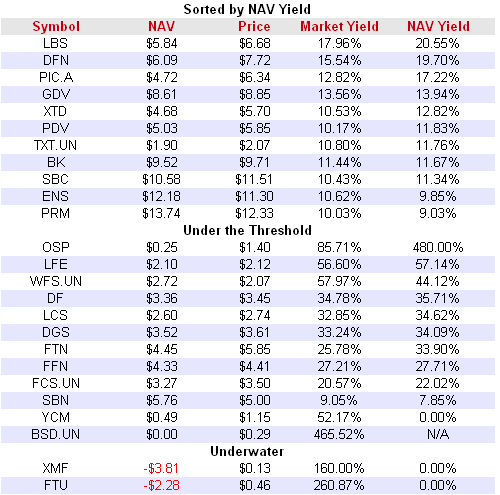 NAV Coverage is a measure of how far above the minimum threshold for making distributions a fund is. The funds in the best position for long term ability to make distributions are those with a high NAV coverage and low NAV yield. As can be seen below, a higher dollar value does not necessarily equate to higher coverage.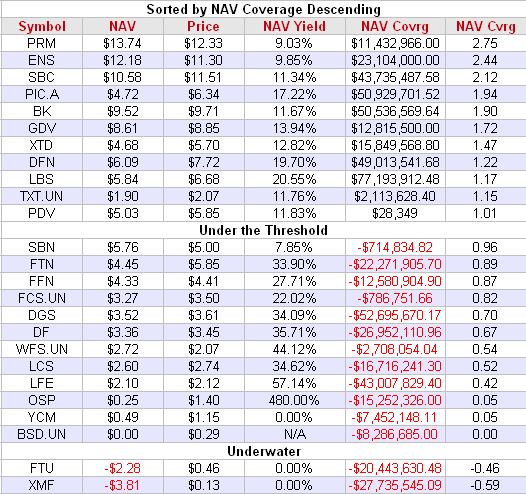 Average Prices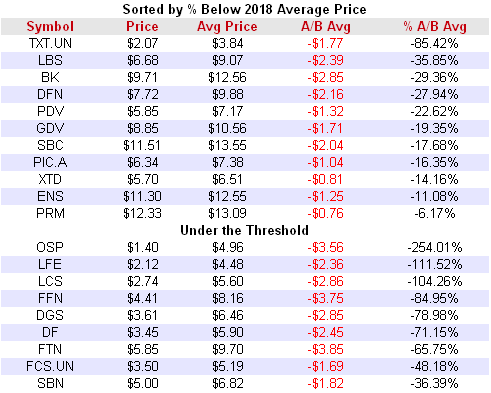 A/B Avg is Above or Below Average. Currently, all split shares are trading below their 2018 average with most in bear market territory.
Split shares are at historic bargains, but a down market also brings with it lower NAVs and distribution suspensions. For both income investors and speculators, there are some great opportunities available.
Disclosure: I am/we are long DVSPF, LFBCF , TDBSF, CNDCF, FNNCF, PRRMF.
I wrote this article myself, and it expresses my own opinions. I am not receiving compensation for it. I have no business relationship with any company whose stock is mentioned in this article.