I am long, long in Amrn.
But I am so long in it I am sort of detached at this stage.
Just watching progress back and forth as the price oscillates.
Having said that I am happy that Amarin is trending upwards again. I don't like to short stocks and look positively at products. It is usually easier to gauge the upside value of a company. Amarin has been in freefall for almost a year but I expected there would be a turn around coming up to the PDUFA date of Dec 20th. Why was there a freefall?
Biopharmaceutical companies are totally hit or miss. They are a whopper or fizzle out and you can loose everything overnight. I learned that back in 2007 when Amrn dropped from $36 to $6 over night in the release of a statement that it was not very effective for treating a different illness. Bang. Equity divided by 6.
For this reason the market is easy to scare and shorting of companies here seems to be very popular. I see it in large companies too where new investors taste the market for their first time. Apple and Google can vary on poor results despite being very strong. Market response is "ouch the sky must be about to fall- sell"
Amarin has had a good beating from the Bear population for the last while. Rightly so as there has been nothing happening for almost a year. Just boring old marketing and so on. Oh no- why go it alone. Amarin don't know what they are doing. They will never succeed. Management don't reply to my e-mails. :) Management might get positive results.. what % probability is there? I noticed a change back in July though. We seemed to have a little trouble getting past six dollars and was delighted to see AMRN hitting a support repeatedly at $5.30.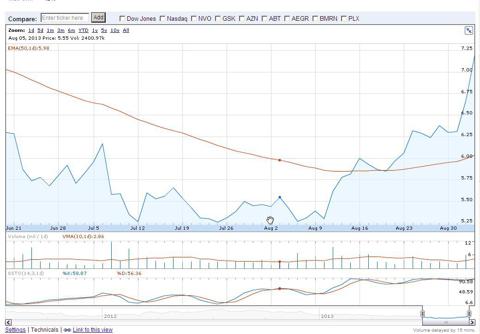 As you can see the 50 day moving average flattened and began to rise soon after. I did not notice that at the time.
Over all I feel the stock has been shorted too much. The share price is like a coiled spring ready to boing!! We had a taste of that the last month where share price hit $7.25 at one stage yesterday. That is 36% up from the previous month. 5% up on Wednesday Sept 4th and 7.9% on Thursday 5th. Will this continues for AMRN to test the dizzy height s of May 2011 or July 2012 where we hit 19.40 and 15.20 respectively? I dont think so.
I think the stock is going to level out at a previous range we settled into at the start of the year. Our volume hasn't increased much so there is not a large amount of extra interest in the stock. Long have just began to believe again and bought in a few more shares at a good price. Shorts may begin to dump and cover. This may push it up past $9- If so hurray. This graph is pretty explanatory.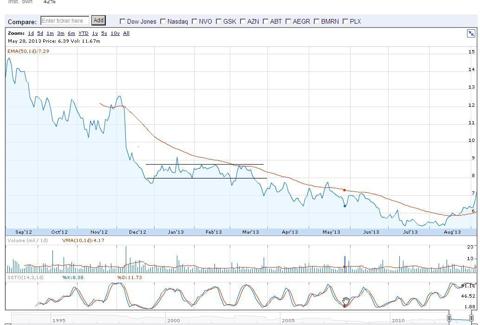 We have a nice momentum at the current time but as we are gapping it may not considered sustainable progress.
The Advisory committee date is possibly a catalyst but I can not see why as this is a formality. It is 5 weeks away. If volume begins to increase I would think that December is looming and signals are that it will be agreed.
To the end of the year we will see continued growth but it will not be a continuation of that last few days. It will taper off, close the gaps and gain support. If you missed the little sprint of share price recently dont be upset- there is still considerable upside to be had.
With a share price of $9 ahead that could be a nice 25% increase. Keep an eye out for increasing volume though indicating possible further upside pressure.