The past 12 months have been anything but boring for Micromet's shareholders (
OTCQB:MITI
). Last summer, Micromet's stock climbed to $7 following excellent clinical data (discussed
here
) and a landmark publication in
Science
Magazine (discussed
here
), but since then the company has lost half of its value. Volatile trading is quite standard for small, cash burning biotechnology companies, however, Micromet's case was particularly frustrating.
Micromet invented a new class of antibodies it calls BiTE (Bispecific T-Cell Engager) antibodies. Unlike conventional antibodies, BiTE antibodies bind two targets, the first target is presented on a cancer cell and the second is presented on an immune cell. The simultaneous binding of both cells by the BiTE antibody can redirect the immune cell to attack the cancer cell, thus exploiting the body's natural immune mechanisms to fight cancer. Conceptually, a BiTE antibody is similar to cancer vaccines, which also aim at producing an immune response against tumors. Despite a history of failures in the field of immunostimulating antibodies, it looks like Micromet has found the right formula.
The company's lead drug, blinatumumab (MT103), was being developed in collaboration with Medimmune since 2003. On the clinical front, 2008 was an excellent year. Micromet published a follow up from a study of blinatumumab in Non Hodgkin's Lymphoma (NHL) which showed that previously observed responses were durable, lasting over a year in some cases. Micromet also published preliminary, yet exciting results from a phase II trial in a rare blood cancer that might create a fast route to market. Another milestone achieved by the company was the initiation of a phase I trial for a second BiTE antibody, MT110, in solid tumors.
Mixed signals from Medimmune
Blinatumumab started 2009 with all the right ingredients: Clinical proof of concept in two different indications, a clear and fast path to regulatory approval and a strong partner. There were some doubts with respect to Medimmune's commitment to the program after the company postponed the initiation of a phase II trial in the US for over a year, but as long as Medimmune kept picking up the bill, nobody was complaining. In January, Micromet announced a new lucrative collaboration with Bayer-Schering for an undisclosed BiTE antibody. In conjunction with the Medimmune partnership, this deal was viewed as a testament for the interest in BiTE antibodies across the industry. But shortly after that, the doubts regarding Medimmune's commitment proved to be right.
Last month, Micromet announced that Medimmune decided to return the North American rights for blinatumumab, leaving Micromet responsible for the global development the drug. Although Medimmune did leave the door open for future involvement in the blinatumumab program by retaining an option to reacquire the commercialization rights for North America upon first marketing approval, it was clearly no longer interested in the drug. Medimmune's decision had serious financial implications, as it left Micromet the sole sponsor of the development program, at a point where development costs are expected to climb sharply. In addition, the decision made investors more cautious toward blinatumumab.
Whenever a large partner chooses to opt out of a joint development program at such a critical stage, it rightfully raises a lot of concern with respect to the program's prospects. The basic rationale is that if a large company which is intimately familiar with the project is not interested, there must be a reason for its decision. Since so far, the clinical data for blinatumumab was very encouraging, many investors feared that Medimmune knew something they did not. The termination was announced in March, so the decision was probably made several months beforehand. Bearing in mind that Micromet presented an update from the two trials last December, the decision does not seem to be data driven. On the last earnings call, Micromet's  CEO, Christian Itin, addressed this issue in the most direct manner by stating that Medimmune's decision could not have been based on unpublished data simply because all the data had already been published.
So what could have guided Medimmune other than clinical data?
A possible explanation might be a disagreement between the two companies over the development path for blinatumumab. Micromet's wanted to get the drug to market as quickly as possible by pursuing a niche indication, whereas Medimmune might have wanted to focus on larger indications. On the other hand, as part of AstraZeneca, Medimmune could have easily supported the development of blinatumumab in additional indications, so the decision could be part of a pipeline prioritization process, following the 2007 acquisition of Medimmune. As previously mentioned, AstraZeneca never seemed too excited about blinatumumab in the first place.
Infinity Pharmaceuticals (
INFI
), which was also developing its lead agent, IPI-504, in collaboration with Medimmune, found itself in a similar position. Similarly to Micromet, Infinity chose to pursue a small indication for approval and use it as a stepping stone for label expansion. Several months ago, while the drug was in phase III trial, Medimmune returned the rights for IPI-504 to Infinity, this time without an opt-in right but with double digit royalties on future sales. Last week, Infinity halted the phase III trial due to safety issues, but it is highly unlikely that Medimmune's decision was related to this event, as both companies were blinded from the results until the safety review that took place last week.
Looking at the bright side, Medimmune still seems to be interested in Micromet's technology. The collaboration between the companies, which dates back to 2003, entails several preclinical programs, including a recently initiated program for an undisclosed target expressed on blood cancers. According to Medimmune's web site, it views this program as a replacement for blinatumumab.
It is important to remember that Medimmune is evaluating technologies that may compete with BiTE, such as cancer vaccines and Seattle Genetics' (
SGEN
) antibody drug conjugate (
ADC
) technology. In some cases, Medimmune is evaluating more than one technology for the same target. For example, Medimmune has two agents that target EphA2, MEDI-547, which is an ADC, and MEDI-544 which is a BiTE antibody. In this case, Medimmune favored Seattle Genetics' technology and a phase I clinical trial for MEDI-547 is expected to begin imminently. Micromet's next shot with Medimmune is MT111, a BiTE antibody for solid tumors. MT111 is expected to enter the clinic next year, and according to Micromet, the collaboration is on track to achieve this goal.
Now that Micromet has global rights for blinatumumab, it will strive for a fast approval in Acute Lymphoblastic Leukemia (
ALL
). The lack of treatment options for ALL patients, coupled with the relatively low prevalence of the disease make this program an ideal fast route to market, with a possible commercial launch already in 2012.
Blinatumumab for ALL
Last summer, Micromet initiated a phase II study for the evaluation of blinatumumab in acute lymphoblastic leukemia (
ALL
). Unlike most cancers, ALL occurs in children as well as adults and is considered to be the most common pediatric cancer in the US. Today, there are treatments that can cure pediatric ALL with a very high success rate, however, adult ALL, especially in mid-aged and older patients still remains a highly unmet medical need. In the US, approximately 1500 adults succumb to the disease every year.
Micromet launched the phase II ALL study in cooperation with the German ALL study group (GMALL), one of the world's leading ALL research groups. This trial has a unique design, as blinatumumab is not given as a standalone treatment but following conventional treatments in patients who responded but are still at high risk of relapse.
Another unique characteristic is the study's primary endpoint – The presence of disease remnants in the bone marrow. Despite the ability to clear tumors from the blood in most patients with standard treatments, many ALL patients eventually relapse due a small amount of tumor cells that remain in the bone marrow. The presence of these cells, which is referred to as
minimal residual disease
(
MRD
), has become an important parameter for assessing patient prognosis after multiple studies have shown a strong correlation between MRD presence and early relapse. Because MRD is assessed by a very accurate technology in a quantitative manner, the results are expected to be objective and reliable. The trial was therefore designed to evaluate blinatumumab's ability to clean the bone marrows of patients in the most stringent and objective manner.
The study was launched in June 2008 and already managed to produce compelling read out at last year's ASH conference in December. Of four evaluable patients who entered the trial with MRD positive status, three were converted to MRD negative. These results are highly encouraging, especially when considering the fact that the patients were not eligible for stem cell transplant, the last resort for ALL. Obviously, the ultimate goal is longer remission and survival, which were still premature to assess at the time, but more light will be shed on that issue in June, when Micromet presents an update from the trial
.
Unfortunately, the majority of MRD positive patients typically experience a relapse in 6 months. By June, Micromet will have a 10-12 month follow up on the three responders, so if they remain in remission it would be regarded as a positive sign. In addition, the data set will include additional MRD positive patients. Any signs of activity in these patients would validate blinatumumab's ability to wipe out cancer residues from the bone marrow. Judging by the expectation build-up by the company, and the higher than expected accrual rate, it seems that blinatumumab continues to show some sort of activity.
The opportunity in ALL
Micromet views the ALL market as an opportunity to get blinatumumab approved in the quickest and cheapest manner. In developed nations, approximately 13 thousand people are diagnosed with ALL each year whereas the annual mortality is approximately 4,000.
Because the target blinatumumab binds (CD19) is typically expressed only on B cell ALL which account for ~75% of cases, the actual target market is just under 10 thousand cases per year. In the current study, Micromet is accruing patients who have a good response to chemotherapy regimens, but are still MRD positive ( i.e have a small amount of cancer cells in their bone marrow). MRD status started to get included in large clinical trials only recently, so from the few available datasets, it seems that approximately one third of patients are MRD positive after initial therapy. Thus, the target market further shrinks to just over 3000 patients per year.
MRD positive patients are considered a high risk group, so physicians may want to treat them with stem cell transplant. Nevertheless, in many cases stem cell transplant is not an option due to the increased risk associated with the procedure (up to 30% mortality rate), the lack of a suitable donor and patient's willingness to undergo the procedure. In addition, studies have shown that in many cases, stem cell transplant does not lead to a real benefit. Micromet is currently focusing on those patients who are MRD+ but are not eligible for stem cell transplant. It is hard to estimate exactly how many patients fall under this category, but the number is probably in the 1000-2000 range. Assuming a cost of $45,000 per patient, the near term market opportunity for blinatumumab is approximately $70M per year.
So why is Micromet going through all this trouble for a tiny market of less than $100M?
The company's hopes to first get blinatumumab approved in a distinct, well selected group of patients, and use this approval for label expansion and clinical proof of concept for the BiTE platform. This strategy seems reasonable given the company's limited financial resources and the novelty of its technology.
From a business standpoint, even if initial sales are modest, the revenue stream can be used to set up a small sales force in Europe, which could support expansion to future indications. In addition, the initial proof of concept would substantially increase the value of blinatumumab in the eyes of potential partners.
Blinatumumab's label in ALL could also be expanded to additional ALL patients, providing the drug prolongs survival in the original patient population. Expansion to the relapsed/refractory setting or incorporation of blinatumumab's into first line setting can increase market opportunity to $450M annually. Nevertheless, the real opportunity for blinatumumab lies within Non Hodgkin's Lymphoma (NHL), a group of blood cancers with a prevalence of more than 160 thousand cases per year in developed countries. To put that in context, the NHL market is responsible for for the majority of Rituxan sales, which were $5 billion last year.
NHL can be divided into several subtypes, and Micromet believes that blinatumumab's ability to purge the bone marrow of cancer cells could be a gateway to some aggressive subtypes of NHL, such as DLBCL and Mantle cell lymphoma. In the phase I NHL study, blinatumumab demonstrated a sharp decrease in the amount of cancer cells in the bone marrow, including five cases of complete bone marrow clearance. The company expects to start a phase II trial in an aggressive subtype of NHL, probably Mantle cell lymphoma, in the second half of 2009.
Regulation and competition
Micromet intends to launch a pivotal study for blinatumumab as consolidation therapy in ALL patients next year, starting from Europe with a likely expansion to North America. Due to the small market size and the aggressive nature of the disease, the trial should be relatively small and short. For example, Genzyme's (
GENZ
) Clolar, which is approved for the treatment of pediatric ALL, got approved based on a single arm 49 patient trial, with objective response rate as the primary endpoint. Although it is common to see approvals based on tumor response in settings where there are no available treatments, the situation with blinatumumab is more complex.
The blinatumumab trial is unique since it has MRD conversion as the primary endpoint. MRD is a surrogate for risk of relapse, but it is not as well recognized as reduction in tumor burden. Since the patients who enter the trial have minimal tumor burden, it is still unclear whether regulators will be willing to accept MRD conversion as a basis for approval. Ironically, MRD was shown to be the most important predictive factor for ALL patients, but according to the company's CEO, approval based on MRD conversion is unlikely. This means that Micromet will have to pick another endpoint such as time to progression or disease free survival rate after 6 months. The aggressive nature of the disease, especially in this specific patient subset might lead to results and subsequent approval already in 2011 and 2012, respectively.
The road to approval in NHL will be more challenging and complex, due to the large size and the availability of multiple lines of therapy. Even if blinatumumab gets approved in some NHL indications, it may face fierce competition from many agents that are currently in advanced clinical testing. In particular, blinatumumab might face competition from other CD19 targeting agents such as Sanofi-Aventis' (
SNY
) SAR3419, which is an antibody drug conjugate powered by Immunogen's (
IMGN
) technology. Other companies, including Seattle Genetics and Medarex (
MEDX
) are also developing anti CD19 ADCs that are expected to enter the clinic in the coming years. When I asked Itin about future competition, he answered that there are likely to be other anti- CD19 therapies in the market, but as a BiTE antibody, blinatumumab will have a different clinical profile than that of antibody drug conjugates.
BiTE antibodies may have certain advantages, as well as disadvantages compared to other antibody based drugs, in particular antibody drug conjugates. Before going over the potential differences between BiTE antibodies and ADCs, it is important to understand that each approach has its merits and it is impossible to predict which class of drugs proves superior for any given condition. Nevertheless, there are two basic differences between BiTE antibodies and antibody drug conjugates: Mechanism of action and size.
BiTE Vs. ADC
BiTE antibodies work by activating and redirecting a specific type of immune cells called T cells to attack tumors. Upon activation, T cells start to multiply rapidly at the site of activation. In addition, T cells are known to be "serial killers", since each T cell can kill many cancer cells one after the other. These two characteristics, which make T cells the most potent immune cells in our body, may lead to a strong amplification effect. Antibody drug conjugates do not have this kind of amplification effect, since their potency is derived solely from the drug payload they carry. To put things in clinical context, a single antibody drug conjugate can kill only the cancer cell it binds, and perhaps one or two nearby cells. A single BiTE antibody, on the other hand, could potentially kill a group of cancer cells.
Another potential advantage BiTE antibodies have is that they do not require internalization into the cancer cells. Antibody drug conjugates, on the other hand must get into the cells in order to release their toxic payload. As a result, BiTE antibodies could prove superior for antigens that do not get internalized efficiently, such as CD20, Rituxan's target. Another type of targets where the BiTE mechanism of action could be advantageous over antibody drug conjugates is in cases where the target is not densely expressed on cancer cells, such as the case of CD19, blinatumumab's target.
In many senses, the activity of a BiTE agent could be complementary to that of an ADC, as cancer cells could develop resistance to both drugs through different mechanisms. Tumors could present or secrete factors that suppress the immune response in order to block the effect of BiTE antibodies. In the case of antibody drug conjugates, tumors can develop a plethora of resistance mechanisms, depending on the type of drug payload used. In addition, different cells in the same tumor could react differently to each antibody. For example, current ADCs are considered highly effective against dividing cells but less effective against quiescent cells in the core of solid tumors. A BiTE antibody might do better job with non dividing cells.
On the safety front, BiTE antibodies might be more problematic because they manipulate the immune system in such a potent manner, as I explained in a
previous article
. Until now, blinatumumab safety profile has been surprisingly good, and according to Micromet, it might be further improved with better dosing schedules and patient selection. Nevertheless, it is impossible to predict the safety profile at higher doses or in the case of additional BiTE agents. There could be a situation where the difference between an effective dose and a toxic dose will be too small for the drug to be given to people.
A BiTE antibody is three fold smaller than a standard antibody, which results in a very high clearance from the body. Antibodies such as Herceptin and Rituxan are present in the blood stream several weeks after administration. ADCs stay in the bloodstream for several days whereas blinatumumab is gone by approximately 24 hours. As a result, to get a prolonged exposure to blinatumumab, patients must receive continuous infusions for a period of one month, every treatment cycle. Currently the treatment is administered with a pump the size of a Blackberry that continuously delivers the drug into the blood stream.
This is a huge drawback in terms of patient convenience and may deter patients, especially in settings where prolonged treatment is needed, such as the adjuvant setting. Antibody drug conjugates such as Genentech's T-DM1 or Curagen's (
CRGN
) CR011 are given every three weeks. Although until now, no compliance issues have arisen in the blinatumumab trials, the company is well aware of this issue and intends to evaluate subcutaneous administration instead of the standard injection currently used.
The small size of BiTE antibodies could also confer an advantage over conventional antibodies in terms penetration. Small antibodies are believed to have better penetration properties, so they can reach areas that are less accessible for normal antibodies, especially the inner compartments of solid tumors or bone marrow. This might, in part, explain blinatumumab's ability to purge patients' bone marrow so efficiently. The better penetration could also be important in solid tumors, where the core of the tumor is less accessible.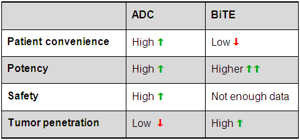 2009 events
Micromet is looking at a busy 2009, with three important value creation points.
The first event will occur this June, with the update from the phase II ALL study. The results may show two important features. The first one is blinatumumab's ability to clear disease remnants from additional patients' bone marrow, while the second feature is response duration. Positive results will set the stage for a registration trial next year.
The second event will occur at the European Cancer Organization (
OTC:ECCO
) meeting in September. Micromet expects to present data for a second BiTE antibody, MT110. Although little to no value is ascribed to this agent, a good data set could have a huge impact. Apart from being the second BiTE antibody to generate clinical data, MT110 is the first BiTE antibody that targets solid tumors. Solid tumors have always been more difficult to treat and they are characterized by lower success rates, particularly due to accessibility and drug penetration issues. Theoretically, BiTE antibodies are ideal for eradicating solid tumors because they have better tumor penetration and a mechanism of action that involves amplification. Solid tumors typically require higher doses compared to blood cancers, so in this trial Micromet might have to dose escalate all the way to the maximum tolerated dose for a therapeutic effect. Therefore, the trial might provide more data with respect to the toxicity of BiTE antibodies. MT110 targets a protein called EpCAM, which is expressed in some of the most common tumor types, including lung and colorectal cancer, so it represents a huge commercial opportunity. In contrast to blinatumumab, Micromet owns 100% of the rights to MT110, so the upside potential, as well as the risk in this program is substantial.
Lastly, the third event should be at least one new licensing deal for a BiTE product. The company stated it expects to announce at least one deal but refused to provide additional details. In the first half of 2010, Micromet will probably launch a pivotal trial in ALL with potential approval in 2012, but at the moment, the company has cash reserves that will finance operations through the second half of 2010. Therefore, Micromet must find an additional source of capital already this year, in order to have more than a year's worth of cash. MT110 could turn out to be a huge value creator, but data is expected only towards year end, and of course, the nature of the data is unpredictable. This leaves Micromet with two options to get a meaningful cash infusion. The first option is doing another equity placement, which could be relevant only at higher price levels. Another option is finding a new partner for blinatumumab. According to the amended agreement with Medimmune, the US rights for blinatumumab cannot be partnered until the drug is approved, which leaves only the international rights on the negotiation table. Micromet will probably want to keep the European rights, so it should try to do what Arqule (
ARQL
) did in 2007 and license the commercialization rights for the Japanese market, the second largest oncology market in the world. The Japan based pharmaceutical companies have been very active on the M&A and licensing front, especially in the oncology field, so Micromet might find a bidder within several months. The financial terms of the deal will depend primarily on the data Micromet will present at the EHA meeting this summer. 
In summary, dsepite Medimmune's decision to abandon blinatumumab, its prospects are as bright as ever. During 2009, Micromet will have several important events, including at least one licensing deal and two potential proof of concept events in ALL and solid tumors. On the financial front, the recent development turned 2009 from an originally worriless period into a more challenging year, as Micromet will have to raise at least $30M through licensing deals or other means in order to make it to the finish line. 
 Potential 2009 events for Micromet's BiTE pipeline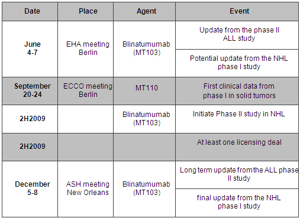 Author is long MITI, IMGN, SGEN, CRGN, GENZ & ARQL