Nasdaq 10 Cluster 1 bil. market cap
Please Note: Blog posts are not selected, edited or screened by Seeking Alpha editors.
Seeking Alpha Analyst Since 2011
Hagen Geissler has worked at a value based hedge fund, at quant equity desk and senior Solutions Consultant , for various technologys & trading infrastructur. His experience and passion runs deeply across multiple technologys used in the automated tradding world
10recomend

IPGP GLNG REGN GMCR

complet analysis



 description=ftp://ftp.nasdaqtrader.com/symboldirectory/nasdaqlisted.txt
skipp negative 200 / 50 day change
skipp negative day change
 description=ftp://ftp.nasdaqtrader.com/symboldirectory/nasdaqlisted.txt
skipp negative 200 / 50 day change
skipp negative day change

NASDAQ  marketcap>=1000.0 mio USD OPTION=+ONLYK-means clustering using exchange method
CPU time=210 ms
Data had dimension: 3  with number of rows: 207
Number of final clusters=10
Compactness=3.437758496466221

Cluster-center and  Cluster symbols:
cluster:   0  (2.13, 1.69, 0.49) APOL AAPL SNPS TTEK NVLS BOKF TXRH ORLY CSTR JACK LOGM TQNT TEVA SEIC ATVI VRSK CASY ADVS HBANP HITT FNFG LLTC
cluster:   1  (1.60, 6.25, 0.40) NWBI FELE ULTI ADBE MANT MCRS ALTE LPLA AMTD CBSH SBNY ISBC SPIL BLKB UTIW INTC THRX NWS SYMC GILD AMZN FISV WTNY ESRX CELG PEGA SIAL SBUX UMBF MEOH
cluster:   2  (6.85, 5.21, 0.25) CAKE NIHD AMRS ROVI CFFN BMRN TGA GMLP AMLN MGLN NVDA UMPQ
cluster:   3  (2.98, 11.35, 0.35) HSNI LINTB LINTA FLIR WRLD ATML USTR NBXH LKQX MORN NWSA HUGH TLEO DELL JDSU BECN ADP CCMP CHKP ESGR ONNN ACIW SYKE SIVB COST JDAS XLNX IFSIA DTV ENDP DISCB PRAA CTAS GAME MOLX SIRO MOLXA RAVN XRAY ODFL LBTYB QCOM AMGN LPNT
cluster:   4  (6.60, 15.12, 0.51) DLTR CRZO SHPGY SAPE ZBRA FWRD EQIX NUAN BRCD ENTG IDTI CGNX ICON TLCR BMC CPRT PVTB TSLA RRD IACI VMED EZPW VCLK AZPN EXPE ASNA OVTI ASMI MLNX
cluster:   5  (3.15, 20.54, 0.46) ERIC ALTR POOL BCPC CYOU JOSB SVVS GTLS BWLD ARBA PLXS RNOW LUFK SXCI CACC PSSI LEAP TSCO CHSI CHTR MWIV OTEX BIIB ACTG EROC
cluster:   6  (11.34, 22.42, 0.86) AFSI PSMT ACOM ROSE NFLX QLIK FTNT FCFS HANS MDCO TLVT CY FINL VOLC VECO NTGR SOLR HIBB INFA
cluster:   7  (7.92, 32.61, 0.98) SPWRA SPWRB ULTA SFLY FEIC TZOO AMMD ERTS LCAPA LCAPB APAGF BJRI GPRO
cluster:   8  (17.65, 39.09, 0.34) ZOLL TRNX MPEL SODA ALKS VSEA SREV SIRI QCOR
cluster:   9  (14.58, 60.39, 0.95) IPGP GLNG REGN GMCR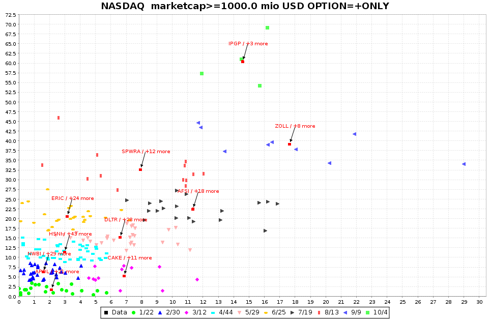 Seeking Alpha's Disclosure: Past performance is no guarantee of future results. No recommendation or advice is being given as to whether any investment is suitable for a particular investor. Any views or opinions expressed above may not reflect those of Seeking Alpha as a whole. Seeking Alpha is not a licensed securities dealer, broker or US investment adviser or investment bank. Our analysts are third party authors that include both professional investors and individual investors who may not be licensed or certified by any institute or regulatory body.