proprietary performance grouping
AMBITION
Finding the best performing Stocks across large amount of symbols.
Grouping them into 10 performance groups.
DETAILS
10.000 symbols 
(NYSE:
A
)
4 X best performance time (200day ,50day, 1week ,1 day) in %
2 X weight (Volume & Market Capital)
1 X EPS (ttm) last 12 months 
(NYSE:
B
)
1 X EPS Est. Next Quarter estimated
1 X Volume > AvgVolume
1 X Market Capital > 30.000.000.000 USD
Description
Which 5 shares out of 10 thousand company's, performed best over the last 50 day's and 200 day's and this week and intraday relative to market cap and volume having a positive eps current year and double eps forecast for next month and higher volume then yesterday's ?
HOW WE SOLVE IT

Do It Yourself
with with on-demand service
from www.algoservice.com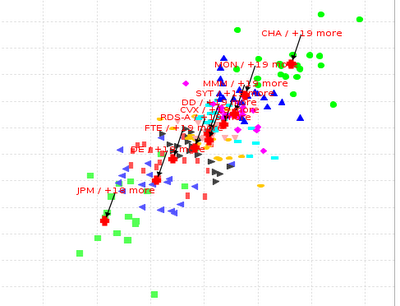 Cluster-center and Cluster symbols:

cluster: 0 
(8.07, 17.05, 1.65, 4969250.50, 0.79, 49801.90)
CHA ACN ABV NKE DELL CHU VMW UNH AXP SPG MA HAL VIA-B DTV AMZN CNI MCD SBUX VIA BAX
cluster: 1 
(3.78, 11.15, 1.05, 4742134.00, 0.95, 46019.60)
MON NOV KFT ERIC CVS SHPGY NWSA ABB PX DHR UNP BHI SO CL COST TRP CMCSK BIDU PRU UTX
cluster: 2 
(2.80, 7.61, 1.06, 5090127.50, 1.53, 96472.50) 
MMM JNJ ING ABT TWX OXY SI GILD NVS RIO BMY ARMH CAJ DEO FDX GSK IBM QCOM PTR NTT
cluster: 3 
(1.80, 5.66, 1.19, 4394719.60, 1.14, 64067.75)
SYT BBD UN UL EPD EMC HMC TM DB LLY NWS NVO NGG BMO MTU CMCSA HON BNS CAT PEP
cluster: 4 
(0.38, 3.97, 0.09, 3334504.15, 1.30, 62103.05) 
DD IND INZ AED PKX TD EBAY WAG MFC POT COP AZN BLK ITUB ISP ISG ISF APC AMGN PUK
cluster: 5
(0.40, 2.59, 1.22, 6613688.00, 1.67, 86673.90) 
CVX T SAP EMR VZ AEB BA STD IDG UPS MFG SSL USB UBS SLB SLT FCX FITBP APA KO
cluster: 6 
(-0.89, 1.22, 1.13, 7345469.65, 1.67, 96337.40) 
RDS-A RDS-B PFE E HD CEO STO CHL TCK PNC MO MT TEVA TEF MET TSM MRK DCM INFY TOT
cluster: 7 
(-2.93, -0.86, 1.34, 8761938.25, 1.48, 102924.25) 
FTE BBL AAPL BUD CUK WBK TXN LVS BHP BP RY CM CNQ INTC MDT TRI PG WMT DOW CCL
cluster: 8
(-4.45, -4.91, 1.05, 11115305.50, 0.62, 117690.70)
DE MOS MSFT LFC BRK-A PBR-A GM GG TGT SU CS DIS VOD WFC DVN GOOG WIT XOM HBC ORCL
cluster: 9 
(-9.26, -12.56, 1.72, 25970780.63, 0.76, 147961.21) 
JPM BCS GE F C ABX TFONY GS LYG BK LOW CSCO MS AIG AMX PBR HBANP BAC HPQ