This was published initially here.
The stock market's had some volatility this year. But we might be just about through the rough part.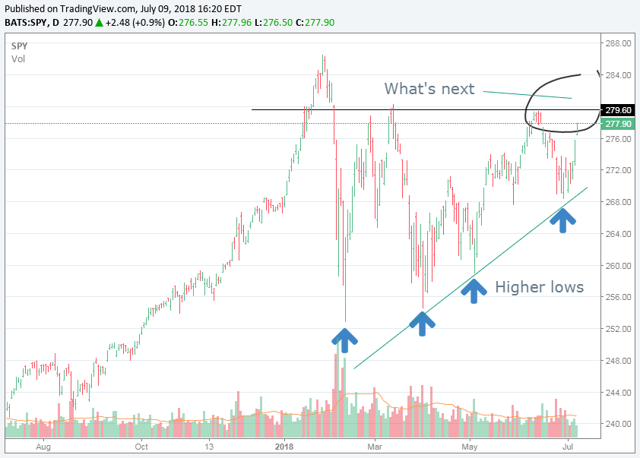 The chart is the S&P 500 ETF SPY (NYSEARCA:SPY) and shows that since the low February 9th we've made higher lows. That's a bullish sign.
We're also only 1% away now from refilling the entire gap before the drop on February 2nd. In trader terms that's called the market's done a lot of work.
The market looks like it wants to go higher.
The Next Move
As we shrink those swings making higher lows approaching the flat line we drew in the chart the dips could get smaller and smaller. You see from the trend we have a good shot at going topside of that horizontal resistance line at about 280. That's a small move away for this market.
..... see full article.
Hitting Tech Stock Earnings Home Runs With "Nail Tech Earnings"
If you'd like to know about our bottoms-up work we have a free trial. We spoke to the top 60-70 tech companies over the last few months to identify what tech stocks have home run earnings stories. Finding those few tech stocks that have realistic earnings trajectories way above the Street can give you conviction to see a stock through to big upside. Dip your toe in the water with a free trial.
We're about to hit our prime time, earnings season.
All investments have many risks and can lose principal in the short and long term. The information provided is for information purposes only and can be wrong. By reading this you agree, understand and accept that you take upon yourself all responsibility for all of your investment decisions and to do your own work and hold Elazar Advisors, LLC, and their related parties harmless.We have no holdings in the stocks mentioned unless otherwise noted.