This initially appeared here.
An S&P 500 ETF (NYSEARCA:SPY) close below 277 and we have further risk to the downside. Today's a day without much bad news but a sharp move out of nowhere needs to be listened to.
Add to that we just closed topside of 280 and quickly reversed. Stocks that led the market on the way up in the cloud/software space are down big maybe with earnings news mostly behind us.
Trade news may sound good but short term the conclusion just gets pushed out to the end of March. So traders may be selling positions they took hoping for a conclusion by now and reload as we approach month's end.
In the meantime the SPY ETF above or below 277 will help to tell you what the market wants to do next.
While my focus is tech and earnings we need to respect markets. It helps us know when to hedge and when to have exposure. It also allows us to get big in companies we love if the market's giving us the green light. So it needs watching.
Raising prices march 15th. Lock in the lower prices 
Earnings drive stock prices. We speak to dozens of tech companies each quarter to see who has big earnings potential which can mean big stock prices.
See what our subscribers are saying:
"The best tech stock-picking site I've found so far."
"This is a home run!"
"This service has paid for itself many times over via expert and informed guidance."
Ready to Nail Tech Earnings? Start your free trial today.
Here's our performance in our service since instituting our model portfolio.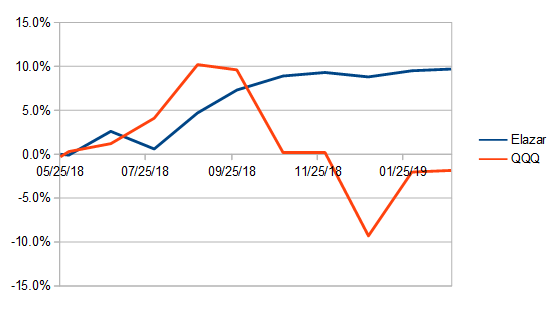 If you have any questions send me a message.
Disclaimer:
All investments have many risks and can lose principal in the short and long term. The information provided is for information purposes only and can be wrong. By reading this you agree, understand and accept that you take upon yourself all responsibility for all of your investment decisions and to do your own work and hold Elazar Advisors, LLC, and their related parties harmless. All model portfolio trades are hypothetical to show direction, conviction and timing. Performance excludes all relevant transaction costs. Elazar and its employees do not take individual stock positions to avoid front running and other potential customer related issues. Elazar may trade in index futures.