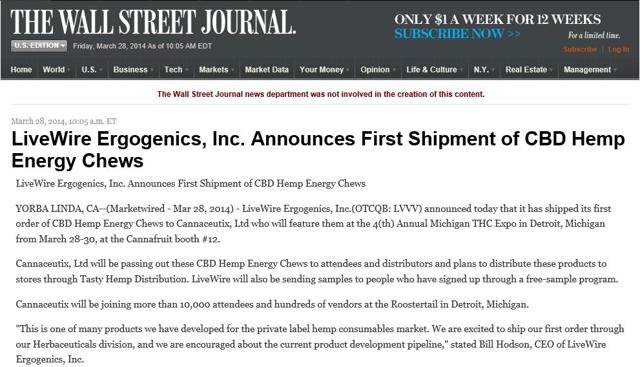 Just a quick update on Medical Marijuana MJNA and LVVV-Livewire Herbaceuticals joint venture and why it is a positive for both companies.
MJNA now has Contract for supplies of Hemp CBD oils for its Hempmeds division. Now, how will MJNA distribute products with all this Hemp oil and sell it and become bigger and profitable?
Now comes LVVV-Livewire with it's new Manufacturing plant and all that capacity and a rapidly expanding distribution network...And LVVV is acquiring APRU - Apple Rush corp and changing the name to Livewire Herbaceuticals
LVVV needs a nice affordable source of CBD Hemp Oil for it's new products to be made in the new facility, and MJNA needs to sell the Hemp Oil in large quantities... Well this is a great joint venture...
No... they are making joints ..... yet... but have a JV to make products with CBD products.
Now comes LVVV and releases NEWS on Friday that the first batch of CBD CHEWS have shipped... And also comes in with a FREE CBD sample CHEW offer, and get's people to try 3 of it's products...
Well, that's about it folks... below is a link where you too can try the CBD CHEWS "free" with Energy Chews and ADIA Probiotics - just pay shipping.. I also threw in a schematic diagram showing how all these companies relate to each other. Livewire is now becoming a MONSTER in the "weed stock" sector because it has the capability to MASS PRODUCE CBD and eventually THC products now.
http://www.stockgambles.com/free-cbd-chew.html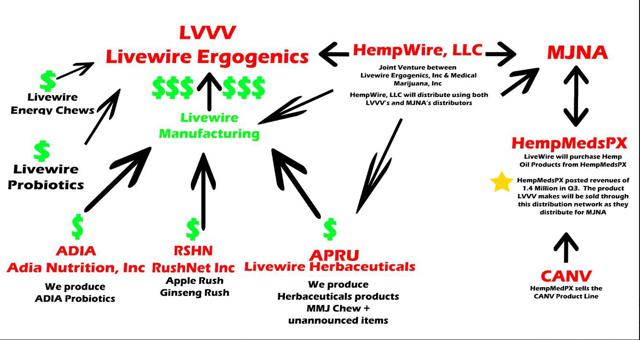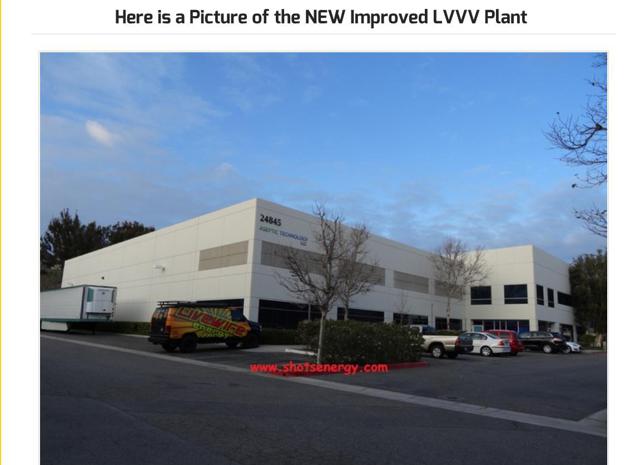 Disclosure: I am long LVVV.
Additional disclosure: I am also long MJNA and APRU