Folks, I have been writing about Praxsyn Pharma (OTCBB-PXYN) for some time now, and the stock has not performed up to my expectations, however the company has OUTPERFORMED my expectations! So with the recent NEWS and SEC filings, it is time for an update before 2nd quarter 2015 earnings are released.
So in my last blog, I highlighted the reasons that I believed Praxsyn was likely to triple short term. Well, the stock has not moved and even is down a bit from that article. Why? The answer is that Praxsyn Pharma is so cheap, in my opinion, that real investors will not even consider it, even though it reported 1.28 million dollars NET PROFITS on 14.2 million dollars revenue in the first quarter 2015, before taxes.
So what is the NEWS that has made this stock so compelling now, that I am back writing an update blog?
First, Praxsyn's main revenue generator-Mesa Pharmacy is developing many NEW PRODUCTS under the guidance of Dr. Amy Summers, whom they hired as Pharmacist In Charge about 6 months ago. They have the systems and technologies in place to produce all these products.
Mesa Pharmacy recently launched an updated website that is very professional and showcases their operation very well. Here is a link to that website and the NEW PRODUCTS and other products they now can deliver.
From the NEW WEBSITE - OUR PRODUCTS! Women's Health - Men's Health -
Kids' Health - Pain Management - Dental - Dermatology - Wound Care
Can you believe all these products? With Diabetic care products still to come... PXYN has a FULL PRODUCT LINE for all these conditions! No wonder they have grown from 20 to 80 employees in 1 year, doubled production capacity, and are marketing in over 30 States now!
Hormone Imbalances
Breastfeeding Challenges/Pain
Sexual Dysfunction/Arousal Disorders
Nausea / Vomiting
Pain Management
Urinary Tract Infections
Migraine Headaches
Hemorrhoids
Celiac Disease
Thyroid Disorders
Vulva Pain
Preterm Birth Prevention
Irritable Bowel Syndrome
Skin Care
Erectile Dysfunction
Andropause & Low Testosterone
Musculoskeletal Pain
Hemorrhoids
Fungal infections
Hair Loss
Excessive Sweating
GERD
Fever
Nausea
Autism
Diaper Rash
ADHD
Celiac Disease
Hypertension
Pain
Head Lice
Fibromyalgia
CRPS
Neuropathic Pain
Chronic Pain
Back Pain
Muscle Soreness
Arthritis Pain
Breakthrough Pain
Acute Pain
Allodynia
Cancer Pain
Post Herpetic Neuralgia
Wound Pain
Mucositis Pain
Oral Lichen Planus
Postsurgical Bleeding
Canker Sores
Postoperative Pain
Gingivitis
Stomatitis
Xerostomia
Chronic Periodontitis
Plaque Control
Tooth Whitening
Oral Candidiasis
TMJ
Burning Mouth Syndrome
Warts
Topical Gels
Wound Treatments
Topical Creams
Skin Peels
Topical Ointments
Topical Shampoos
Topical Lotions
Topical Nail Solutions
Topical Powders
Flavored Oral Suspensions
Venous Ulcers
Diabetic Ulcers
Pressure Ulcers
Lacerations
Abrasions
Avulsions
http://www.mesapharma.com/new-page-4/
The list is extensive, and I published the whole list so readers could really see at a glance that Praxsyn really does have the technology and expertise to market such an extensive line of products.
So, that is nice, new website and new products, but where is the excitement?
In my previous blog, I mentioned that Praxsyn had replaced it's previous marketing company with another company, NHS PHARMA SALES. And the fact that they were still an unknown factor was probably a reason the stock has been in a holding pattern for a few months down here at these low levels. But suddenly, Praxsyn and NHS Pharma Sales signed a contract for marketing and other services and the amounts of the contract are really "mind boggling" for a 2 cent stock.
Now this is not some theoretical payment schedule that might go into effect in the future. As you can see from the chart below, this CONTRACT is in effect now, and the payments are in CASH! And almost 5 million dollars has been paid for marketing services already in July, 2015, and the amounts will increase rapidly up to 13 million dollars per month by the end of 2015!
If you look at marketing services for the past on the 10Q filings, you see that for every marketing dollar Praxsyn spends, they usually end up with over $2 in net revenue. Therefore, we now get the basis for our projection of over $250 million dollars revenue in the next 12 months, based on this 120 million dollar Marketing Contract.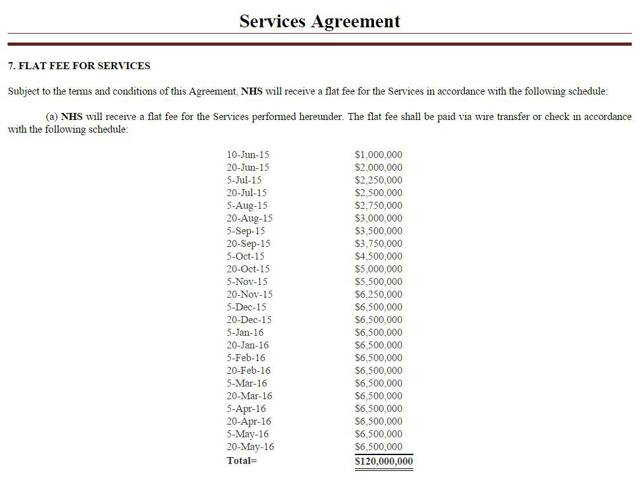 Yes, this contract was fully 8K SEC filed - and you can see that with this link.
Item 1.01 Entry into a Material Definitive Agreement
On June 9, 2015 Mesa Pharmacy, Inc. ("Mesa"), a wholly subsidiary of Praxsyn Corporation, a Nevada corporation (the "Company") entered into a Services Agreement ("Agreement") as attached hereto and incorporated by this reference herein as Exhibit 10.1 with NHS Pharma Sales, Inc., a California corporation ("NHS"). Below is a summary of the "Services" to be performed by NHS pursuant to the Agreement:
| | | |
| --- | --- | --- |
|   | ? | Insurance contract reviews and negotiations; |
| | | |
| --- | --- | --- |
|   | ? | Due diligence for mergers and acquisitions; |
| | | |
| --- | --- | --- |
|   | ? | Advice and assistance with desk and on-sight insurance audits; |
| | | |
| --- | --- | --- |
|   | ? | Marketing and the promotion of Mesa's products and services. |
The material terms of the Agreement include that: a) the term of the Agreement shall be for one year; b) either party may terminate the Agreement without cause upon giving the other party thirty (30) days' written notice; c) in line with the previous compensation paid to NHS by Mesa, Mesa shall pay NHS monthly scheduled flat fee payments totaling $120,000,000 over the term of the Agreement for the Services
http://ih.advfn.com/p.php?pid=nmona&article=67284432
Now we have seen the company expansion plans, but $250 million dollars in REVENUE? How will they manage that? Now comes the NEWS from last week. In case you missed it, here it is.
Praxsyn-Corporation-Growth-Requires-Expansion-Into-New-Space..
IRVINE, Calif., July 16, 2015 (GLOBE NEWSWIRE) -- Praxsyn Corporation (OTCPK:PXYN) is pleased to announce that it has finalized a lease on a new building for its pharmacy lab and billing services with expansion efforts now underway. The new space will allow Praxsyn's wholly owned subsidiary, Mesa Pharmacy (Mesa), a medication and service provider for medical practitioners, to significantly increase the size of its pharmacy lab, providing capacity for new equipment, a more diverse list of offered medications, and to continue the growth of its pharmacy staff. The expansion will also provide additional space for another wholly-owned subsidiary, NexGen Med Solutions (NexGen), a billing and collections company.
Praxsyn, with now more than 80 employees, has outgrown its current facilities and is already expanding into the new building as the company continues to flourish. The additional space is facilitating NexGen's ability to negotiate more settlements of in-house cases. This will allow the company to retain a higher percentage of its account receivables, which in turn creates a more profitable billing system.
The expansion also provides capacity for the pharmacy lab to triple in size, expanding to approximately 3000 sq. ft. The new state-of-the-art lab will be furnished with upgraded equipment such as containment hoods, analytical balances, and a disperser which will cut down production time significantly. The pharmacy is also upgrading its ventilation system to produce cleaner air as part of a new pharmacy regulation. The expansion has also allowed Mesa to double Pharmacy staff and will soon be implementing two work shifts in order to handle production needs. These changes will be accomplished in phases throughout the next few months.
"Due to our new organizational strategy, our improved training program, and our step-by-step approach, the pharmacy has been able to grow and reach the needs of our increased production," said Dr. Amy Summers, Pharmacist in Charge for Mesa. "I am impressed with my team of motivated pharmacists and technicians as they have challenged themselves and have outperformed my expectations."
Dr. Summers' manufacturing background and her understanding of the large scale picture has significantly contributed to Mesa's growth within the last six months. Through her leadership and management approach, Mesa is continuing to expand its medication repertoire to reach the unique needs of patients.
The new facility lease was effective on July 1, 2015. This approximately 1,800 sq. ft. building is located within Sky Park Cir., in Irvine, CA across the street from the Praxsyn corporate office and the Mesa Pharmacy lab.
So the COMPOUNDING LAB will TRIPLE in Size, and the company will go to DOUBLE SHIFTS to accommodate the growth... Praxsyn has grown from 20 to 80 employees in 1 year, and they are internalizing collections from the insurance companies with the NexGEN division they are building to maximize profits. With the hiring of Dr Amy Summers, a compounding expert in the field, NEW PRODUCT DEVELOPMENT is ramping up, NHS Pharma Sales, and Products for Doctors are RAMPING up sales, and with the expansion of the Compounding Lab at Mesa Pharmacy, Praxsyn seems to be hitting on all cylinders now. In only about 3 weeks or less, we will get the 2nd quarter results on FINANCIALS. My opinion is, that Praxsyn stock will begin to recognize the increase in SHAREHOLDER VALUE that Praxsyn's management continues to stress they are building, and that we will soon see a sharp rise in the value of the company reflected in an increase stock price.
You can see this Mesa Pharmacy Manufacturing Lab and the CEO - Ed Kurtz, and the PIC - Dr. Amy Summers - in action with this short 2 minute Video..
Disclosure: I am/we are long PXYN.