$ICNB - Iconic Brands Inc has soared 1900% in December on the NEWS they have acquired 51% ownership of her Belissima Prosecco wine. The stock is currently under heavy accumulation and is rallying on record volume of almost 1 billion shares last week.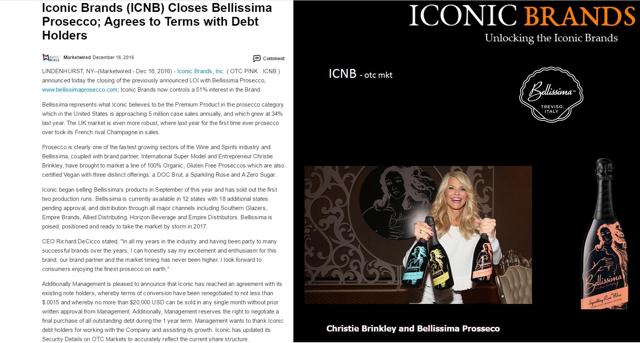 So this begs the question... Another penny stock pump n dump, or is this one of those rare stocks that actually gains credibility and can make it to a higher exchange with real sales and earnings from a real product promoted by a superstar?
I tend to believe the latter, as Christie Brinkley designed the bottles, selected the Vineyards, and is intimately involved in the entire project from start until now... So all I will do is provide some links for the readers to do their own due diligence and see what you think. First, there is the CBS interview that really shows her enthusiam and commitment to the endeavor.
The sparkling Christie Brinkley on CBS Sunday Morning
And, this is the kind of promotion that can't even be bought and paid for, and ICNB got it for free...
Supermodel Christie Brinkley and Tom Farley, NYSE President on CNBC
This should give you some idea of the marketing potential of this wine and using the Christie Brinkley Marketing and Brand, I tend to agree with the group that thinks another 1900% to 14000% gain is possible in 2017. Here is the chart showing the first 1900% (.0003 to .006) made in just December 2016
edit... here is the Friday - 12/30/16 - week/year ending chart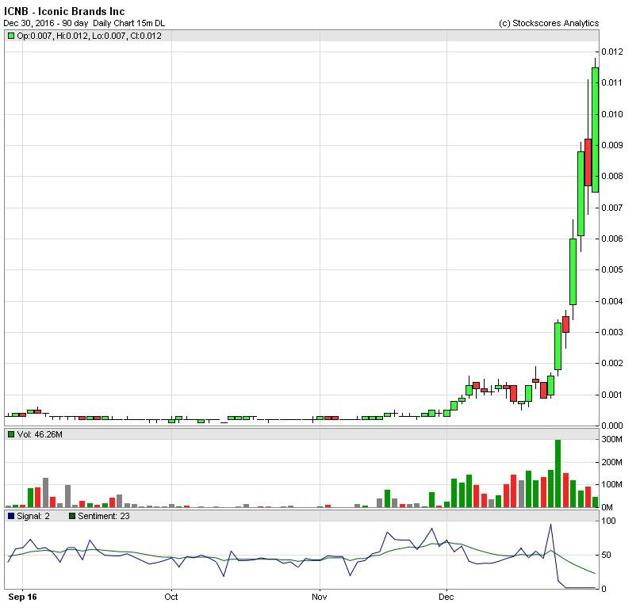 Disclosure: I am/we are long ICNB.
Additional disclosure: It is a penny stock, so use appropriate due diligence.