Apple (NASDAQ:AAPL) split its shares 7 for 1 yesterday, and now trades at $94.19, or $659 pre-split.
AAPL has now moved up almost 70% from its lows when it touched under $400/share.
After a 70% move, has it gone too far up, too fast? Not even close.
AAPL still trades at a very reasonable valuation, below the market, and below where a premium company like AAPL should trade.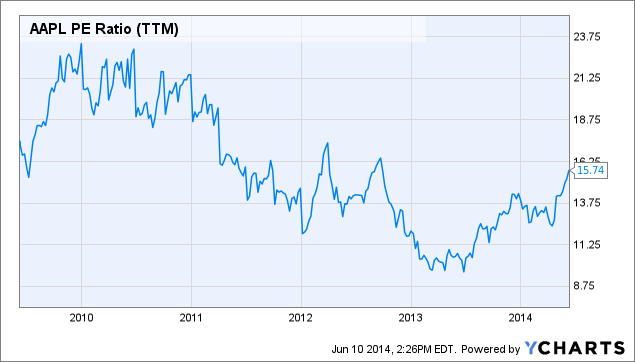 AAPL PE Ratio (TTM) data by YCharts
The stock split, while doing nothing for shareholder value, does help buy some time among shareholders until October when the iWatch is supposed to be unveiled.
The margins have been a cause of concern for a long time, as Samsung was making a big push, but as shown below, they are still quite healthy and have stabilized. And still are very high: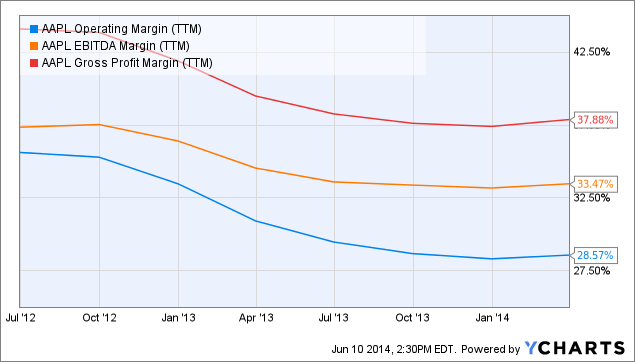 AAPL Operating Margin (TTM) data by YCharts
AAPL has a very high Return on Investment of 26%, even higher than Google and Facebook.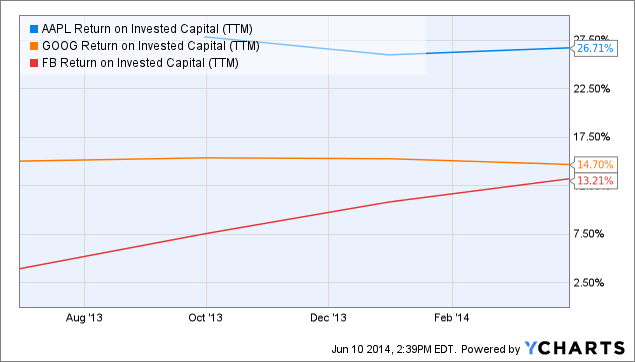 AAPL Return on Invested Capital (TTM) data by YCharts
AAPL has a 2.0% dividend yield and recent share repurchases and the stock split have indicated a long awaited shareholder friendliness. They still have a huge amount of cash.
The company is expected to grow its earnings at 14.5% per year over the next 3-5 years, and given the reasonable valuations, an investor might hope to earn 16-17% total return per year over the next 5 years. Stock split or not, for the long term investor, AAPL is still a buy either way.
For the trader, or for someone looking at a better entry point, it does look like the stock has gotten ahead of itself some: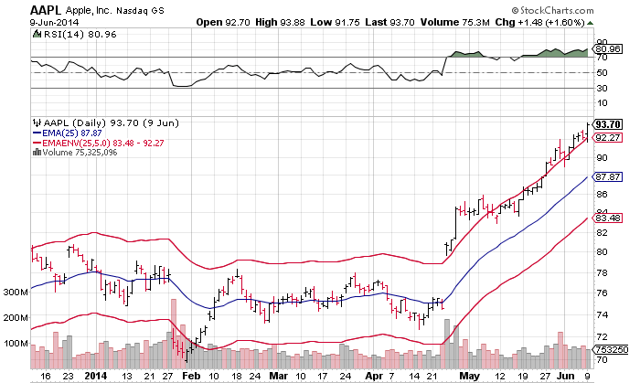 I would try to get in closer to the 25 day EMA at around $88/share, but that is a moving target. Also, the RSI of 81 is very high and consistent with overbought conditions. AAPL is clearly strong now and anyone waiting might be waiting for a while. But a purchase here, or even better, a purchase around $88 should be rewarding for shareholders.
Disclosure: The author has no positions in any stocks mentioned, but may initiate a long position in AAPL over the next 72 hours.