Apple (NASDAQ:AAPL) fell over 4% today to $98.94 share. Is this the start of a new downtrend or is this a good buying opportunity?
Let's look at the charts.
The first is a longer term weekly chart: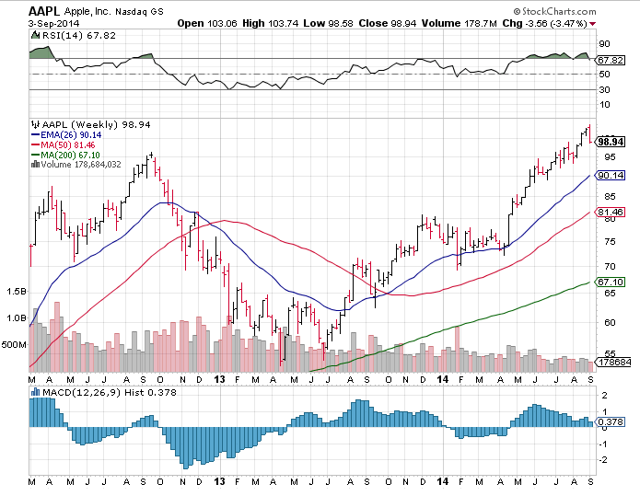 The first thing to notice is that both the 50 period SMA and 200 period SMA are rising. This is bullish. Additionally, the 26 week EMA is rising, also bullish. RSI is in the overbought range, so a sell-off like today is not unexpected. MACD is decreasing, but still positive. All in all, this chart shows AAPL is in a clear uptrend. Support would be in the $96.50 range and also around $91 at the EMA.
For the daily chart, it looks like this: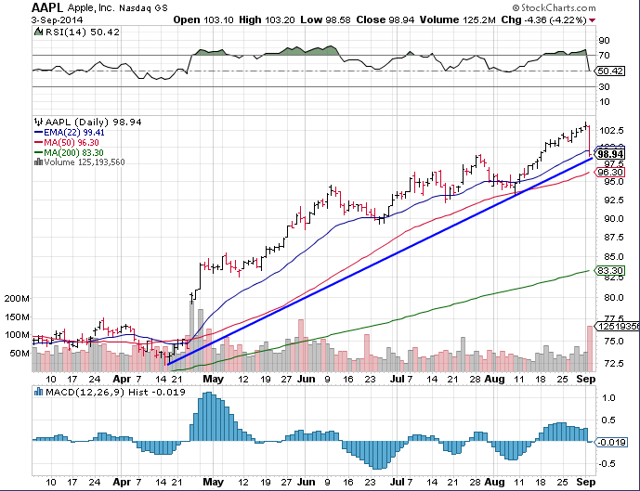 We still have a clear uptrend, above the 50 and 200 day moving averages, and right at the 22 day EMA. This normally is a good support level. Additionally, we are back to the trend line. RSI is no longer overbought and is still above 50, but decreasing. MACD is now negative.
If AAPL can hold the 22 day EMA and trendline and move higher, this may look to be a great entry point.
Fundamentally, AAPL is undervalued relative to it's peers on a trailing and forward p/e basis, but isn't growing quite as fast as some other tech names.
The new product unveil next week will be very interesting. If AAPL trades down into that event, it may prove to be a good entry point for an extremely strong company.
Disclosure: The author is long AAPL.
Additional disclosure: Disclosure: Kerry Prazak, CFP® is the owner and portfolio manager of East Lake Financial, LLC, a Registered Investment Adviser. Kerry Prazak, East Lake Financial, and/or its clients may hold positions in any ETFs, mutual funds, and/or any investment asset mentioned above. The comments above do not constitute individualized investment advice. The opinions offered here are not personalized recommendations to buy, sell or hold securities. Please do your own research. Thank you!