As you may have been following, oil prices have been plummeting. This is great for the consumer, usually good for the economy, and usually good for the stock market. Usually. Oil has dropped a whopping 50% since the Summer. Many quality energy stocks have followed suit.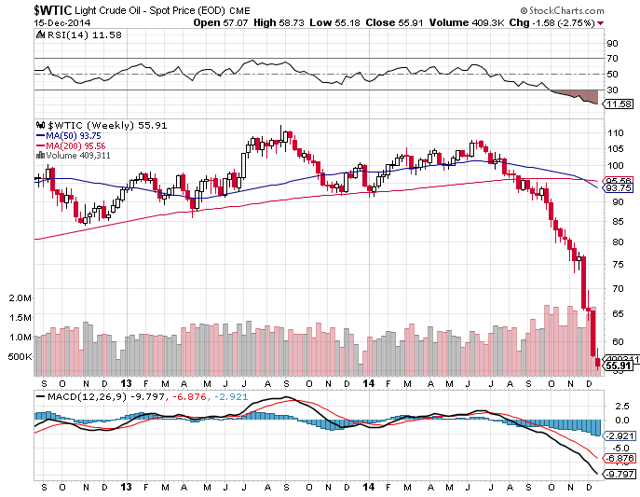 Big oil drops like this aren't that unusual, it happens relatively frequently similar to stock market drops. Where this particular one becomes concerning is when it is a) due to a global slowdown that is projected to continue (or worsen) and/or b) when it leads to something more systemic (i.e. banks that lend to energy companies failing). It is too early to tell if we need to be concerned, but here is what we know:
Oil started to fall around the middle of June 2014.
The stock market fell

-4.3% in August
-9.2% in October
-4.3% since the 1st week in December

High Yield Bond spreads have ballooned to almost 6% since July:
What does this mean and what opportunities can arise from this?
Looking at the high yield spreads, investors are now demanding 6% interest rate above investment grade yields (currently around 4%). Five months ago, this spread was about 3%.
July 2014: AAA corporate bond (NYSE:XOM): 4.22% CCC corporate bond: 7.60%
December 15 2014: AAA corporate bond: 3.67%, CCC corporate bond: 9.39%
High quality rates decreased, and low quality rates increased. This is a fear trade. This is great news for high credit quality companies, and terrible news for debt laden speculative companies. How big of a problem is this?
Energy now makes up about 15% of the High Yield Bond market.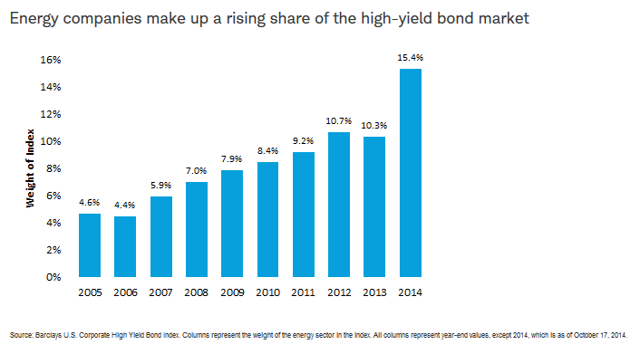 Ten years ago it was less than 5%.
Energy companies have merged the new technologies, the abundance of shale oil, the high oil prices, and low interest rates to make as much money as possible over the past several years. Now, we have low(ering) oil prices and high interest rates, and this means oil companies profits suffer.
Looking out bigger picture, the contagion fear is that these debt laden energy companies become unable to pay their bills as their interest rates increase and profits erode away with lower oil prices. As this happens, the banks that finance them take heavy losses and become unstable, and confidence is shaken in the financial industry, a la 2007-2008 housing bubble.
I don't believe this will happen because oil prices are a self correcting process. As oil prices get high, more production occurs, more supply equals supply/demand equilibrium, prices stabilize. On the other end, oil prices drop, producers no longer make much money, they stop producing it, supply dwindles, prices stabilize at the new lower supply/demand equilibrium price. I firmly understand there are geopolitical events affecting oil right now, including Saudi Arabia trying to maintain market share, Russia being dealt a huge economic blow to weaken their recent financial strengthening, Iran, Venezuela, etc. Also, the dollar has strengthened considerably, putting further pressure on oil prices.
What we have is a perfect storm to drive oil prices down. The good news is, the ancillary geopolitical events are almost always short term in nature. Pretty much no one involved in the oil industry wants oil prices to be low, because they like to make money. I am looking for oil to stabilize above $50/barrel (WTIC), which has marked the low on a non-logarithmic chart over the past 21 years: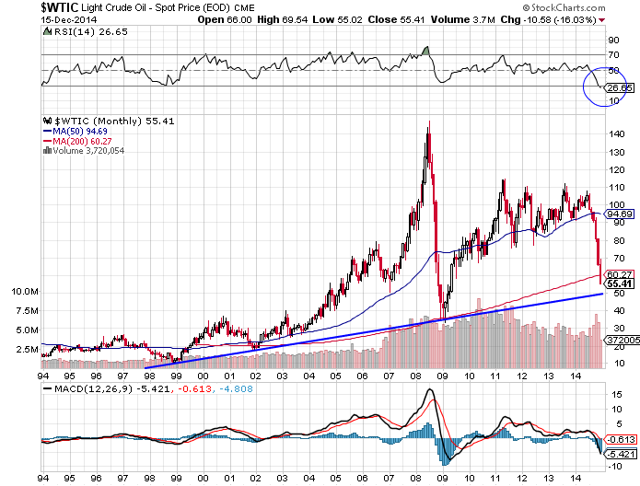 Also, as noted on the above chart, the RSI(14) has not been this low over this entire time frame, and usually this marks a point close to a bottom. Anything is possible, of course, so perhaps this time it's different.
As researched in an earlier blog entry here, when oil stocks drop by more than 10%, the odds are good that an investment in them will pay off for the patient investor. I believe this is an excellent time to pick up high quality oil names to take advantage of this drop. I also believe this is NOT the time to be speculating in all energy companies as several won't survive.
Here is how I would look for opportunities:
Stick with geographically diversified oil companies
Stick with oil companies with low long term debt levels
Stick with oil companies with a proven ability to pay short term obligations
Stick with oil companies that pay a dividend with a low payout ratio
Stick with oil companies that have weathered low oil prices before
Stick with oil companies that are profitable and have good margins
There are 120 Independent Oil & Gas companies listed on the stock exchange: 89 have debt/equity less than 1.0. 58 have debt/equity less than .50. 33 are actually profitable. 25 pay a dividend, 14 have a current ratio of > 1.0, and 10 have a payout ratio of <0.50. If you also include operating margin > 15% and ROIC of over 5%, you get these seven, ranked by market cap:
ConocoPhillips
Occidental Petroleum
EOG Resources
Suncor Energy
Marathon Oil
Cimarex Energy
Murphy Oil
If we look at the Major Integrated Oil and Gas companies, we have 20 companies. 14 have debt/equity less than 0.6. 12 are profitable and pay a dividend. 9 have a current ratio > 0.9, and six have a payout ratio less than 60% and operating margin and ROIC >5%. 5 have a forward p/e < 15. Here is the list ranked by market cap:
ExxonMobil (U.S.)
PetroChina (China)
Chevron (U.S.)
Imperial Oil (Canada)
Petrobras (Argentina)
For the oil drillers, using the same criteria as the Major Integrated Oil and Gas companies, we have the following:
CNOOC Ltd. (China/listed in Hong Kong)
Helmerich Payne (U.S.)
Patterson UTI (U.S.)
Transocean Partners (U.K.)
For the oil service companies and the same criteria, we have the following:
Only four refiners have debt/equity <0.5, pay a dividend with a payout ratio <80%, have a current ratio >1.0, are profitable, have a forward p/e <15, and have a positive operating margin:
Phillips 66 (USA)
Valero (USA)
WorldFuel Services (USA)
The above companies are some I'm looking at as oil prices drop. From the list, below are the companies that also pay a dividend> 3%:
RPC Inc. (3.47%)*
CNOOC (4.58%)
Helmerich Payne (4.55%)
Transocean Partners (6.18%)**
ConocoPhillips (4.73%)
Suncor (3.64%)
Chevron (4.24%)
PetroChina (4.69%)
ExxonMobil (3.18%)
*RPC Inc. was founded in 1984 and is smaller than the others listed. Without the long track record relative to the others, I would do extra due diligence on this company.
** Transocean Partners doesn't really fit the criteria from above, in that it was an IPO earlier this year after spinning off from Transocean (NYSE:RIG). It makes money from long term contracts primarily from ultra deep water rigs. Based on the short operating history, I would do extra due diligence on this company.
Below are some of these companies from above that fit the criteria for good candidates to survive and thrive in difficult periods. History shows they've done it before.
ExxonMobil has increased their dividend 31 years in a row and is one of only three companies with a AAA credit rating (Microsoft and Johnson&Johnson are the others).
Chevron has increased their dividend 28 years in a row. The book value is $83.01/share and currently trades around $100/share (83%)
Helmerich Payne has increased their dividend 41 years in a row and has extremely low debt levels. The book value is $45.19 and trades around $60/share (75.3%).
ConocoPhillips has a book value of $44.64/share, and is trading around $61/share (73%).
As a reference point, when Helmerich Payne started paying a dividend, oil was around $3.60/barrel.
Also, forecasts.org projects WTI Crude price to be $64.90 May 2015, with an 80% confidence level being between $57.50 and $72.30. They also project a low of$49.7 in February 2015.
Sources: Dividend.com, FINVIZ.com, stockcharts.com.
Disclosure: Kerry Prazak, CFP® is the owner and portfolio manager of East Lake Financial, LLC, a Registered Investment Adviser located in Keller, TX. Kerry Prazak, East Lake Financial, and/or its clients may hold positions in any ETFs, mutual funds, and/or any investment asset mentioned above. The comments above do not constitute individualized investment advice. The opinions offered here are not personalized recommendations to buy, sell or hold securities. Please do your own research. Thank you!