Please Note: Blog posts are not selected, edited or screened by Seeking Alpha editors.
Valuentum, Dividend Growth Investing, Long/Short Equity
Seeking Alpha Analyst Since 2011
We offer subscriptions and exclusive newsletters. Visit our website at www.valuentum.com for more information. Valuentum is an independent investment research publisher, offering premium equity reports and dividend reports, as well as commentary across all sectors/companies, a Best Ideas Newsletter (spanning market caps, asset classes), a Dividend Growth Newsletter, modeling tools/products, and more. Valuentum is based in the Chicagoland area. Valuentum is not a money manager, broker, or financial advisor. Valuentum is a publisher of financial information. Please read our Disclaimer that applies to all articles published on Seeking Alpha: http://www.valuentum.com/categories/20110613. Follow us on Twitter: @Valuentum
Summary
At the top end of our fair value estimate range, we value semiconductor giant Qualcomm Inc at $103 per share.
Recent operational updates likely lent support to Qualcomm's technical strength of late as shares of QCOM have largely recovered from their March 2020 lows as of this writing.
We cover Qualcomm's smartwatch and automotive growth ambitions in this article.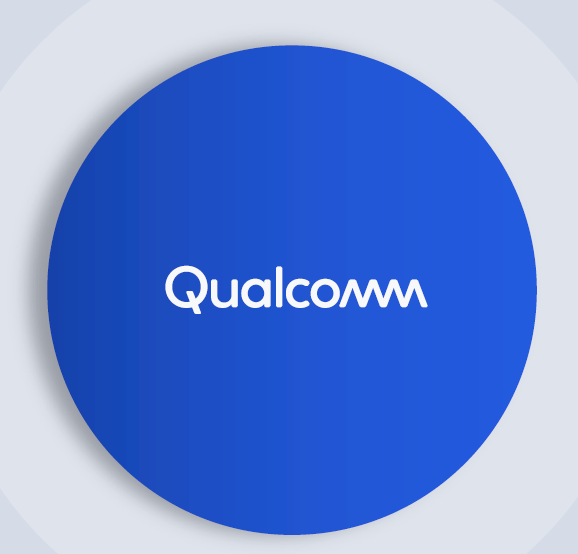 Image Source: Qualcomm Inc – Annual Meeting of Stockholders 2020 Presentation
By Callum Turcan
In our last article published on Seeking Alpha covering Qualcomm Inc (QCOM), we highlighted that the top end of our fair value estimate range (derived through discounted free cash flow analysis) for Qualcomm stood at $103 per share (that article can be viewed here). Recent operational updates likely lent support to Qualcomm's strong technical performance of late as shares of QCOM have rebounded strongly off their March 2020 lows. As of this writing, there is still room for material capital appreciation upside should Qualcomm continue to impress investors during its upcoming earnings release (due to be published in late-July).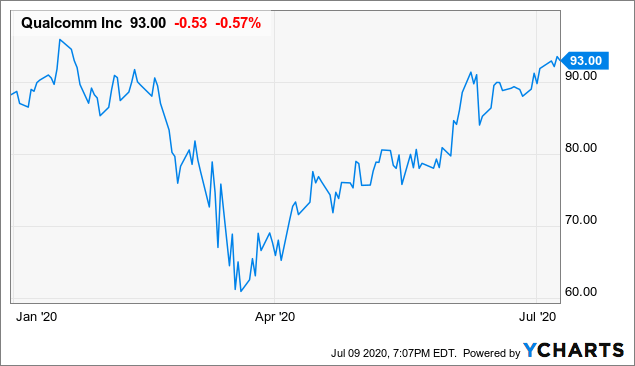 Image Shown: Shares of Qualcomm have largely recovered from their March 2020 lows as of this writing. 
Additionally, Qualcomm's dividend growth trajectory is quite promising. The firm raised its quarterly payout to $0.65 per share a few months back, highlighting management's confidence in Qualcomm's financial position given the ongoing coronavirus ('COVID-19') pandemic. Shares of QCOM carry a forward-looking yield of ~2.8% as of this writing.
New Smartwatch Chip Platforms
On June 30, Qualcomm unveiled its new platforms for chips designed for smartwatches, Snapdragon Wear 4100+ and Snapdragon Wear 4100. The Snapdragon Wear 4100+ platform is supported by a System-on-Chip ('SoC') component and an Always On ('AON') co-processor, along with significantly improved power performance. The SoC is comprised of quad-core A53 processors, LPDDR3 memory, the mobile-oriented Qualcomm Adreno 504 graphics card, and dual image signal processors to support up to 16 megapixel cameras. The Snapdragon Wear 4100+ platform "is designed to deliver more than 85% faster performance, compared to Snapdragon Wear 3100 platform" which is expected to improve "the overall user experience with faster app launches, concurrent use cases, smoother & responsive UX, and richer photo & video experiences."
These new chip platforms are also expected to enable significantly longer battery life as compared to Qualcomm's previous chip platforms (such as the Snapdragon Wear 3100 platform) as they are billed as being built on the company's "ultra-low power hybrid architecture." Qualcomm sees its Snapdragon Wear 4100+ platform delivering "more than 25% power reductions across key use cases and bring extended battery life to the platform (compared to our previous platforms)."
Meaningful investments in R&D over the past several years enabled Qualcomm to discover and rollout these technologies advancements. In fiscal 2019 (period ended September 29, 2019), Qualcomm spent $5.4 billion on R&D expenses. During the first half of fiscal 2020 (period ended March 29, 2020), Qualcomm maintained that level of investment by spending $2.9 billion on R&D. Companies in the semiconductor space that do not invest heavily in R&D tend to get left behind. 
Various third-party market researchers, including Technavio, forecast that the global market for smartwatches will continue growing at a nice clip over the coming years. Qualcomm cited a forecast from third-party research firm CCS Insight in its June 30 press release that forecasted the global wearables space might become a $30+ billion industry by 2023.
In our view, demand for smartwatches is underpinned by demand for the relatively new health and fitness offerings these devices can provide (such as constant heart rate monitoring, sleep pattern tracking, step tracking, calories burned tracking, workout analysis, and more). While this segment represents a much smaller part of Qualcomm's business than its massive smartphone segment (with an eye towards the coming transition towards 5G-capable smartphones), we appreciate that Qualcomm is targeting multiple markets that are supported by secular growth tailwinds.
Automotive Upside
As you can see in the upcoming graphic down below, Qualcomm expects automakers to begin launching vehicles that include 5G components within a few years. This is expected to enable the eventual rollout of semi-autonomous and autonomous vehicle offerings, though there are plenty of hurdles that will need to be dealt with beforehand. Beyond assisted and fully autonomous driving services that 5G-connected vehicles will potentially be able to offer consumers, additional utility will come from the ability to almost instantly stream high definition movies for second row (and if a larger vehicle, third row) passengers and for a vastly improved virtual assistant experience for the driver (among various other things).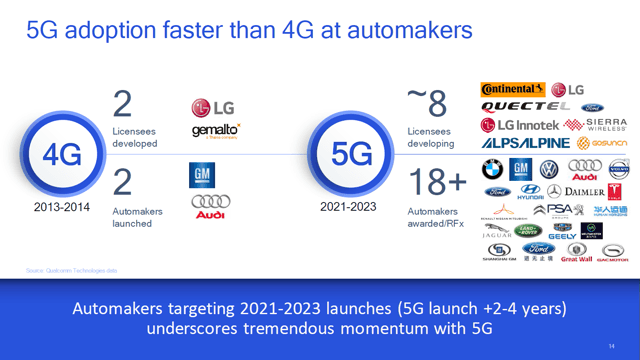 Image Shown: Qualcomm is optimistic that the coming rollout of automobiles with 5G components will support its long-term growth trajectory. Image Source: Qualcomm – June 2020 IR Presentation
The Qualcomm 9150 C-V2X (cellular vehicle to everything) chipset supports its automotive semiconductor tech that will help enable "vehicles to communicate with each other and everything around them" which in theory could lay the foundation for the creation of "smart cities" where traffic accidents and congestion could be greatly reduced.
While we are likely many years away from that becoming a reality, the rise of 5G-connected automobiles could enable material societal advancements that if realized would underpin optimistic growth forecasts for the number of 5G-connected vehicles sold. That in turn supports optimistic forecasts for the future financial performance of Qualcomm's automotive segment due to the significantly larger total addressable market ('TAM') the segment would be catering to (keeping competitive pressures in mind, of course). During a June 2020 IR presentation on the firm's automotive operations, Qualcomm's management had this to say:
So Qualcomm is far and away the leader in telematics, connecting the car. And so all the way back from really the 3G, 4G and now moving in the 5G days, Qualcomm has been the market leader. We have not only the baseband 4G, 5G, but also the RF [radio frequency] front end to attach to that. We also have all the other connectivity -- literally all the other connectivity technologies that are used around an -- whether it's Bluetooth or Wi-Fi or GNSS [Global Navigation Satellite System] for location, the modem and the RF front end technology.

And what this allows us to do is to become a lot more creative about helping the automakers, leaving the Tier 1s to solve some of these bigger challenges. And what we've found over the last couple of years is the scale and the breadth of assets that Qualcomm has, not only just limited telematic, but across all the categories is really helping us to set ourselves apart from some of the other players that might have a piece of this solution…

So we've had automakers come to us and say fantastic work that we've done in connecting the car and telematics and in bringing central compute, whether it's digital cockpit or autonomy into the car. What we really need is a better relationship with our customers. We need to help them to bring their digital lives into the car. And so how can you help us, Qualcomm? Since you're at the center of our telematics. You're at the center of our digital cockpit. You're bringing one for autonomous driving.

How can you help us to bring it all together and not talk about technology to our customers, but connect with them and deliver them flexible capabilities? We deliver to them new services or new engagement markets. And so I'll speak to it quite a bit about how we partner with the automakers to bring Car-to-Cloud Services and make that a reality for the automakers, which I believe is really the next quantum leap in their growth and profitability and prosperity in our book.
We appreciate that Qualcomm's management team is aggressively pursuing markets that could generate meaningful long-term upside for the company. Please note that pressures facing global automobile sales due in large part to the pandemic could weigh on this segment's performance in the near term. 
Concluding Thoughts
Recent share price gains at Qualcomm are likely due in part to investors bidding up names of all types of companies supported by secular growth tailwinds (especially tech firms) and in part due to investors becoming increasingly optimistic on the semiconductor giant's outlook. When the company publishes its next earnings report near the end of this month, we will know more about how Qualcomm has performed during the pandemic and what to expect in the short term. 
Analyst's Disclosure: I/we have no positions in any stocks mentioned, and no plans to initiate any positions within the next 72 hours.
I wrote this article myself, and it expresses my own opinions. I am not receiving compensation for it (other than from Seeking Alpha). I have no business relationship with any company whose stock is mentioned in this article.
This article or report and any links within are for information purposes only and should not be considered a solicitation to buy or sell any security. Valuentum is not responsible for any errors or omissions or for results obtained from the use of this article and accepts no liability for how readers may choose to utilize the content. Assumptions, opinions, and estimates are based on our judgment as of the date of the article and are subject to change without notice.
Seeking Alpha's Disclosure: Past performance is no guarantee of future results. No recommendation or advice is being given as to whether any investment is suitable for a particular investor. Any views or opinions expressed above may not reflect those of Seeking Alpha as a whole. Seeking Alpha is not a licensed securities dealer, broker or US investment adviser or investment bank. Our analysts are third party authors that include both professional investors and individual investors who may not be licensed or certified by any institute or regulatory body.