Background
AT&T (NYSE:T) and Verizon (NYSE:VZ) have long been favorite holdings for investors looking for safe yield and consistently growing dividends. At the time of this writing AT&T is yielding 5.6% and Verizon is yielding 4.67%. Both AT&T and Verizon have shown minimal earnings growth and as a result of that have shown minimal dividend growth. Although neither has missed an annual dividend raise for some time, neither company is raising their payouts by more than 5%. Both AT&T and Verizon either made or are in the process of making major acquisitions over the last year that have offer a clearer picture of where each company thinks future revenues will be coming from. AT&T is going through the approval process in pursuit of purchasing Direct TV (NYSE:DTV) based on a $48.5 billion ($67 billion including DTV's assumed debt) acquisition that was announced midway through 2014. AT&T is also in the process of purchasing Lusacell for $2.5 billion to expand AT&T's reach into the Mexican wireless market. In February 2014, Verizon completed the long anticipated acquisition the 45% of their wireless segment that was owned by the British company Vodafone for $130 billion. Both of these acquisitions have or will make a major impact on both AT&T and Verizon as 2015 unfolds.
While I can appreciate the appeal of the dividend safety and consistency for those looking for a bond replacement, I have come across three reasons that I will not be purchasing AT&T or Verizon in 2015.
Reason 1: Saturation of Smartphone Market
Prior to Apple introducing the Iphone in June of 2007, having a smartphone was a rarity. According to an article on Business Insider, the number of smartphone users in 2007 was around 2.5% of the total market. These individuals are known as the early innovators and are quick to try out new things. The next group to jump on is known as the early adopters, which account for another 13.5%, bringing the market share to 16% by the early 2010. Following the early adopters are the early majority, this group added an additional 34% to bring the total market share to 50% towards the end of 2012. Finally, the late majority bring an additional 34% bringing the total to 84% penetration, which is estimated to occur by the end of 2015. After the late majority the transition of the remaining 16% will be slow as the market will more or less be at a saturation point. The telecom providers have seen their average revenue per user (ARPU) climb impressively as a result of the smartphone and loss of this source of revenue growth will limit growth of the wireless segment.
The anticipation of continued growth coming from other connected devices will increase revenue minimally over the coming years. I don't feel that connecting tablets, cars and various items throughout the house will not replace the revenue growth being lost to saturation in the smartphone market.
Reason 2: Never Ending Capital Expenditures
Both AT&T and Verizon seem to have a never ending need to spend money on expanding their networks. In a recent telecommunications conference, Verizon's CFO, Fran Shammo, stated that Verizon plans to continue spending billions on their network even with their LTE build out mostly complete. Verizon plans to spend an estimated $17 billion in 2015 on continued network expansion. This compares to AT&T's plans to spend around $18 billion in 2015, which is down from $21 billion in 2014. The need to continue spending is an attempt to stay ahead of the network demands for both companies planning the need for increased data capacity.
I do not see a time when this sort of investment will ever stop for the telecom industry. At the same telecommunications conference Shammo suggested that when they start cutting CapEx is when investors need to start wondering where the future of business is going. As Verizon is more or less done building out their LTE network, one has to wonder when LTE will no longer be enough. Not long ago, 3G speeds were what the market desired, less than five years later, LTE is the standard network speed. I would anticipate within the next two years, LTE will not be fast enough and the telecoms will need to build out a whole new network. This creates a never ending money drain for investors in this space and continues taking money out of investors pockets while they are being put into network improvements.
One additional area that hurts companies with large CapEx budgets is the tendency to carry large debt loads. According to Stock Analysis on Net, the debt to equity ratio shows overall solvency by dividing debt into shareholder's equity. AT&T has seen their debt to equity ratio increase from 0.59 at the end 2010 to 0.82 at the end of 2013. Likewise Verizon has seen their debt to equity ratio increase from 1.37 at the end of 2010 to 2.41 at the end of 2013. Both of these companies have shown deterioration over the timeframe analyzed. This ratio has continued deteriorating into 2014 as both AT&T and Verizon continue to invest and look to expand through acquisition.
Reason 3: T-Mobile and Sprint
The overall U.S. wireless market is approaching saturation, which means anyone that wants a cell phone has a cell phone. The telecoms seem to be wrestling with each other over the same set of customers and in order for one company to gain, another company must lose subscribers. AT&T and Verizon are the clear market leaders in the U.S. wireless market and have been able to pull customers from the other telecoms. Sprint (NYSE:S) and T-Mobile (NASDAQ:TMUS) are a distant third and fourth and have seen ups and downs in subscriber numbers over the past several years. The graph below outlines the U.S. wireless market share as of the middle of 2014.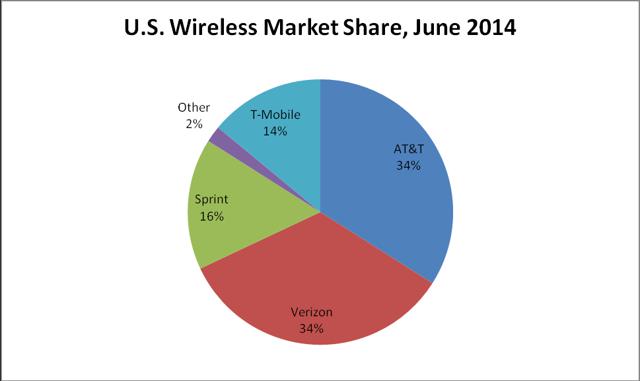 Source: Data gathered from Forbes article, graph created by author
AT&T and Verizon have been able to continue attracting subscribers by offering a premium product, the greatest coverage and fastest networks in the United States by a clear margin. AT&T and Verizon have been able to justify a premium price with their better networks and customers were willing to pay the premium. T-Mobile and Sprint know they have a lesser network, and they are willing to do whatever it takes to grow customers.
While AT&T and Verizon continue to advertise the benefits of their superior networks, Sprint and T-Mobile have taken a different approach. T-Mobile is offering to buy out subscribers contracts, up to $350 for switching to T-Mobile. Sprint currently has an offer to cut your bill in half. AT&T or Verizon customers can bring their current wireless bill into Sprint and Sprint will give the subscriber the same amount of data with unlimited talk/text for half the price. Additionally, both Sprint and T-Mobile have plans that undercut AT&T and Verizon by $10-$20 for each plan at different data levels.
What Sprint and T-Mobile have done is taken an industry that in the past has enjoyed healthy margins and decided to take an axe to the margins. Sprint and T-Mobile seem to be trying different bill cutting tactics looking for whatever will draw subscribers to their networks. Based on the reactions from AT&T and Verizon, Sprint and T-Mobile may have found a tipping point. After seeing Sprint and T-Mobile drop their prices, AT&T and Verizon have followed suit offering lower cost plans to match T-Mobile and Sprint. As it seems that AT&T and Verizon are willing to participate in the bill cutting race with T-Mobile and Sprint, all the low cost providers have done is effectively stolen margin from the industry. These changes make me wonder if Sprint and T-Mobile have said, if we can't make a healthy profit, nobody can as they continue to declare war against AT&T and Verizon. As Sprint and T-Mobile continue to attack AT&T and Verizon, the wireless industry will see margin and profitability decrease in the years to come. The main winner as a result of battle within the wireless space is the consumer as wireless plans decrease in cost and service/coverage continues to improve.
Take Home Message
While many retirees are willing to invest in AT&T and Verizon as a replacement for bond holdings to generate income due to their high dividends, I will not be investing alongside them anytime soon. Verizon is working through a major acquisition and AT&T is working through two major acquisitions that will offer increased revenue and new sources of revenue for each company. I can appreciate the desire to continue looking for new revenue, but I have three major concerns that are targeting the wireless industry. The three reasons are surrounding the coming saturation of the smartphone market, the never ending CapEx and the apparent desire by Sprint and T-Mobile to remove all profitability from the wireless market.
Disclosure: The author has no positions in any stocks mentioned, and no plans to initiate any positions within the next 72 hours.
The author wrote this article themselves, and it expresses their own opinions. The author is not receiving compensation for it (other than from Seeking Alpha). The author has no business relationship with any company whose stock is mentioned in this article.