I make a point of freshening up my portfolio in January and June of every year to make sure I am not sitting on any time bombs or to add stocks I think may have some upside. This time, I am adding these two stocks to my portfolio, (NYSE:PG) & (NYSE:CHD). That is Proctor & Gamble and Church & Dwight Co. Most people are probably familiar with PG, but CHD was a new one for me.
Researching these stocks, I believe I may be a little late to the game as they are on a nice uptick already. This chart is of CHD and it has already taken off. I will interpret that as validation of my reasoning.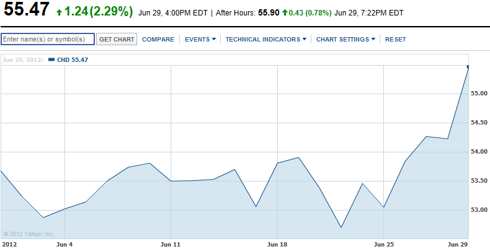 What is the reason I am choosing to add PG & CHD to my portfolio you ask? 2 reasons - the book 50 Shades of Grey and the movie Magic Mike. Laugh if you will, but look at that chart. Release date of Magic Mike was this week. Coincidence? I think not. I am betting my money on the owners of all things branded Duracell and Trojan.
Disclosure: I have no positions in any stocks mentioned, but may initiate a long position in CHD, PG over the next 72 hours.