And without further delay we have entered into our first trade. Krispy Kreme (Nasdaq: KKD) ran up a whopping 25% today even with a huge market selloff on better than expected earnings. The RSI is above 75, the volume was heavy and the opportunity to buy option puts great. IV (implied volatility) on KKD options collapsed 12% today and they are currently trading near intrinsic values.

I bought 8 put contracts with a June expiration and strike price of $10.  I paid $2.05 for each contract. Click on the screenshots of my trade below to enlarge it.




OUR CURRENT TALLY IS:


starting capital                  $2000
kkd puts                          -$1656        
                               _______________

remaining capital               $344   


Todays KKD rise was mostly short covering. The company's PE is well above 20 and the company itself is not deserving of any long money given their management and their past. I will actually take pride in profiting off this ones plunge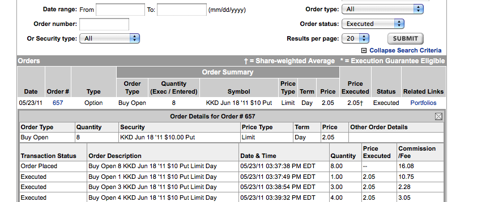 which will start sometime tomorrow.