Google (NASDAQ:GOOG) Glasses concept has positioned itself to be the next hot tech gadget. All you have to do is google Google Glasses (pun intended) , and you will see excitement is building up in the tech world for this new product. However, just as GOOG was a successful competitor to Apple (NASDAQ:AAPL) for smartphones, GOOG may have a strong competitor of its own when it comes to Google Glasses.
Vuzix Corporation (NASDAQ:VUZI), is a leading supplier of Video Eyewear products in the consumer, commercial and entertainment markets. The Company's products, personal display devices that offer users a portable high quality viewing experience, provide solutions for mobility, wearable displays and virtual and augmented reality. Vuzix holds 33 patents and 15 additional patents pending and numerous IP licenses in the Video Eyewear field. The company has won Consumer Electronics Show (or CES) awards for innovation for the years 2005 to 2013 and several wireless technology innovation awards, among others. Founded in 1997, Vuzix is a public company (VUZI.OB) with offices in Rochester, NY, Oxford, UK and Tokyo, Japan.
Some highlights about VUZI.OB from their own presentation :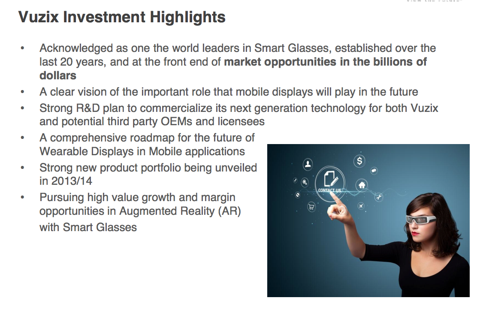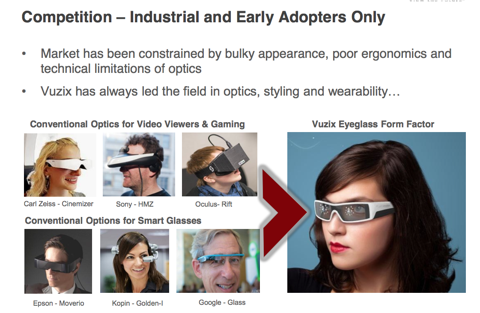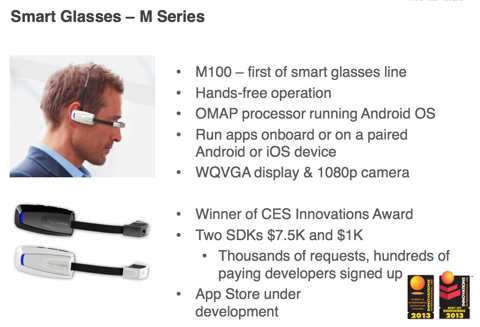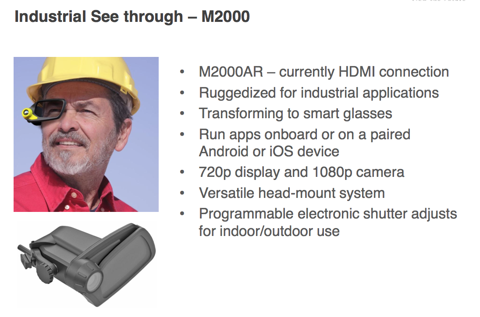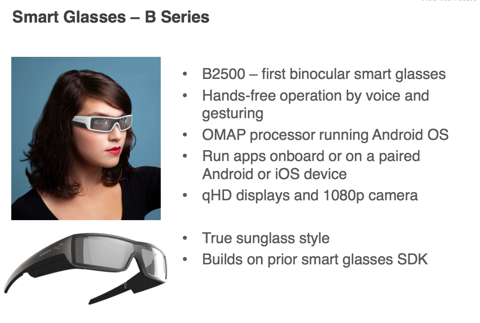 VUZI.OB recently raised approximately $8mm and now has approximately $4,500,000 in cash, positive stockholders' equity and is virtually debt free. They have a strong intellectual property portfolio consisting of more than 44 patents and patents pending with other key technology licenses. So they may be a strong competitor for GOOG and also a patent play on this new hot gadget.
Risks include the ability to gain mainstream acceptance. However, it is rumored that their products will be priced less than Google glasses so this may be seen as a lower cost alternative. Vuzix and Google are mostly at pre-revenue stage with these products so there is no comparison for valuation yet.
Vuzix CEO Paul Travers said in a recent press release:
"With this cash we are now executing on the enormous opportunity in front of us in the burgeoning technology revolution of wearable computing and displays. At this moment we are gearing up for production of our award-winning M100 smart glasses and our other industry leading wearable tech products through our manufacturing partners. Our distribution channels are already awaiting our shipments and are eager for strong sales demand. We are seeing tremendous interest, particularly in the pro-sumer and enterprise markets with our M100. Our first waveguide based AR monocular for the industrial space, the M2000AR will shortly be released late this summer and is the first of many new planned products that will take advantage of this new 1.4 mm thin optics technology. We see waveguide technology as a paradigm shift in the available optics technology for wearable displays and one that is needed to finally deliver fashionable smart glasses to the market," stated Vuzix CEO Paul J. Travers.
"Today we believe Vuzix is the world's leader in AR display systems and the M100 is the first in a series of new AR smart glasses that Vuzix will be introducing. We have developed a portfolio of technologies focused on the most advanced mobile computing and display equipment delivered through a form factor that is user-friendly and robust. Our proven technologies, robust IP portfolio, track record of 15-plus years in optics and wearable computing, early leadership with commercialized video eyewear and augment reality glasses, and most importantly our products' benefits and features position us well for success," concluded Travers.
Vuzix is a leader in this field with over 44 patents and has award winning products. It has already been labeled the competitor to Google Glasses in many of the tech blogs.
With only 9.5 million shares outstanding and a low tradeable float of 5.3 million shares, in my opinion Vuzix could more than double from its current price of $2.26 as people discover this legitimate competitor to Google Glasses. Once they start to roll out new products and gain sales traction or licensing partnerships, I think it could be valued much higher.
Disclosure: I am long VUZI. I wrote this article myself, and it expresses my own opinions. I am not receiving compensation for it. I have no business relationship with any company whose stock is mentioned in this article.