Atomera Incorporated (NASDAQ:ATOM) by their own description, "has developed Mears Silicon Technology™ (MST®), which increases performance and power efficiency in semiconductor transistors. MST® can be implemented using equipment already deployed in semiconductor manufacturing facilities and is complementary to other nano-scaling technologies already in the semiconductor industry roadmap. MST® is patented and enhances transistors to deliver significantly better performance in today's electronics. That means your mobile phone will have longer battery life, IOT devices can be made smaller, and web servers will become even more powerful."
Tiernan Ray, wrote in Barron's, Startup Atomera has had a rough ride since coming public last year, but its novel technology to improve semiconductors bears watching. By inserting a film of oxygen atoms in chips during manufacturing, the company promises to improve performance and reduce energy consumption of chips without the tremendous cost needed to move parts to the latest and greatest manufacturing process.

CEO Scott Bibaud contends MST should be attractive to anyone building semiconductors. "Leading edge processes are now costing more than $1billion to develop. Using our technology, you can improve an existing process for somewhere in the tens of millions of dollars."
ATOM seeks to license this technology out to major semiconductor companies. 
Total addressable market for ATOM is approximately $3.5 billion dollars.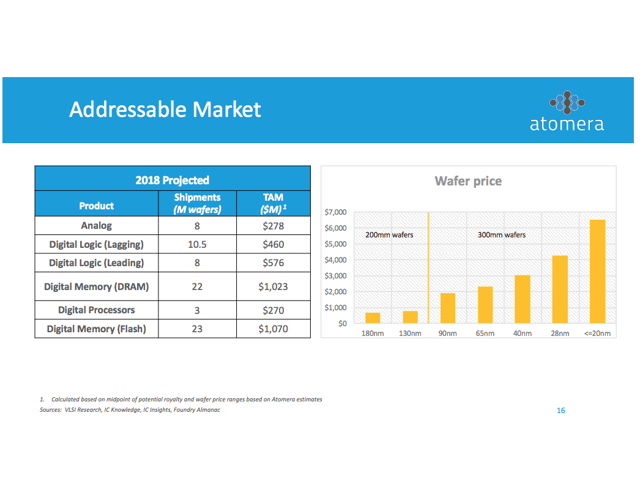 Source: ATOM presentation
ATOM updated their progress this week. 
A leading semiconductor manufacturer has entered Phase 3.
Atomera now has six customers in the Integration Phase (Phase 3) – double the number from a year ago.
One new customer has moved from Phase 1 (Planning) into the company's Setup Phase (Phase 2) which means they have started wafers for use with Atomera's technology.
Atomera is now engaged with 50% of the world's top semiconductor manufacturers.
Atomera uses a customer engagement cycle model to keep investors informed about their progress toward commercialization.  There are three phases in Atomera's customer engagement cycle; the third level or Integration Phase is the final step before a customer enters into a licensing agreement with the company.  Atomera now has 14 total customers evaluating its Mears Silicon Technology (MST): 6 in Phase 1, 2 in Phase 2, and 6 in Phase 3.
"We have been making consistent progress working with our customers to advancing them toward revenue for Atomera, doubling the number of customers evaluating MST in Phase 3," said Scott Bibaud, Atomera's President and CEO.  "In addition, our collaboration with Synopsys continues to bear fruit as the delivery of MST-inserted TCAD models to semiconductor manufacturers accelerates their evaluation and integration of our technology.  We believe the growing pipeline and enhanced modeling capabilities will help fast-track a license decision."

In June, we provided details in our investor presentation showing that one significant customer fab adopting our technology could make us a profitable company. Although our evaluation cycle can be long and unpredictable, a single license decision should be very rewarding to investors. Any increase in customer engagements and proof to probability that we'll execute a license with at least one of the candidates.
Risks
Risks could include the lack of semiconductor companies wanting to license ATOM technology, thus eventually draining cash on hand. 
Financials and Valuation
ATOM sold 3.2 million shares at $7.50 in an August 2016 IPO.  They have approximately 12.1 million shares outstanding
As previously discussed, ATOM is pre-revenue pending licensing their technology. 
In the Barron's article in August 2017, CEO Scott Bibaud says Atomera is "very well capitalized," with "almost three years of burn left" in terms of cash on hand.  ATOM has $19.6 million at the end of the September 2017 quarter.
While ATOM aims to be like Rambus Inc. (NASDAQ:RMBS), which licenses memory chip technology, RMBS has revenue and income. 
In my opinion, better comparisons would be Resonant Inc. (NASDAQ:RESN) and Energous Corporation (NASDAQ:WATT).  RESN and WATT are both also pre-revenue and trying to license their different technologies that could potentially serve large markets.  
WATT has a market capitalization of approximately $412 million.
RESN has a market capitalization of approximately $92 million.
ATOM has a market capitalization of approximately $67 million.
For ATOM to have a similar market capitalization as RESN, it would be a $7.60 stock.
For ATOM to have a similar market capitalization as WATT, it would be a $34.05 stock.
ATOM closed at $5.50 yesterday. 
Reason For Valuation Gap
WATT has received a lot of attention and rumors because of their wireless charging for smartphones.  RESN has made progress with some customers like ATOM has.  WATT and RESN both have analyst coverage, while ATOM does not yet.  It is my opinion with this weeks customer update from ATOM stating they are engaged with 50% of the worlds top semiconductor manufacturers with 6 customers in the final license evaluation phase, ATOM is about to be discovered as an undervalued stock with great potential if they were to even sign once company to a license. 
Disclosure: I am/we are long ATOM.