IIPR (NYSE: Innovative Industrial Properties), a REIT (Real Estate Investment Trust) has been one of the hottest stocks of the last year and one of the most stable ways to play the cannabis sector. 
Cannabis companies need capital for properties and facilities as most traditional banks will not work with them.   IIPR buys the properties and leases them back to the cannabis companies at very attractive yields that have averaged 15%.
REIT's are measured by funds from operations (FFO) refers to the figure used by real estate investment trusts (REITs) to define the cash flow from their operations.  Similar to EPS or EBITDA for non-REIT companies.
IIPR recorded adjusted FFO for fiscal year ended 2018 of $1.34 per share.   It currently trades at $107 for a multiple of 79.  The Net Asset Value (NAV) per share is $27.78 as of year end 2018 so it trades approximately 3.9 times NAV as well.  There is an immense pipeline for deals and they average yields of 15%.   
PW (NYSE: Power REIT) is also a REIT that has traditionally had very stable returns and results from their railway and solar properties. They recently announced they will expand their focus for acquisitions to include cannabis properties as well and made some initial purchases and stated they have an active pipeline for more.
What I love is PW stated that they will limit near-term dilution to help maximize shareholder value.  Their balance sheet is under-leveraged for the industry so they can use debt and not stock initially to expand into high yielding cannabis deals.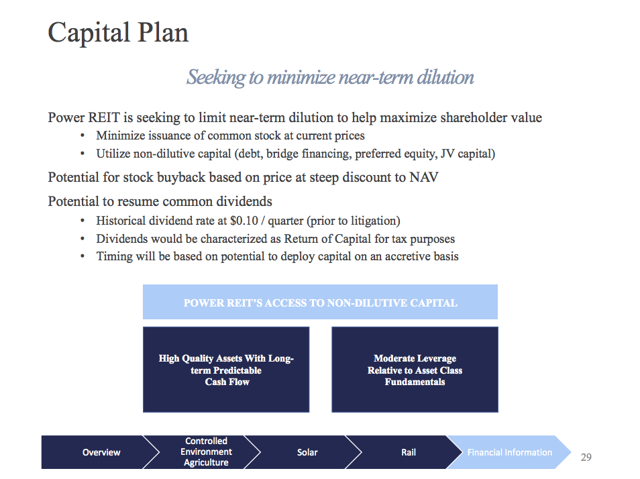 PW first and recent cannabis deals had a yield of 19% (IIPR averages 15%), and they are accretive to Core Funds from Operation by approximately $340,000 per annum which is more than a 30% increase from historical FFO levels. Power REIT is currently in discussions regarding the expansion of one of the two greenhouse properties.  So you can see because of the small share structure,  these accretive deals can add impactful shareholder value.  These deals alone will add approximately $0.18 to FFO or 30% increase from traditional $0.56 steady levels.  With a small share structure (only 1.8 million shares outstanding, it's not hard to see what several of these deals could do to FFO like this chart speaks to.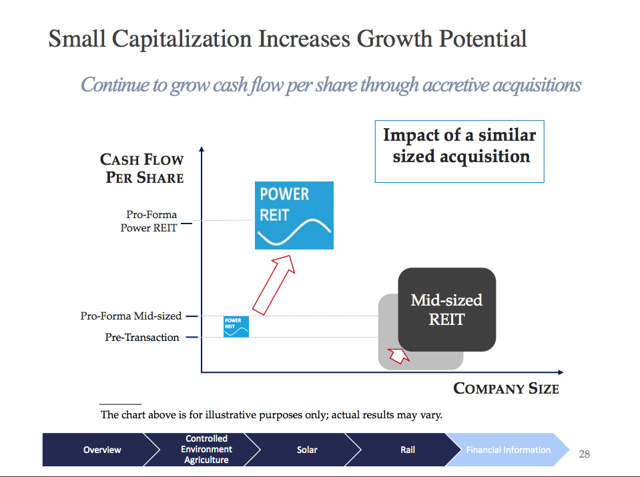 Additionally,  PW's current Net Asset Value is $12.84 per share.   This is conservative as it records the current cannabis deals at cost.  So real NAV per share is more likely $13-$14.   PW currently trades at $9, well below NAV.  IIPR trades at approximately 3.9 times their NAV.  That multiple would make PW share price $50 versus the $9 it trades at today. NAV will only rise higher as more accretive deals are completed.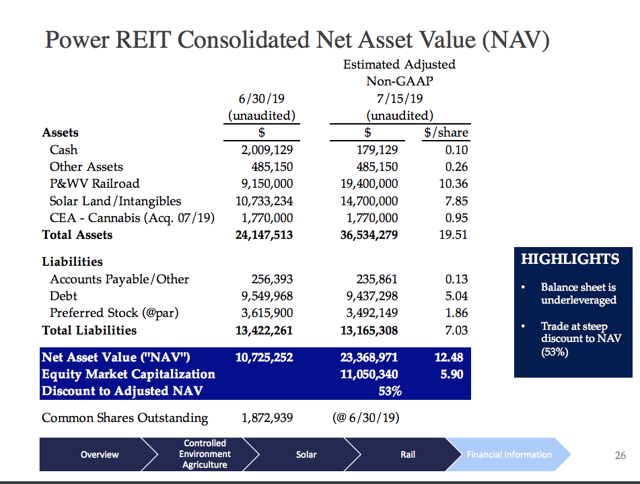 PW will do $0.65 in FFO this year (increase from the recent cannabis deals and next year jumps to $0.74) and they said they are going to do more accretive deals.  IIPR trades at a multiple of 79 for recent year FFO.  That multiple applied to PW FFO would be a PW share price of $51.35.   
Hypothetically if PW were to borrow $10 million dollars at their historical interest of 5% and do similar cannabis deals like the recent ones where they spent $1.77 million and added $340k per year to FFO:
$10m divided by  recent deal price $1.77 million they could do approximately 5.6 similar deals.
5.6 times $340k in FFO would be approximately $1.9m more in FFO less interest expense of $500 thousand (5% on the $10m debt),  would leave $1.2m in additional FFO.  Per share that is additional $0.64 ($1.2m divided by 1.87 million outstanding shares).    That would double existing FFO per share to $1.29.   Even a 20 multiple would be a $25 stock compared to $9 where it is today.    Theoretically, were share price were to appreciate much higher  then PW could do very small equity raises to continue buying properties and growing like IIPR has done with small equity raises.
Summary
1)  The hottest stock in the cannabis sector is IIPR and until PW there were no other cannabis REITS
2)  PW has only 1.8m shares outstanding and a float of 1.2 million shares and these low float stocks have made some of the biggest moves in the market
3)  PW is currently trading below NAV of conservative $12.84 as it is and with a very low FFO multiple and yet they are in the process of expanding with more accretive deals.
4)  Even if PW were to get a fraction of the multiples that IIPR gets it would equal well over $20 per share versus the $9 it trades at today.
Links
PW Press Release Announcing Cannabis / Indoor Food Strategy 
PW Recent Quarterly Press Release 
Disclosure: I am/we are long PW.
Additional disclosure: This is not investment advice. This article is for information only. I am not an investment advisor.