Folks, about 10 years ago I met a guy who was getting into the futures market. He had a small account, around $5,000, and he would trade one or two S&P contracts at a time. He'd lose it, come back with another $5,000, lose it again. Finally I said to him, "Leonard, I'm tired of watching you lose—this isn't a casino."
He insisted that he wanted the exposure, so he asked me to find him a manager who could do a better job than he'd been doing on his own. Now, there aren't a lot of managers out there who will trade a $5,000 account. But I aim to be a good steward, so I pointed him to someone who I thought was the best—with the caveat that they had very high minimums.
His response? "That's fine. Here's $7 million." That turned out to be the 10% of his portfolio that he wanted exposed to a non-correlated asset class. I couldn't believe it.
I bring this up not only because I believe you should treat the guy with $5,000 the same as the guy with $20 million, but also because Leonard has been sitting on that allocation for about a decade now. Take a look at the difference between the performance of his managed futures investment and what would have happened had he simply bought the S&P 500 at the same time: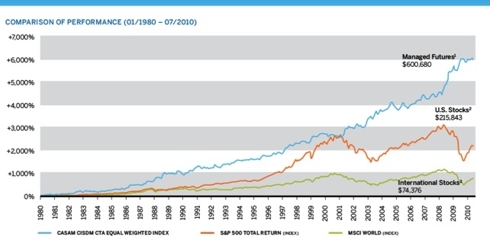 Of course, please understand that there are risks in trading futures. But if you're qualified, they can be a great way to balance out your portfolio.
--
I warned you yesterday about the fourth day of a rally, and just as I suspected, the market broke 300 Dow points off its high for the day. Be equally careful out there today. Of course, you should be careful every day, but especially today after European markets close. This buying early in the session is coming from Europe, based on yesterday's vote in Germany to move forward with bailout packages. Once those markets close, we could see a bit of a fade.