I am just getting up to speed on this, but the story scares me. It seems like banks and investment banks are working on ways to satisfy their customer's demand for yield. I am hearing there is a big push to get these complicated products out. They should come with a warning that "yields in hindsight may be smaller than they appear".
If you are being asked to sell or to buy "fixed" income products that are anything but "fixed", you need to dig deeper. What are the alternative investments. Anything where a coupon seems high relative to the market means you are taking a leveraged bet, including selling options. BE VERY CAREFUL as some of these products have return profiles that would make sitting in cash look attractive in the not so distant future.
At this point, I haven't been able to confirm which particular bonds are being sold to retail or how much has been done, but I decided to poke around in some bonds listed by Citibank - mostly because somehow they seemed to have needed more support from the taxpayers than any other bank (except for BAC which I have picked on too often).
So let's take a look at what appears to be a Citibank NA Certificate of Deposit - how dangerous could that be?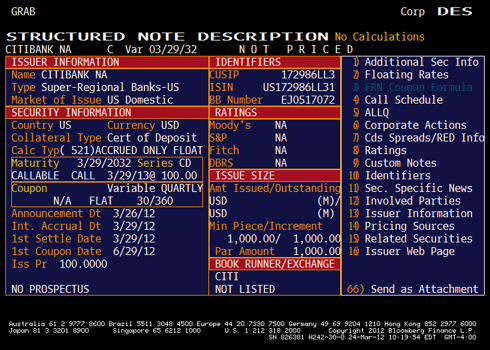 It seems a bit long for a CD - 2032 final maturity, especially since it is callable at any time. According to this it hasn't been issued yet, so maybe this is all a bad dream, but since I was able to find it on Bloomberg, it probably is something they are trying to sell.
So on any "fixed income" product, the big question is what is the coupon? It pays 6%!
Ok. I could buy Citigroup Inc 5.85% bonds with a 2034 final maturity. They are non-call and priced around 103.5 to give a yield of 5.57%. So stop right there. The CD may be marginally higher in the capital structure and slightly safer, but for 20 years I would much rather have 5.57% non callable bond rather than a 6% bond callable at any time. I would spend more time working out the value of the call and if the trade-off is even remotely fair, but there is no point, because the coupon isn't "fixed" it resets annually.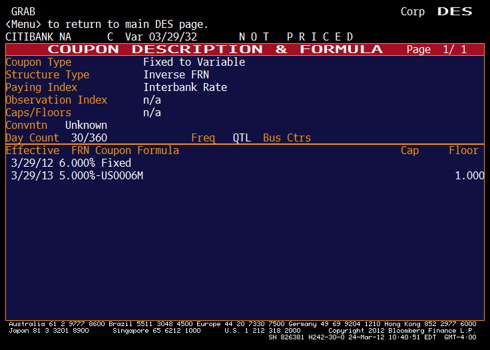 So after 1 year, the coupon will be 5% minus 6 month LIBOR at the time. If today was a "setting" date, the coupon would be only 4.25%. So as short term rates rise in the future, this coupon on this Inverse Floater will go do. If 6 month Libor is ever at 4% or above on a setting date, then this bond will have the "floored" coupon of 1%. So if the Fed starts raising rates or LIBOR goes up because bank credit risk deteriorates, you own a low coupon bond in either a high rate environment, or weak bank credit environment.
But this "Certificate of Deposit" looks tame compared to another they seem to be marketing at the same time. Again, I don't know for certain that they are marketing this, but it does show up on Bloomberg under a list of Citi bonds, so I have to assume it isn't there by accident.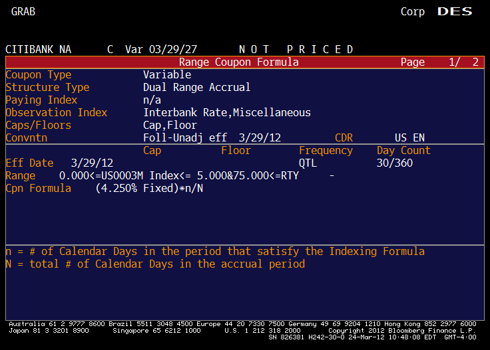 So this one is a "dual range accrual". So it look like you have to track the number of days in a period where 3 month Libor is between 0% and 5% and the Russell 2000 is above 75 (maybe they mean 750?). If both conditions are met for the entire period, you get a 4.25% coupon. So a Citibank CD that is callable at any time, has a best case coupon of 4.25%, and could be 0% in either a high rate environment (libor above 5% or in a weak stock market the RTY is below the threshold). Retail investors are selling options hand over fist with the promise of some decent yield in the first year. I find it hard to believe they understand the options they are selling, and I find it impossible to believe that they are selling the options at anything close to fair value.
Stop tomorrow's problems today, but if you are shown a "fixed income" product where the coupon is too good to be true, it is too good to be true!
Disclosure: I have no positions in any stocks mentioned, and no plans to initiate any positions within the next 72 hours.