FL Mobile (formerly known as Feiliu Jiutian) has been a business partner and investee of NQ for a long time, as early as pre-IPO time, when the two companies' collaboration was the subject of a scathing consumer report by China's most influential broadcaster CCTV (the merit of which, however, is not our focus here). NQ owned 22% of Feiliu prior to November 12, 2012, and acquired the 78% remaining stake by issuing up to 6.2M ADS (3.7M upfront, and 2.5M in earnout). At the ADS price of ~$7 on November 12, 2012, this transaction valued Feiliu at up to $56M (6.2M * $7 / 78% = $56M).
Sometime in 2012, FL entered mobile game publishing, and it derived $664K revenue in December 2012. In Q1 2013, its revenue from mobile game and ads grew to $3M, and in Q2, it was reported to be $7.5M. On March 8, 2013, NQ guided to FL-sourced revenue of $25-28M for 2013. Subsequent commentary by management indicated that this revenue segment will likely exceed $30M in 2013. From $8M annualized from December 2012 to $30M in 2013 is a torrid growth rate of 275%. The margin on FL revenue is not too shabby either, indicated by management to be at the same level as the rest of NQ, which was around 33% on a non-GAAP basis. This acquisition valuation of $56M, divided by 2013 estimated operating income of $10M taxed at 15%, leads to a stunning acquisition P/E of about 6.6x 2013 EPS for FL, while FL is expected to record 275% revenue growth from 2012 level (annualized) to 2013. Even at today's NQ share price, the acquisition P/E will only be 19x 2013 EPS. Does this low P/E sound absurd? A more reasonable explanation is that FL's actual financial performance is nowhere near reported. Let's explore further.
FL is a 3rd party publisher of mobile games, a business model unfamiliar to most US investors, warranting some introduction. A game publisher is essentially a marketing agent for games. It chooses games from a myriad of game content producers (NYSE:CP), acquires users for these chosen games (i.e. getting these games onto the users' phones, either through voluntary download, bundled/involuntary download, or pre-installation on new phones), and the publisher gets paid by a portion of the revenue generated by these games afterwards. In the consumer mobile landscape in China, the popular app stores (e.g. 91 Wireless/Baidu, 360 Mobile Assist, Wandoujia) and mobile Web browsers (e.g. UCWeb, QQ) are currently at the top of the food chain, acting as the few gates through which most consumers download apps including games, because they have recurring, sticky user traffic which they attract by virtue of their own well-adopted apps. These app stores and mobile browsers monetize this traffic by either directly publishing games on their own user traffic (getting a share of any revenue generated but paying nothing for traffic), or selling this traffic to 3rd party publishers who need the traffic. These powerful gatekeepers in the mobile world are referred to as "platforms" by industry participants, and they enjoy very high margin (91 Wireless has ~50% operating margin, for example). Due to their pricing power, the price they charge 3rd party publishers has been steadily increasing, while the number of 3rd party publishers have been increasing as well, eating into each other's top line. The result is a declining margin for 3rd party game publishers.
The unquestionable power and market share held by the mobile platforms in game publishing makes any market share study that excludes them misleading. The Enfodesk market share cited by NQ excludes the platforms and therefore only gives the market share in a small slice of the mobile game publishing landscape. And, like with Sino MR, we are curious to know if Enfodesk is one of the outside consultants who was granted options by NQ.
What is a 3rd party game publisher's operating margin like these days? There are currently no pure play game publishers listed on the market (and we doubt there ever will be), but segment information from Forgame, a Web game CP with a publishing business, provides very relevant comparison.
Forgame officially discloses the gross margin for its two segments, game development and game publishing, but it does not segment the operating income. However, it's easy to make a reasonable assumption to allocate the operating expenses into the two segments, because R&D is mostly associated with game development, and sales & marketing is mostly associated with game publishing. General & administrative expenses are proportionately allocated to each segment. The resulting segment operating margin for game publishing at Forgame is presented here, with the publishing segment margin highlighted in yellow: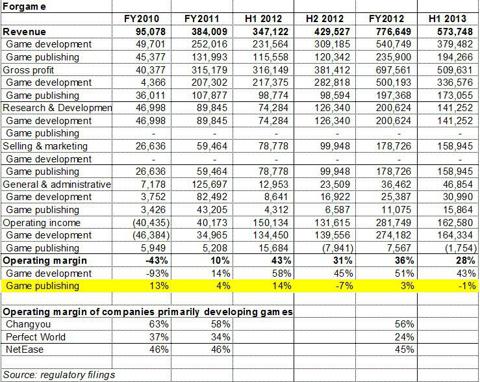 As can be seen, Forgame's publishing segment generated a gradually declining operating margin of 13%, 4%, and 3% for 2010, 2011, and 2012, even though publishing revenue increased significantly over the same period from 45M to 236M.
We acknowledge the allocation of R&D and Selling & marketing expenses above, albeit reasonable, is our assumption, so we have performed a sanity check to make sure the resulting operating margin for the game development segment is not too high due to this assumption. We calculated margins for some publicly listed game development companies in China and listed at the bottom of the chart above. Forgame's development segment margin of 51% in 2012 and 43% in H1 2013 were pretty comparable. The earlier periods of Forgame were not used as margins in those periods were distorted by small, still ramping revenue and a relatively high fixed cost.
The very low operating margin for Forgame's game publishing segment is in stark contrast to FL's claimed 30%+ operating margin. While Web game and mobile game are different genres of games, the underlying competitive dynamics in terms of supplier and customer power for a non-platform, 3rd party publisher is very similar, and as a result, a 3rd party mobile game publisher should have similar operating margin as a 3rd party Web game publisher. We believe FL's operating margin should be in the single digit range, not >30%.
We also calculated the operating margin of mobile game developer and publisher China Mobile Game (Nasdaq: CMGE), shown below:

Note that this margin reflects both game development and publishing and therefore should be higher than publishing alone. The trend was clearly declining. While some of it is attributable to company-level challenges, our conversations with mobile game entrepreneurs in China point to the trend of diminishing margin for the publishing business model.
Not only is FL's operating margin at a questionably high level, its reported high growth rate of revenue may have come to an abrupt stop too. FL's main source of revenue is game publishing on Apple's official iTunes store in China. Publishing/promoting a mobile game in China is all about spending money to acquire users, unless of course you are a platform (which FL is *not*). When it comes to promoting through app stores, Android markets and China's homegrown iOS app stores (such as 91's) would take explicit payment from the publishers to give their games preferential placement to entice more downloads. FL claims to be one of the top publishers in the official Apple app store. But the official Apple app store in China does not take such payment and instead tries to let good games bubble to the top based on a proprietary formula blending user download volume, revenue generation, and other metrics of popularity. As one can imagine, the activity of game publishing on Apple app store in China involves heavy usage of Shuabang (刷榜), the act of employing people to download, install, and even pay for an app on the App Store, in an effort to propel this given app's to the first screen of app search results. Of course, as competitors all employ the same technique, the fame and glory of being a top ranked/grossing app on App Store is often short-lived (as in, days or weeks), unless the game itself is a true gem, in which case the CP of the game will get to enjoy the lion's share of the economics.
There are numerous Shuabang companies who sell their services to app promoters in China. Apple is aware of this form of cheating, and like Google, it shuffles its app store ranking algorithm periodically to disrupt such activities. Mobile game entrepreneurs we talked to in China indicated that the latest algorithm change by Apple in August 2013 has incapacitated Shuabang for a prolonged period of time, and a "solution" was still being actively sought. FL's major mechanism of game publishing suffered a major setback.
Discussions with multiple mobile game CPs in China revealed that FL is a tier 2 publisher for iOS games. These folks monitor their own apps' ranking and that of the competitors on an hourly basis during launch time. Their opinion carries a lot of weight. The "top xyz" rank routinely tossed out by NQ doesn't have time period associated with it. And as we explained in the Shuabang discussion, concentrated spending can easily lead to a brief moment of stardom on China's app stores, but sustaining it by brute force spending is a money losing proposition and the liftee has to sink or swim after this artificial lift.
As to FL's claim that it, also, is a platform because of its tens of millions of registered users and monthly active users, we show you the Android platform revenue contribution for Puyudaren (捕鱼达人), arguably the best known casual game on mobile phones in China, for a summer month in 2013. The handful of well-known platforms crowd out the other small platforms, with the top 1, 5, and 10 platforms accounting for 39%, 76%, and 84% of revenue. The top 5 platforms (in Android) are the usual suspects: 360 Mobile Assist, China Mobile, UCWeb, 91, and Baidu Duoku. FL is nowhere in the top 34 (not that anything below #10 has any significance)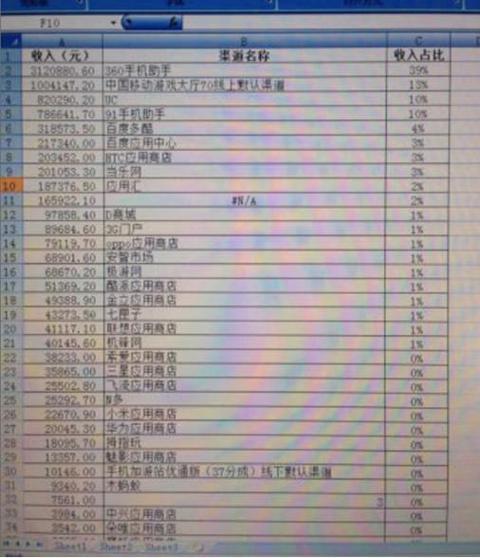 Other possible ways of publishing include app pre-installation on new phones (e.g. CMGE uses pre-installation heavily). This is pretty much limited to Android phones given Apple's stringent criteria for inclusion of apps to pre-load. The pre-installation activity is a commodity skill that pretty much boils down to paying the handset maker a competitive fee. It's a tactic with very low barrier to entry and quickly gets spammy (basically, consumers get annoyed by all the apps that got shoved in their face when they buy a phone). As such, the ROI on pre-installation as a way to publish a game is quite low. Look to CMGE's operating margin above for some clues.
The Q1 2013 earnings conference call revealed a shocking lack of understanding of mobile game revenue recognition by NQ's executives, as they swayed back and forth on whether their mobile game revenue was gross or net. For those that aren't fully up to speed on this issue, in a mobile game publishing business, the publisher gets a share (net revenue) of around 50% of the total revenue (gross revenue) generated by the games it publishes, and as such, its game revenue as reported should be net. FL's revenue recognition was in fact already confirmed in NQ's 20-F for 2012, due to the inclusion of one month of FL's revenue. The accounting treatment for FL's revenue should have been unequivocal (i.e. NQ should report net revenue for FL), yet NQ's management appeared very confused about whether their own revenue guidance was gross or net, and eventually settled on an explanation that basically runs like this: "the 2013 revenue guidance we gave on Q4 was on a gross basis for FL (despite the fact that our Q4 revenue for FL was reported on a net basis), but the updated revenue guidance we are giving here on Q1 is on a net basis (not gross basis as we just said a minute ago). So voila, we just realized that our revenue guidance is actually an upward revision!" The full display of this complete lack of credibility is in the transcript screen shot below. Note that the "technical difficulty" came on precisely after analyst Mark Murphy completed his ominous question, and lasted about 1 minute. If any investor is willing to over look this clear writing on the wall about how little NQ management understood FL's revenue model seven months after the full acquisition (the call was in June 2013, and the 78% acquisition of FL was in November 2012), we can only say your greed for a quick buck on anything mobile has completely impaired your judgment.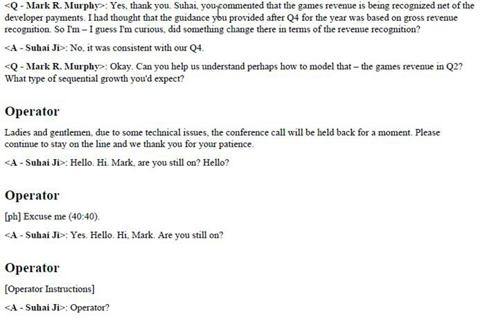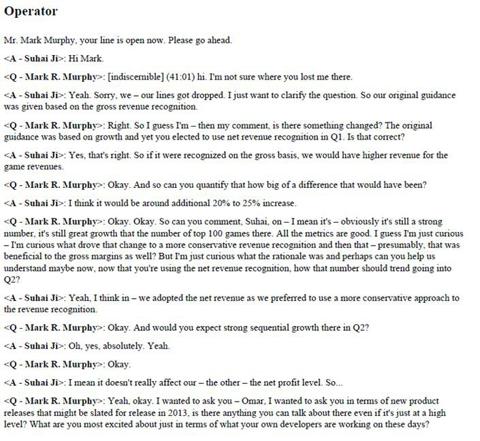 Lastly on FL Mobile advertising, a research note by Piper Jaffray implied that FL generates mobile advertisement revenue through Offer Wall. An Offer Wall is basically a panel of apps presented to a user during that user's intense engagement with a core app (such a killer game). In the example of a killer game as a vehicle for Offer Wall advertising, the user could be trying to advance to the next level. Typically, that requires the user to pay, but Offer Wall turns that around and asks the user to download a few of the apps on that panel, and in exchange, the user gets to advance in the game. It's an eyeball for money advertising technique pioneered by TapJoy, but quickly spread to China. It's very doubtful whether NQ can generate advertising revenue this way because its core security app is rarely known or used in China, so NQ doesn't really own ad inventory. Top execs at the biggest third party mobile ad network in China (portfolio company of Kleiner Perkins and home grown powerhouse IDG), and the top Offer Wall operator in China, told us that NQ is a customer of theirs when it comes to Offer Wall advertising, not a competitor.
So in conclusion, FL Mobile, while creating some call option and excitement for NQ, does not have a solid business model, and likely inflated its margin and misrepresented its ability to generate advertising revenue. Its lowly valuation of $56M (stock consideration, not cash) at the time of NQ's acquisition was not a mistake.
Mobile search entry via MusicRadar app, really?
Recently, sell side research reports have been suggesting the likelihood of NQ bursting onto the mobile search stage in the same fashion Qihoo bursted onto desktop search, taking 8% query market share over night. This kind of suggestion is irresponsible at best. Search takes years of R&D, and Qihoo's search capability wasn't built over night, as it dates back to founder Zhou Hongyi's days as the CEO of search pioneer 3721.com and later President of Yahoo China 7-8 years ago. NQ's management team has had no involvement in search. The only association with search is the Music Radar app (retrieving songs based on snippets sung by the user into the microphone). While neat and "sexy" to certain bullish analysts here in the US, such an app has long been existing in China, from both Tencent WeChat and Baidu, and Shazam (whose Chinese name "happens" to be the same as Music Radar, but who has much more downloads in China than the youngster). And the company who developed Music Radar, Doreso, was founded in September 2012. Exactly how much of Doreso NQ owns is unknown to the investing public, as it's probably one of the many small venture capital/angel investing deals done without disclosure.
The most recent announcement that MusicRadar reached 15M downloads is simply not possible to reconcile with reality. Current download stats from the major app stores in China for MusicRadar add up to 1.6M, and here are the screen shots from these major app stores (the Chinese character "万" means ten thousand). Yes, there are many other Android app stores in China, but the download market share is concentrated in 360, 91 (now Baidu), Wandoujia and Baidu, who easily captures 60% of the Android apps download volume.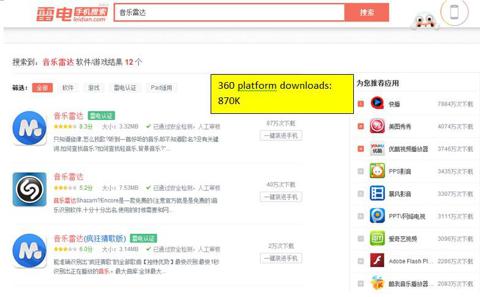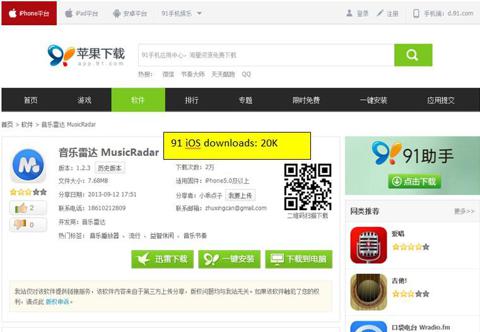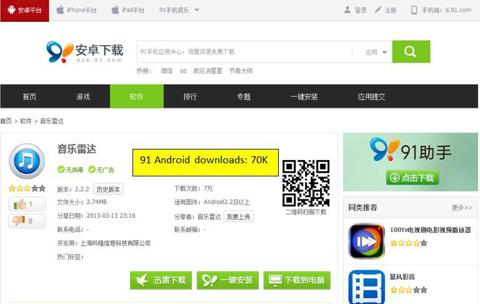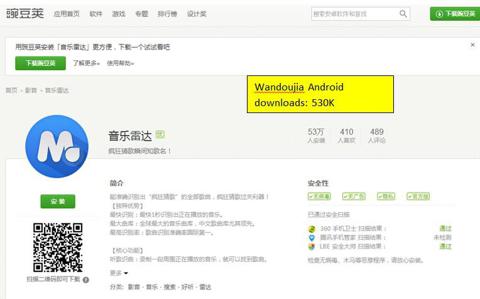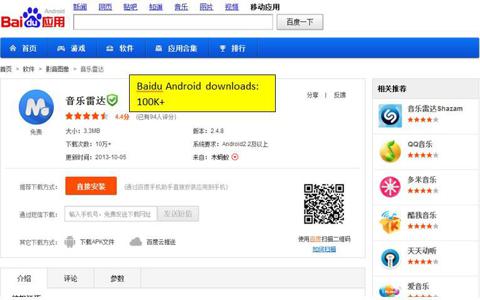 To imagine NQ becoming a meaningful player in mobile search is a huge stretch.
The last piece of the puzzle in the NQ mobile empire is NationSky. We will leave that to a later chapter.