The NAAIM Exposure Index is a weekly survey of NAAIM members that evaluates the exposure of active investment managers. The survey is relatively new and only dates back to July 2006 so data is somewhat limited and this should be taken into consideration.
The most recent survey was released this morning and came in at 9.97 for a fall of 23.17 points. This is the lowest level since 9/28/11 and the second lowest level dating back to 2010.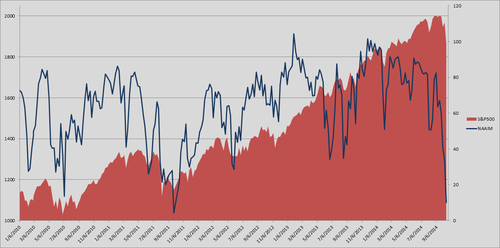 Image courtesy of Chad Gassaway, CMT.
Since inception, the only other times it reached these levels was during the 2008-2009 market crisis.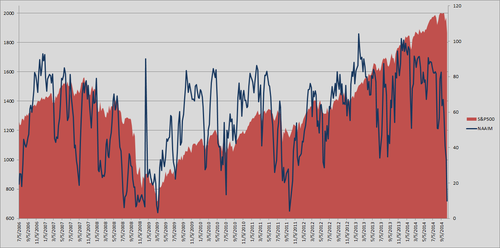 Image courtesy of Chad Gassaway, CMT.
This now leads us to the question on how markets have responded. The chart below shows the occasions that NAAIM has fallen below 20 for the first time in three months. This has not taken place many times but results have been exceptionally bullish. Going out two months the market has been higher during all periods backtested. One month later showed the strongest returns with an average return of 5.96%. Even the worst return of 3.58% was far better than average. Three months later the market was higher three of four times with an average return of 3.93% but investors should notice that returns fell after the first month.

Image courtesy of Chad Gassaway, CMT.
In conclusion, this is a newly created survey so very little historical data is available. Therefore, it is difficult to make a strong thesis based on the data but does show upside potential in the market. If nothing else, it is something to pay attention to.