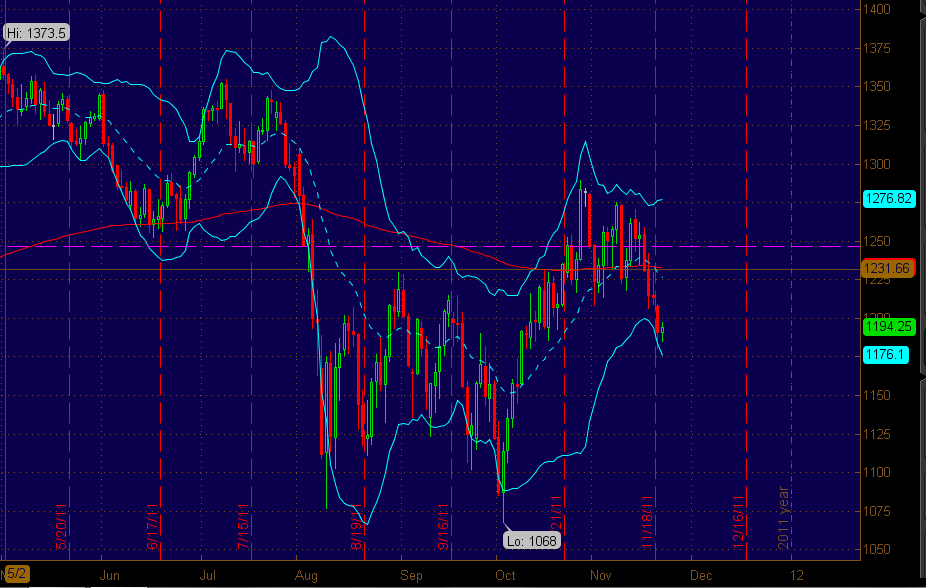 This is the daily chart of the /ES.  There are three distinct areas of consolidation and serious price moves with a breakout of each one.  The first area of consolidation  occurred from May until Mid July.  For two months prices oscillated in a sloppy trading range that eventually broke down in latter July creating the second trading range.  The second range ran from late July to early October - again a wide sloppy trading range that measured over 100 points.  This consolidation "resolved" to the upside to create our third range.  This range has been tighter in price range, and shorter in duration.  It also has the dubious distinction of a bear market rally structure as price rose in wicked swings on extremely low volume.
This market has a lot of traders flustered.
On the bearish side we are once again trading under the 200ema, the bollinger band complex is indicating an openness to further declines, and we've thrice been rejected at or slightly above the point that would take the /ES positive on the year. All of these factors contribute to a bearish outlook.
On the bullish side we have US Economic data that is sluggish, but strong enough to continue providing lukewarm results. In other words, its' bad - but not bad enough to sell the market down for cause.  The Economic data creates more of a disinterest in the market vs. a solid reason to exit.  As long as the market is not being actively sold on volume, it stays in the bullish column.  Add this to the seasonal strength factor and you would have a valid argument for an upward thrust into the end of the year.
A break and close below today's low will in my mind absolutely seal the deal on a market reversal.  A sustained hold below 1185-1175 will likely reignite recession fears.  Recessionary fears can be created when there is a
perceived
drop in corporate profits, ie; the stock market falls.  In extreme instances the loss of market capitalization simply
DUE
to a market fall can actually be a self fulfilling prophecy igniting a full blown recession.  This can happen before GDP or CPI are even thrown into the mix.
Typically the fear of recession begins with a drop in GDP, and a subsequent drop in corporate profits.  As the economy worsens, the market can enter its' own recession resulting in a lesser demand for many company's products.  From here, the declining demand results in reduced profits, thus as the GDP falls the market will suffer.
One of the interesting facets to this dilemma we will call 2011 is the lack of quality investment vehicles.  Generally we can see a shift into a safer asset class like bonds or cash - but in today's market, government debt is one of the "trades of last resort", cash is worthless and being devalued more each day, foreign entities are - "uh, just say no" and gold which has already more than doubled is tainted with scandal as rumors of physical shortages and market manipulation abound.  As a fundamental investor I can't think of one reason I would want to put money to work in the market.  As a trader I rely on technical responses to deploy my capital and eek out daily gains.
My personal take on the market?  I'm not an economist and I didn't play one on TV.  My technical take is that we are able to trade the market at extremes.  This means as long as we remain under the 200ema, rallies are to be sold.  The further we get away from the 200ema the stronger the odds of a snapback rally.  While the rally may look like the start to an all new bullish move, it is not, and we sell resistance and  (the nimble only) buy support.
Suz
Suzie@OptionMarketMentor.com
@SuzyQ76022