AAPL is a favored momentum stock that has undergone a nasty but needed correction.  Price is now interacting with its 200ema.  I subscribe to the theory that traders repeat the same patterns until they don't work anymore so let's take a look at what happened the last few times price interacted with its 200ema.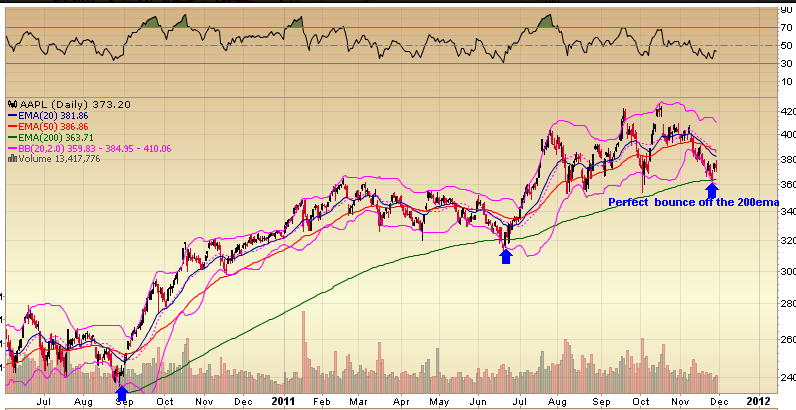 This is a daily chart of AAPL from September 2009 to present.  In all of that time price only interacted with its 200ema 3 times.  Each touch of the 200ema proved to be a splendid buying opportunity.  This makes the 200ema a relevant moving average and one we can use to project an entry point.

Let's see where we are today.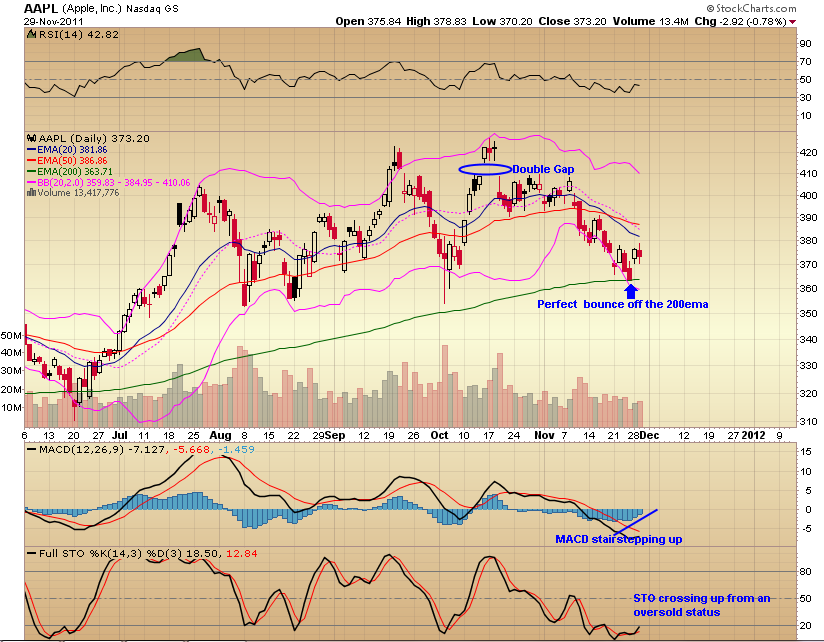 Three days ago, AAPL touched its 200ema ($363) and had a solid bounce.  Traders exploited this opportunity as it was a low risk entry with a stop right under the 200ema.  Since the 200ema has been a historical buy point, the touch was met with solid buying.  In addition, the MACD is bullish and stairstepping up and the full stochastic is trying to cross up from and oversold state.  Remembering that traders do the same thing over and over until it doesn't work anymore, where does that place AAPL? Are you in the bull camp because it has gained $10 in 3 days?

Not me.

Take a look at the weekly chart of AAPL.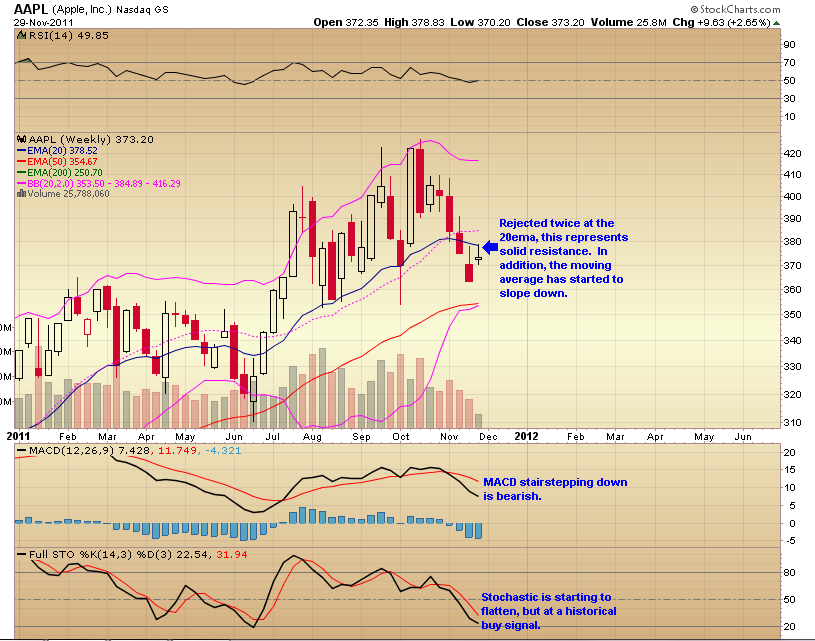 The longer time frame paints a much different picture.  As we've been rejected twice at the 20ema, the moving average is to starting to curve down, and another point of resistance dead ahead at $384 the current price of $373 doesn't look so good.  The weekly chart clearly indicates price could fall from here and if it does there is no support until $353-$354.  Am I predicting that is what will happen?  NO.  I'm simply calling your attention to the bigger picture which tells us there's a little more risk than the daily chart would indicate.  If you entered right here, right now, you'd be risking $20 to the downside vs. breaking upward through double resistance.

Are breakouts working in the current market environment?  Nope.

The dilemma is now whether to trade AAPL $10 up, or wait for a pullback.  Since we trade the market that is in front of us, not what we "think" it should be, we need a strategy that will be profitable, limit loss and allow us to trade right here, right now.

This is where credit spreads come in handy.  Credit spreads allow you to "get paid" up front.  For each spread you sell, you have a defined risk (spread-credit) and a defined gain (the premium credit you took in).  The key is to get the most premium with the least risk.  Let's apply that to AAPL.

This is the December options chain for puts.  We want to pick a strike that is under the 200ema and near a former level of price support, while still providing a decent premium.  We also try to sell options with an increased volatility (the last column on the right)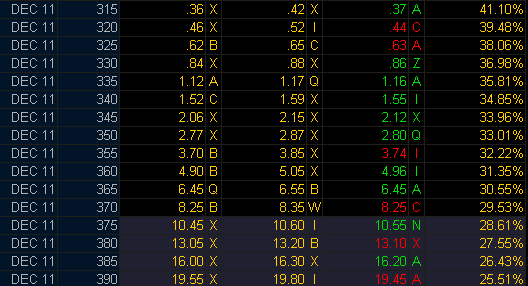 While I don't see any attractive volatility, we do have several strikes that fit our remaining criteria .  I like the 350/340 bull put spread which is a $10 spread for $1.18 or better.  I know you are thinking that the risk/reward is totally skewed - you are correct as we are technically risking $10 to make $1.18.  This is where probability comes in.  Ask yourself what is the chance that AAPL is at $350 by the 3rd week in December?  It would have to change its behavior and break the 200ema to do be at that price at that time.  I also like the 345/335 bull put spread for a net credit of $.89 or better.  You may minimize losses by setting a $X.XX hard stop on the spread, or set a stop based on the underlying stock that triggers when AAPL reaches a certain price.  In this manner, the $10 "risk" is brought down to a level YOU manage.

In either case, time decay on the options will be your friend as options are a "wasting asset" and designed to go to zero.  80% of all directional options expire worthless at a loss to the trader.  With credit spreads we are part of the successful 20% and simply wait for the premium to leak out.  It is our intent to have BOTH strikes expire worthless, thus keeping the total premium you took in.

As long as you are a prudent trader and sell way, way out of the money puts/calls, even if the stock has a chunky monkey drop,  as long as it is above your strikes at expiry your trade is successful.

AAPL is an actionable trade for the credit spread strategy.  I trade credit spreads for multiple "staid" accounts.  With credit spreads you have small controlled growth vs. swinging for the fence in a directional option.  Make sure you define YOUR risk profile as yours may be different than mine.

Feel free to comment or email questions.

Suz
@SuzyQ76022
Suzie@OptionMarketMentor.com