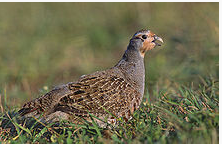 On the first day of Christmas my true love gave to me a partridge in a pear tree.
Tiny little sucker.  I always heard they taste like chicken - that being the case I'll just opt for the chicken.  On the menu today:  SAFM
Sanderson Farms is traded on the Nasdaq and has been flirting with a breakout for over a month now.  It is $1 off of its 52 week high, and interestingly enough Google finance reports institutions own 109% of the 22.15M share float.  TSN & PPC are peers, and SAFM clearly outperformed them and the overall market on this -1% market day. 

When the market is in corrective mode a low beta stock feels good in your bag.  SAFM is a trooper stock that's been plodding onward and upward.  A sedate trade, it interests me because it normally trades 275,366 shares a day but its' been challenging the 52 week high on notably increased volume.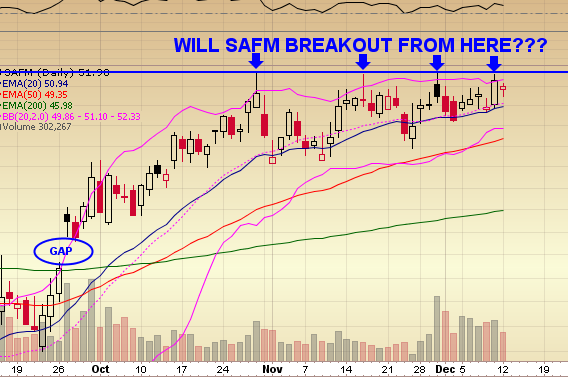 The problem with SAFM is that it's plodding upward without a fundamental reason to do so. (GASP!! Suz is talking fundies)  The options are illiquid and the quarterly dividend is paltry.  It has reported 3 losing quarters already and estimated to lose in the next two as well. Its peer TSN has the same economic conditions as SAFM but has been able to retain its profitability.   Is SAFM a stock that deserves to be flirting with a new 52 week high?  I say no.

According to Greek legend, the first partridge appeared when Daedalus threw his nephew Perdix, off a roof in a fit of jealous rage. (Wikipedia).  Translated:  Bubba's hunting quail with a bear gun.  Put away your big gun Bubba and try bagging your prey with an option trade.

SAFM reports earnings on December 13, 2011.  This stock has a history of bad earnings and post news sell-off's.  There is a big spread between the bid and ask.  When you have a big spread you run the risk of getting caught in a trade you cannot get out of if it goes the wrong way.  For this reason I only consider credit spreads or short puts for these type of stocks.

SAFM has a downside gap at $44.  I am in the camp that gaps fill no matter how long it takes.  That gives us a toppy stock with a downside gap and a catalyst.

What's the trade?

Patience. 

As the equity reports tomorrow and the options are rather illiquid, I would look to open a short put position when SAFM approaches its downside gap at $44.  I like selling the February 45's for $1 or better.

Suz
Have a chart question or want an analysis? Email me!
Suzie@OptionMarketMentor.com
@SuzyQ76022