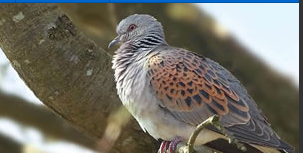 On the second day of Christmas my true love gave to me two turtle doves and a partridge in a pear tree. 
Who came up with this stuff and what's up with the bird fetish?
The 12 days of Christmas song started as a nursery rhyme in the late 1800's.  The English incorporated the chant into a game that started Christmas day, and ran for the 12 days after.  The 12th day  for some reason was to be the merriest day of all and that's when the game was usually played. From what I've read, back in the day the English thought that playing kid's games was a great source of fun - I guess because they were so proper the rest of the time they thought playing kid's games was the ultimate form of letting their hair down.  In today's society I would liken the game to a cross between "telephone" and "spin the bottle".

If you've never played spin the bottle, it consists of an even number of boys and girls sitting in a circle on the floor, spinning a pop bottle and whoever the top of the bottle points at when it stops spinning must go into a closet and kiss the bottle spinner.  This simple little game was the most loved and most dreaded event at "tween" parties.  Thinking back to these junior high games reminds me of the best "spinning bottle" - Coke.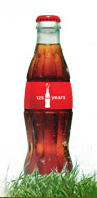 While Coke trades come in many forms, I like the chart of KO which is the Coca Cola Company (Common).  I'm in good company there because the top holder of KO is Berkshire Hathaway coming in at a whopping 200,000,000 shares owned.

KO has traveled between 61.29 - 71.77 over the last 52 weeks.  At 68.40 as of today's close there is room to the upside of at least $3.10 to $71.50.

Taking a peek at the chart we see a breakout stock that is challenging prior price resistance at $68.50.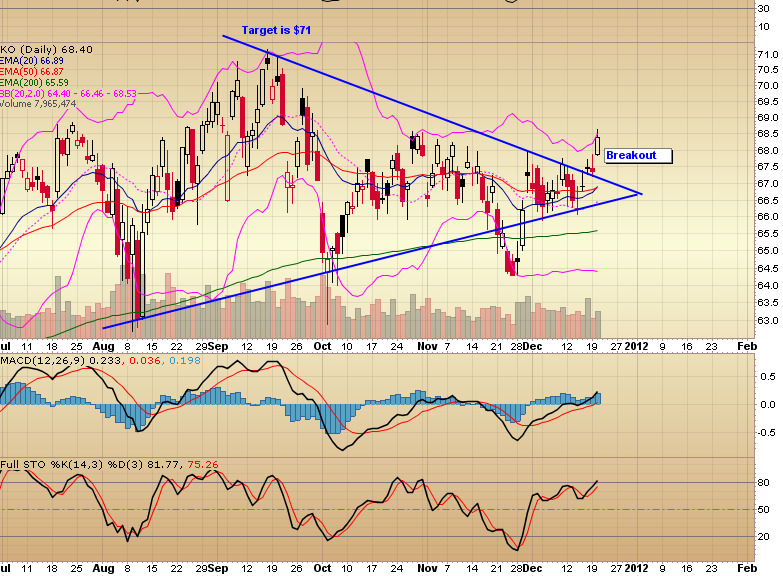 Price has broken out of a triangle formation and prior resistance should now become support.  KO is a staid little trader, not very exciting and not a lot of risk.  I love stocks like this because I can employ an options strategy that gives me a monthly income and makes time decay my friend.

What's the trade?  I like a buy write strategy here where I would buy the stock and sell an upside call at the same time, and a combination strategy where I would buy the Jan 65 call and sell the Jan 62.50 put (entered at the same time).  With the combination strategy I am using the short put to fund the call purchase.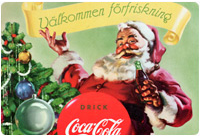 After all, Santa loves Coca Cola...

Questions on strategies?  Email me!

Suzie@OptionMarketMentor.com
@SuzyQ76022