This will be a quick update. Spot prices have been trending down and now look to be revisiting their previous lows. Silver is already there, trading at below $18.70. Gold is testing support at the $1240.00 handle. Needless to say, if you have been considering building your position or investing for the first time in precious metals, right now is as good an entry point as any we have seen this year.
However for those who aren't quite convinced gold and silver are the best play right now, allow me to address some of the more conventional concerns.
When metals trend lower the temptation is to take the mainstream pundits at their word about the economy - that it is indeed improving. Recently there has been a whole buffet of stories that purportedly authenticate these assumptions. You probably have heard one or several of the following:
The dollar is getting stronger
Continually rising equity markets equals recovery
Zero interest rates and running a deficit is necessary to grow/rescue the economy
Debt levels are manageable.
The fact of the matter is that every single one of this statements is dead wrong. In this update we are just going to focus on that first one - the dollar is getting stronger.
Like every media story this is only a fractional truth and not the whole truth. We have to ask, stronger compared to what? The dollar might be getting stronger compared to other fiat currencies, most notably the Euro. Since Draghi's announcements of even lower negative interest rates (-.20%) in order to stimulate lending, (see my previous commentary detailing the harmful consequences of such actions) the dollar has gained some ground against the euro and other fiat and failing currencies. Draghi's craziness aside that does not give you the full picture.
This chart below shows the real story of the dollar.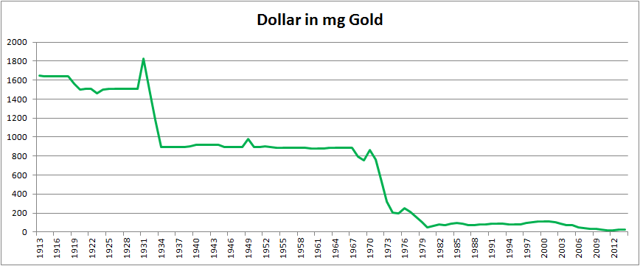 This is not the story of a currency"getting stronger" but rather getting progressively weaker. Right now each dollar is worth about 25 mg of gold. That includes its most recent "strengthening." In light of the long term story represented here, such a move would barely be visible in the graph. In the last 30 years, the dollar's decline has been slower than before. Losses have been more subtle and less visible to our forgetful minds. Rest assured though, the trend is still in place. The dollar is breathing its last. Volatility is to be expected as the currency wars ensue, but don't be fooled, there is no winner in the fiat category. There are only losers.
This chart shows the true story: The dollar is the weak asset and gold is the strong asset. Savvy investors aren't trading gold for dollar profits, they are getting out of dollars altogether. We recommend you do the same.