It was quite the week for this now-turned fulltime 'blogger' and investor advocate. 
I started the week with a presentation to CMAs (accountants) covering the Canadian Robo Advisor landscape. I will certainly turn my attention to the US Robo Advisors, posting on my site and on Seeking Alpha. 
The presentation was a ton of fun, I love presenting and talking about any sensible low fee portfolio and investment options. Robo's are one of the wonderful and simple solutions for those who seek a managed portfolio. That said, while my message was about simplicity, the importance of keeping fees as low as possible, and the damaging effect of high fees, the speaker who followed me was from an Alternative Investment firm. It was night and day. High fees and alternative (including hedge funds) vs simple and low cost portfolio construction. 
Given that the audience was already warmed up with the low cost, keeping more money in your portfolio pocket messages, they questioned the 'other guy' on his firm's fees.
"Why would we or our clients want to pay those high fees?"
His reply? "Well my kids have to go to private school". I think it was a joke, but likely true. Also offered was "that's just the way it is". Also, "would you question the salary of Apple's CEO?" I guess he thought he and his associates create as much value as Tim Cook at Apple (AAPL). If Tim Cook makes $13,000,000 annual for a company with a Trillion dollar market cap, I think that's a good deal, and a very low management expense ratio. 
Hmmm, I can buy Apple stock for $9.99 at TD Waterhouse. I can sell it too. On selling Apple shares, look for my article on harvesting Apple shares in the Fall. That should be posted soon. That article will also provide a simple demonstration on why growth is great for retirees. 
For weekend reads ideas keep tabs on my cutthecrapinvesting site. I post a Friday reads and podcast wrap up. The post looks at the death of NAFTA and the creation of the USMCA. I suggested that given the acronym I wanted to sing it a la the Village People. US-M-C-A. 

This week we look inside Warren Buffett's head. Not surprised to find Benjamin Graham in there.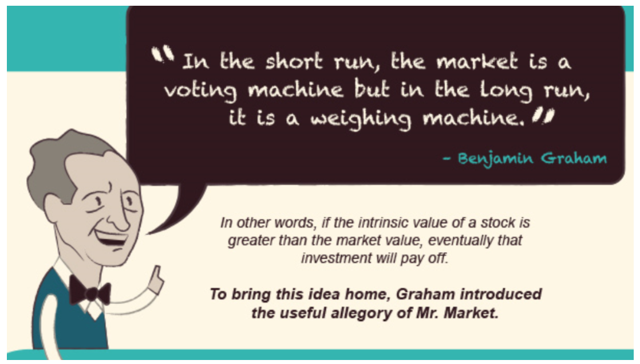 Yes, Mr. Graham gave us Mr. Market. Thanks to index funds Mr. Market can now be reduced to letters such as (SPY) (IVV) (EWC) and more (EFA). Mr. Graham was the original indexer and dividend growth investor (NOBL) (VIG). He suggested that we the defensive (I think he meant unsophisticated) investors insist on at least a 20 year history of dividend payments. Those teachings are inside my head too. Dividends are a wonderful divining rod. 
I even found more evidence that Indexers Are Smarter. 
Within that Friday blog post you'll also find some wonderful book ideas from financialuproar.com and some podcasts that are worth a listen. With audio podcasts we can get some wonderful investment advice and ideas on the fly, while driving, walking, or sitting around the house. You can give your eyes and reading glasses a break. You also get 'to meet' the presenters. 
The Friday blog was a lot of fun to write. I think and hope it's a fun and insightful read. If you want to receive notices of the next Cut The Crap Investing Friday reads (and all new blog posts) simply scroll to the very, very  bottom of the page on Grab Your Coffee, Warm Up The Pipes It's Time to Sing USMCA and hit that follow button. 
And of course I welcome ideas and comments from my very insightful and knowledgeable Seeking Alpha readers and followers. I usually learn more from my readers than from the research I do for the preparation of articles. 
Happy Sunday, and Happy Thanksgiving to my Canadian Friends. 
Dale 
Disclosure: I am/we are long BNS, TD, RY, AAPL, NKE, BCE, TU, ENB, TRP, CVS, WBA, MSFT, MMM, CL, JNJ, QCOM, MDT, BRK.B, ABT, PEP, TXN, WMT, UTX, BLK.