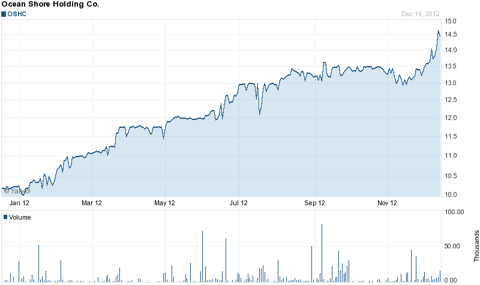 Our favorite long idea coming into 2012 was Ocean Shore Holding Co. (NASDAQ:OSHC) which had last traded at exactly $10.00 per share. As we wrote at the time:
OSHC is a small bank that appears to be a promising acquisition candidate. We originally made a significant investment in this stable bank with solid credit quality by participating in the mutual conversion in which we paid $8 per share, representing 60% of book value. Despite a bad environment for banking, Ocean Shore has strong asset quality and steady growth. We anticipate that the bank will continue to grow book value while its market price will close some of the discount to that book value. By the end of 2012, they will be well-positioned to entertain any inbound interest from strategic buyers who may be interested in acquiring Ocean Shore for a significant premium to its market price. As of today, this is our largest investment.
As we near the end of 2012, an update is in order. Year to date, the shares are up over 40%, and it remains our largest investment and as well as our favorite long idea for the remainder of the year. Despite the appreciation in its stock price, we believe it is still quite undervalued.
In our view, a deal for OSHC has always been less a question of "if" then "when" and the answer to when is "probably very soon". While we waited, the bank has repurchased a significant number of shares and will be allowed to entertain inbound interest from strategic acquirers within this month. Throughout this process, management has appeared to be totally committed to maximizing value for shareholders and themselves.
One of the benefits of participating in mutual conversions is that they place management and shareholders on equal footing in terms of incentives. As a 5% owner in OSHC, we chose not to file as an activist investor with the SEC because we see no need for shareholder activism in this case.
Based on conservative estimates of the business as well as historic precedent in similar transactions, we believe the price required for a strategic buyer to get shareholder approval for a transaction is about $18 per share. This appears to be a multiple bidder scenario, which we prefer because they tend to increase the eventual sales price as well as provide protection if one of buyers walks away. "Heads we win, tails we tie".
While we await a transaction, we own a well run, well reserved, overcapitalized institution with declining borrowing costs and few non-performing assets that pays a dividend of .5%.
Disclosure: I am long OSHC.
Additional disclosure: Chris DeMuth Jr is a portfolio manager at Rangeley Capital, a partnership that invests with a margin of safety by buying securities at deep discounts to their intrinsic value and unlocking that value through corporate events. In order to maximize total returns for our partners, we reserve the right to make investment decisions regarding any security without further notification except where such notification is required by law.