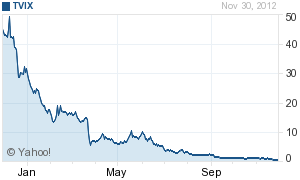 Other than expected value, what factors impact your investing decisions?
It appears that one common answer since the financial crisis has been a strong, pavlovian dread associated with volatility. I ask this question because we always start by asking what investment counterparties want - or want to avoid - for reasons other than expected value. Who are the non-economic actors and what are they doing? Over the past few years, the answer appears to be "dreading volatility".
Volatility, in and of itself, is neutral to expected value but investors appear to be utterly price-insensitive in attempting to avoid it. With the emergence of faddish financial innovation in the form of various exchange traded notes, it is convenient for investors, including low information retail investors, to express this preference in the capital markets.
Over the past year, this trade has represented an almost perfect transfer from volatility avoiders to expected value seekers. Perhaps the most infamous example is the iPath S&P 500 VIX Short Term Futures ETN (NYSEARCA:VXX). This security has an expected value of $0.00 over time (and can be directly shorted via either the equity or indirectly via equity derivatives) but serves the purpose of near-term volatility avoiders in the interim. It allows both sets of investors to achieve their stated aim. Over the past year, it is down by over 84%; it will probably achieve similar results in the future.
Does VXX represent the worst idea / best short ever? Almost, but not quite. It is true that with VXX, you can lose much of your invested capital over time. However, if you are in more of a hurry, VelocityShares Daily 2x VIX Short Term ETN (NASDAQ:TVIX) represents a way to lose your invested capital at once. Over the past year, it is down by over 98%; while the arithmetic becomes tricky, it will probably manage to achieve similar results in the future too. In fact, this one is such a disaster ( / beauty to short if any when borrow is available), that the sponsors sort of disowned it in March 2012, at which point, it began trading unhinged from its underlying market and built up a massive premium before that premium collapsed. Buyer beware. Or better yet, buyer run for the hills. Best still, short them to zero. When they delist, collapse completely, or simply disappear in a cloud of recriminations and litigation, we'll happily be in the tax-advantaged situation of never having to cover.
What are the lessons that I am trying to learn from this experience? For me, the key lesson is that anything - anything - that is added to a mandate dilutes from other goals and in this case price-insensitive volatility hedging comes at a price. When a lot of people appear to be saying "get me out of here (at any price)!", they will probably make superb counterparties. If you will allow me a moment of sentimentality during the holidays, let me say that there are more important things in life than money. However, there are not more important things in investing than money. Find someone who disagrees, take the other side of their proposition, and you'll both get what you came for. As for me and mine, we'll take the money.
Update as of 8/2/2013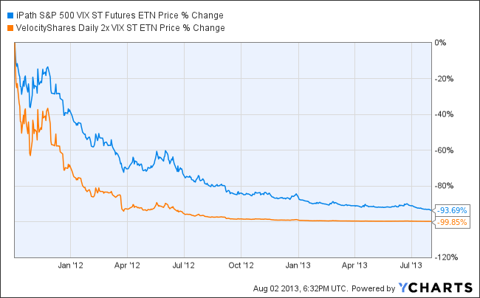 Disclosure: I am short TVIX, VXX.
Additional disclosure: Chris DeMuth Jr is a portfolio manager at Rangeley Capital, a partnership that invests with a margin of safety by buying securities at deep discounts to their intrinsic value and unlocking that value through corporate events. In order to maximize total returns for our partners, we reserve the right to make investment decisions regarding any security without further notification except where such notification is required by law.