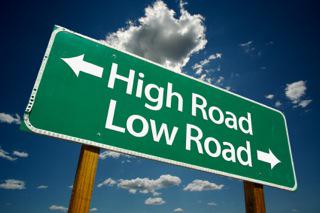 Each day, we re-evaluate our ideas, focusing on those that have hit new 52-week highs and lows, in order to reexamine our premises. Today, here are our ideas that qualify:
New 52-Week Highs
CAR long
CVI long
GKKA long
HSNI long
HTZ long
IP long
KFN long
MLM long
OSHC long
PHH long
SHAW long
New 52-Week Lows
FXY short
HLF short
TVIX short
What takeaways do these new highs and lows offer?
CAR
We have been operating with the view that the rental car companies have been attractive bargains for the past few years. After the HTZ-DTG deal our major exposure to DTG, our largest investment at the time, was liquidated. We remained HTZ shareholders with the view that the deal accretion was undervalued by the market. But with rental car companies substantially recovered from their previously extreme undervaluation, we intend to reduce our exposure further.
CVI
CVI has been a bargain opportunity for the past few years. We own a contingency right on it and tendered into the Icahn tender offer, but immediately bought additional shares and became minority holders. Since then, it has meaningfully closed the gap between its value and price.
GKKA
We have publicly disclosed with the SEC that we own between 5 and 20% of this security. Our fundamental analysis concludes that the common stock is worth over $5 per share and the prefs are worth around $40. We have allocated 10% of our portfolio's equity to the common and an additional 7% to the prefs. If you would like to read more, you can do so here.
HSNI
This has been one of our investment ideas since late 2008 based on its standalone valuation and its value as a takeover candidate. However, it has essentially closed the distance between its price and value since that time. Prospectively, this idea will be less of a focus.
HTZ
I discussed our views on this industry, including HTZ, above under the CAR heading.
IP
IP is still a terrific, undervalued investment opportunity.
KFN
This was one of our few long investment ideas in 2009; it has recovered well since then.
MLM
We like MLM but are disappointed that they do not appear to be resurrecting a deal with VMC.
OSHC
OSHC is my favorite investment idea for 2012. Tomorrow, it will end its 3-year sand still during which time it was not allowed to get acquired. Despite the run up in its stock price, we do not intend to sell any shares because it trades at a $3-5 discount to an appropriate deal price in a strategic acquisition. We value the shares at $18 and have allocated 6% of the equity in our portfolio to this position. We estimate a 90% probability of achieving our upside scenario in the near future. If you would like to read more, you can do so here.
PHH
After a failed LBO during the financial crisis, this became a once and future takeout candidate. Full value has not yet been realized, despite the new 52-week high.
SHAW
SHAW is a 5% allocation of our portfolio's equity. We think that the shares are worth over $45 and we are 95% confident that their acquisition by CBI can be successfully consummated. Despite the shares hitting a new 52-week high, we are committed to holding onto this exposure.
FXY
This is a favorite generational short opportunity, but is hard to time. It is worthy as a short, but works better via buying long-dated puts. The later the better. I always like to have a comprehensive understanding of the arguments antithetical to my investment thesis, but for Japan to avoid a workout of the JGBs and devaluation of the Yen, they will have to resort to magic.
HLF
There is no polite way to discuss HLF. It is a criminal pyramid scheme whose days are numbered. This is probably one to short to $0.00.
TVIX
I didn't think that I'd ever find a security as disadvantageously structured as the VXX. It is a money losing machine. I thought that it was as bad as it gets. I was wrong and stand corrected: TVIX is as bad as it gets. TVIX is down over 97% YTD. I expect next year to be worse.
Disclosure: I am long OSHC.
Additional disclosure: Chris DeMuth Jr is a portfolio manager at Rangeley Capital, a partnership that invests with a margin of safety by buying securities at deep discounts to their intrinsic value and unlocking that value through corporate events. In order to maximize total returns for our partners, we reserve the right to make investment decisions regarding any security without further notification except where such notification is required by law.