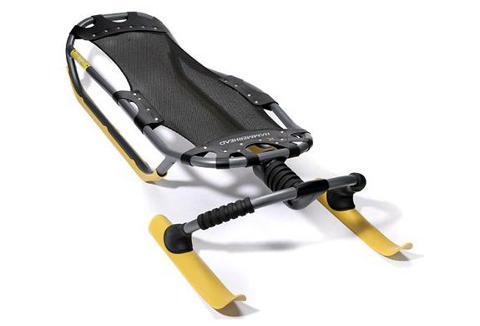 Sometimes one has to be five hours late for work. The first snow fall in this part of New England after the new sled arrived was one of those mornings. School was cancelled for the kids and work could wait. After a quick coffee and bite of breakfast, we were off. The new Hammerhead Pro sled, which had recently arrived for Christmas, changes everything about sledding. It is closer to skiing, but while lying down. You can carve turns just like on the ski slopes and its pace is comparable.
To get the best possible speed, we first coated the runners with Swix F4 Universal Glide Wax and then followed up with their wax spray. Finally, just before takeoff, for an extra edge we coated them with a generous amount of PAM original non-stick cooking spray. The result was pure joy. The kids had been through four winters, but it was as if they had never really gone sledding before. Nothing else was half as fast on the slope. A well waxed and oiled Hammerhead does not win races - it crushes the competition's spirit. It leaves them contemplating the relative futility and emptiness of their lives. One almost has to share it in order to have any sort of competition. Or as the kid said, "and I start first, too, to make extra sure to win".
It arrives fully assembled. Fully assembled. While the wife was putting together thousands of pieces to the bunny doll house that she had picked out, I was reading my book.
PAM is obviously available at the grocery store. It helps, but probably does not stay on as well. It is cheap so we use it generously, typically right before each sledding trip.
That is about it. You will not regret making the same choice. If the mother of the house insists on helmets, just take her advice. After one run, you'll see why.
Disclosure: The author has no positions in any stocks mentioned, and no plans to initiate any positions within the next 72 hours.
Additional disclosure: Chris DeMuth Jr is a portfolio manager at Rangeley Capital, a partnership that invests with a margin of safety by buying securities at deep discounts to their intrinsic value and unlocking that value through corporate events. In order to maximize total returns for our partners, we reserve the right to make investment decisions regarding any security without further notification except where such notification is required by law.