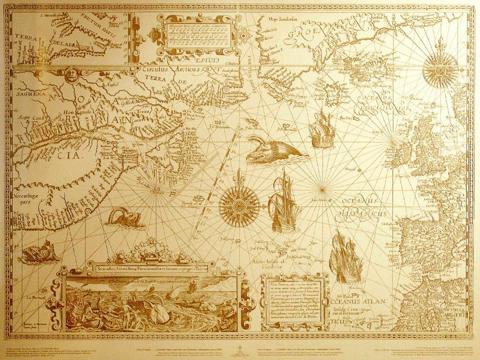 Measured from door to door, the pace of transatlantic crossing has slowed to a creep over the past few decades. More and more people travel, many of the major airports have not kept up, and security lines are hopelessly inefficient for reasons that have little to do with security. However, here are a few ideas for speeding one's way across the Atlantic with as much tempo as can be hoped for when you're flying on modern commercial flights. First, Virgin Atlantic's "Upper Class" has great logistics at both JFK and Heathrow - they pick you up, shoot you right through security with zero lines, and drive you to your final destination. They say that they will only go 70 miles, but they are happy to stretch that a few miles without any complaint or extra cost. Possibly the best advantage is that they offer "Fast Track" access past the long Border Control lines into the UK. This is worth the price or - better yet - the miles if you have them to pay for an upgrade.
For getting back into the US, it is a good idea to have a "Global Entry" stamp on your passport. There is no age minimum, but the machines have some trouble accepting infants' fingerprints. It is still worth it as the system still is a big time-saver, even if the machines are not working as they redirect to the front of a customs line and have a dedicated agent. The price was $100 for five years as of December, but was just increased to $100 per year. However, either a personal or business platinum Amex covers the entire fee. At peak travel times, customs can take about an hour while Global Entry takes closer to a minute in my experience. If you don't have a Virgin Atlantic limo for the ride home, I found that the best option is to skip the taxi line outside of arrivals and walk upstairs to departures. As someone gets out of the cab, hop right in. The cabbies love it because it saves them the same long lines that it saves you.
For more on Virgin Atlantic, consider reading Like a Virgin: Secrets They Won't Teach You at Business School
Mr. Branson is a revolutionary, the Howard Hughes of our day.
Disclosure: I have no positions in any stocks mentioned, and no plans to initiate any positions within the next 72 hours.
Additional disclosure: Chris DeMuth Jr is a portfolio manager at Rangeley Capital, a partnership that invests with a margin of safety by buying securities at deep discounts to their intrinsic value and unlocking that value through corporate events. In order to maximize total returns for our partners, we reserve the right to make investment decisions regarding any security without further notification except where such notification is required by law.