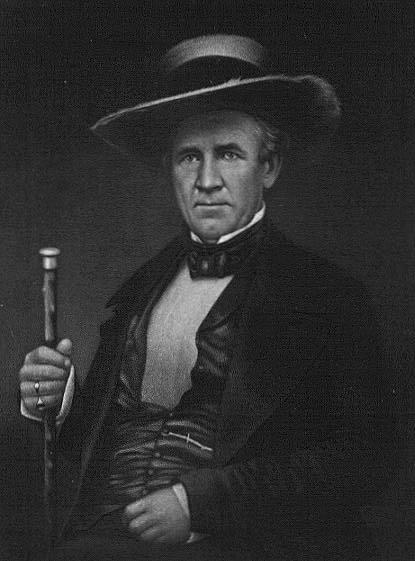 Sam Houston was having a bad year.
If there had been opinion polls in March of 1836, General Sam Houston would have polled extremely poorly among his cold, wet, hungry, and tired army. Six-thousand Mexicans had massacred the Texans holed up in the Alamo Mission. Houston's army at Gonzalez numbered only 374. They lacked adequate training, equipment, or rations. The weather was lousy.
With the Mexican army of General Antonio Lopez de Santa Anna in pursuit, the Texans slogged through deep mud and torrential rain for four straight days. Santa Anna murdered another 400 Texans at Goliad. These 400 were volunteer Texas militia who had made the mistake of trusting the Mexicans to honor their surrender. Along the way, Houston picked up an additional 730 men.
Throughout the month, Houston retreated to LaGrange, then retreated to Columbus, and then continued retreating towards the Gulf of Mexico. By the end of the month, his army was so sick of retreating, that they began to refuse orders to retreat further. Since they wouldn't retreat, Houston figured that he might as well train them. They received their first efforts at organized drilling. In early April, he retreated across the Brazos river. At this point, the army totaled about 1,500.
On the afternoon of April 21, 1836, Santa Anna had stretched his supply lines, divided his forces, and was comfortable enough to settle down for a siesta at San Jacinto. He was so confident that he didn't bother with posting sentries or skirmishers. Houston, who didn't fight at Gonzalez, LaGrange, or Columbus was ready to do what neither army was expecting - he was ready to fight.
The Texans awoke the Mexicans to a battle that was almost over before it started. Eighteen minutes later, 700 Mexicans were killed, 208 wounded, and 730 surrendered (including Santa Anna) at a cost of six Texans killed and thirteen wounded, including Houston who was shot through the ankle.
Texas had won its freedom.
Houston -- an uneducated, hard drinking run away raised by Cherokee Indians -- had few natural advantages going for him. But he picked his spots. He increased his advantages while waiting for the defining moment to act. In the capital markets, there are many times when one feels the pressure to act prematurely. It may be more popular. It may be cathartic, especially when one wants to make up for some prior loss or to "get back to flat".
Waiting can be sheer agony. However, there is usually little downside to waiting. You get as many free passes as you would like, so you might as well wait until the advantages are wildly in your favor. In my experience, a moderate skill at fundamental analysis combined with radical selectivity can lead to similar results.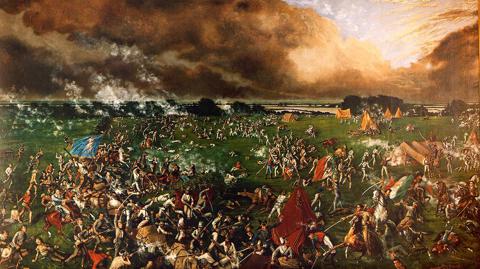 One can follow the example of Sam Houston, waiting for the perfect ground and a sleeping adversary, then as a Texas Ranger shouted at the Battle of Jacinto,
Take prisoners like the Meskins do!