Crown Media Holdings, Inc. (NASDAQ:CRWN) is a squeeze out candidate that we expect to appreciate by over 70% annualized in the months ahead. The stock trades at an attractive price with a catalyst to unlock its considerable value.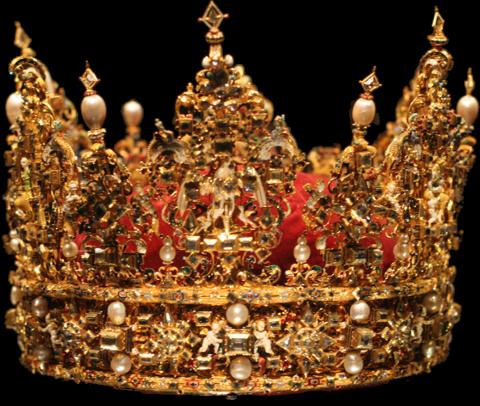 CRWN owns two properties: the Hallmark Channel and the Hallmark Movie Channel. This inventory is too small to be optimized as a standalone publicly-traded company. It would be far more efficient to be either private or the target of a strategic acquisition. Over 90% of the equity is owned by Hallmark Cards, Inc. It would be reasonable for the majority owner to squeeze out the minority shares and de-list the stock in order to save on expenses unless they sell it to a larger competitor. We recently discussed the virtues of squeeze out opportunities in Squeeze Out Some Gains From Uranium One and also discussed the deal prospects for companies that own just one or two stations in Heads You Win, Tails You Tie With Outdoor Channel.
The Hallmark Channel is the only major basic cable channel not owned by a media conglomerate. The best way for CRWN's board and management to unlock shareholder value would be in a sale to a large media conglomerate. CBS Corporation (NYSE:CBS) is one logical buyer. The company's management is aligned and focused on their shareholders. We expect that CRWN will be sold early next year and that the price per subscriber will translate into a deal price of at least $4 per share.
The intrinsic value of CRWN based on their historic earnings performance currently stands at $4.17 per share. The chart below shows the progression of earnings over the last 8 quarters. Over that time, the rolling TTM earnings for the company have improved from $73.7M one year ago to $119.2M currently, driving the valuation from $2.49 per share to $4.17 per share. This assumes a revenue growth of 5%.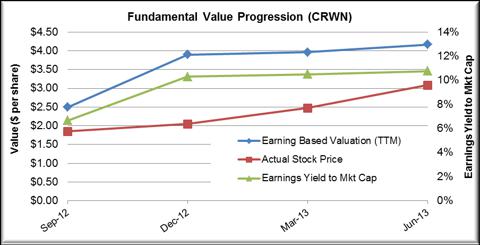 We believe the shares are worth at least $2.60, and the company is an attractive takeout candidate at as much as $4.00 per share. The likelihood of a takeout occurring between now and February 1, 2014 is about 75%. The expected value is well above the current market price. What specific outcome is most likely? It would be surprising to have something happen other than a corporate transaction, and it is almost certain that such a deal would offer shareholders a premium to the current price.
Disclosure: I am long CRWN.
Additional disclosure: Chris DeMuth Jr is a portfolio manager at Rangeley Capital, a partnership that invests with a margin of safety by buying securities at deep discounts to their intrinsic value and unlocking that value through corporate events. In order to maximize total returns for our partners, we reserve the right to make investment decisions regarding securities described in this article without further notification.