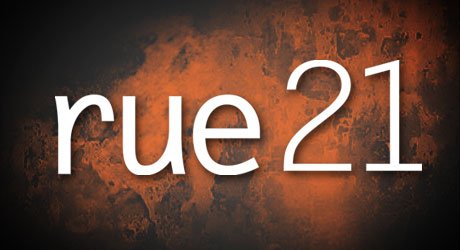 This is definitely an investment idea that was not conceived by the Peter Lynch tactic of investing in the securities of companies that you encounter and admire in your everyday life. You will regret the assault on your senses that is a visit to their website. Lots of mismatching type, random lack of capitalization, exclamation points following assertions that need not be spoken let alone shouted, and screens flashing fast enough to cause seizures. In short, this is "cool" or what passes for cool among the strangely dressed young people pictured on the site. Several of their models are barely dressed at all; given that the store is selling clothing, I hope that they at least got a discount. I better be able to make this investment work to compensate for learning the distasteful fact that the kids now refer to extremely recent decades such as the 1990s as "retrograde".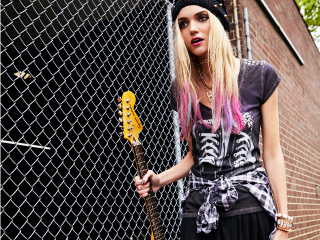 "90's Retrograde"
Deal History
On May 23, 2013, Apax Partners announced an LBO of this specialty apparel retailer for $42 per share. Apax already had two executives on the RUE board and owned over 30% of RUE equity.
They paid about 10x EV/EBITDA, which is slightly above, but close to comparable past transactions. The merger agreement was filed the next day. Their preliminary proxy was filed on June 21, 2013. The RUE shareholder approval is scheduled for Thursday September 19, 2013. With no better alternative emerging, approval is nearly certain.
Alternative Bidders
In early July, the parties announced the expiration of the go shop window without any other proposals. The process attracted only tepid interest. RUE's young adult customers have fickle tastes, which makes RUE's future cash flow hard to predict. The price is already full. Bidders may have emerged to pay as much as 8x EBITDA, but this deal is already over 9x.
Regulatory Review
The Federal Trade Commission (NASDAQ:FTC) cleared the deal on June 24, 2013.
Financing
The primary credit market gets very quiet in August. However, when people get back to their offices this week, they will get back to work on the deal financing. This is a leveraged deal, but securing financing should be a surmountable challenge. It does not make the situation easier that comparable companies have fared poorly since the deal was announced.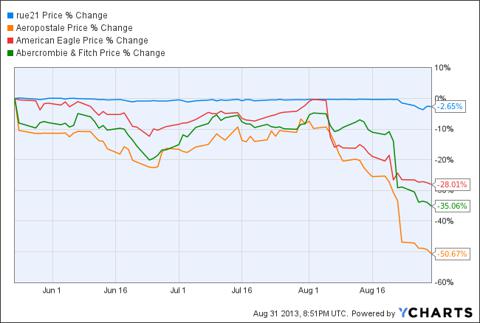 If the deal closes on time and on terms, shareholders will receive an annualized net return of about 30% during the course of September. The key to claiming a materially adverse effect under the material adverse change (NYSE:MAC) clause is that the MAC violation needs to be durationally significant. It is possible that RUE had as weak a quarter as AEO, ARO, and ANF, but it is hard to argue that a single quarter's earnings represent a long enough duration to trigger a MAC.
What do we own if the deal fails?
Over the last 5 years, Rue21 has successfully driven strong revenue growth while maintaining consistent excellent earnings and cash flow. Averaging a greater than 25% revenue growth over the last 4 years, they have consistently maintained an operating margin of 7 - 8%. Their return on assets has been over 10% during this period. They currently have no debt and anticipate that current cash from operations coupled with their revolving credit facility will provide adequate liquidity for at least the next 12 months.
Our fundamental valuation model values the Rue21 standalone business based on their actual trailing 12 month results at more than $40 per share based on cash flow and more than $50 per share based on earnings. Figure 1 shows how their standalone value has progressed over the last 8 quarters. This level of financial performance indicates that the downside to the shareholder if this transaction does not close is small.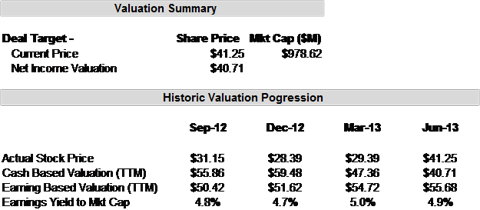 Figure 1: Fundamental Value Analysis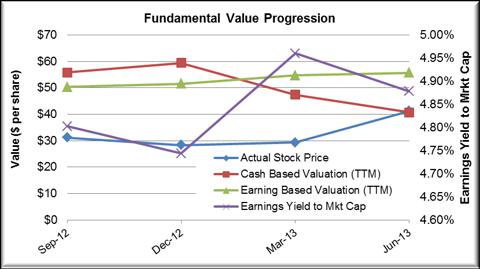 Unlike most fashion retailers, RUE's management team shows a very strong focus on operating margin, working hard to balance profitability with revenue growth. Their financial results demonstrate that they are not interested in "buying" market share at the expense of maintaining good financial returns to the shareholders. They have proven themselves successful in selecting products to sell that command a good price in the market.
Conclusion
Given the proven skill of the Rue21 management team and their successful business model, APEX partners will have made a very good purchase when they complete this transaction.
Disclosure: I am long RUE.
Additional disclosure: Chris DeMuth Jr is a portfolio manager at Rangeley Capital, a partnership that invests with a margin of safety by buying securities at deep discounts to their intrinsic value and unlocking that value through corporate events. In order to maximize total returns for our partners, we reserve the right to make investment decisions regarding any security without further notification except where such notification is required by law. We purchased RUE when it briefly dipped beneath $40.50.