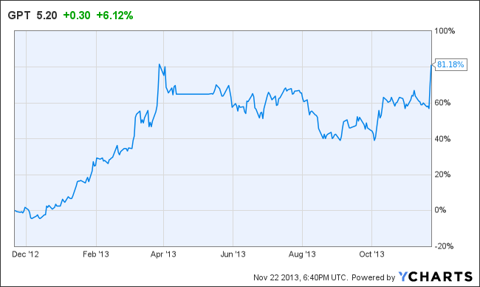 In order to hedge out some interest rate exposure, we shorted TMF against GPT, as discussed previously on Seeking Alpha. Here is the result to date: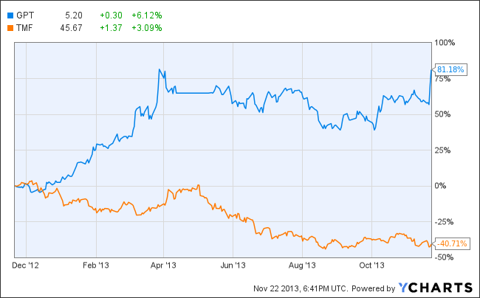 Welcome GPT investors, potential investors, skeptics and shorts, management and directors. Please use this forum as a central locale for discussion on GPT - its upside, downside, and probabilities associated with those outcomes.
My questions include
What is GPT worth?
What is the best way for GPT's key decision makers to maximize value?
But what are your questions? What would you like management to answer? What questions can fellow owners answer to help our fellow owners? My hope is for a conversation that includes all points of view, but one based upon primary research and direct, informed perspectives. Please use the comment section below for relevant questions and answers.
My hope is that I can create a substantive forum for such a discussion, but it will work best if we can kick it off with a conversation with an industry insider. To that end, I spoke with GPT president Ben Harris.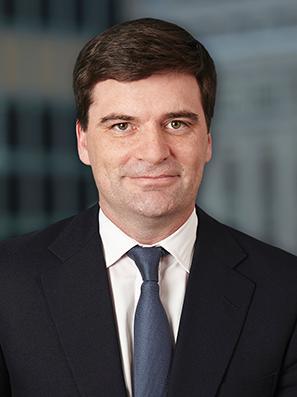 Some of the investors who took large, early positions in Gramercy around the time of your arrival are value investors. Can the precepts of value investing - buying securities in the capital markets at a discount to their intrinsic value - that brought us to Gramercy be applied to what you do in the real estate market? If so, how and why are values hidden? Where does the price system fail to recognize and price in value? Here is what Ben had to say:
A value investor in the stock market tries to buy stocks for less than their intrinsic value. We try to apply the same basic principles to the real estate market - that is, we try to acquire single tenant net leased real estate properties that we believe offer outsized risk-adjusted returns at a price that we believe is less than the intrinsic value of the asset. We specifically focus on industrial and office assets because we believe the heterogeneity of these assets gives a value investor the most opportunity to find opportunity.

The real estate market is like any other investment market. There are lots of different participants with different strategies, motivations, capital sources, etc. Many net lease investors follow formulaic strategies with "bright line" criteria around minimum lease term, tenant credit, location or asset type. We believe this kind of formulaic investing creates distortions that can be exploited by a savvy investor willing to do the work to understand where value exists.

For instance, certain net lease investors invest with very strict minimum lease terms and will reject a property solely because the remaining lease term is less than a minimum threshold, regardless of the quality of the asset or the likelihood of renewal. We think this is an overly simplistic rule that creates opportunities to acquire assets at attractive levels that do not meet arbitrary minimums, but have effective lease terms significantly longer than the primary term or have very compelling residual values that are not reflected in the market price. We look for assets that are difficult for a tenant to replicate due to a unique location, special zoning, unique physical attributes, below market rents or a significant tenant investment in the facility that all contribute to a higher probability of renewal. We look to exploit these opportunities to actively "manufacture" longer leases through lease extensions or renewals.

Our cross-dock truck terminal investments illustrate this strategy. Truck terminals need to be located in major transportation hubs in infill locations and are difficult to entitle due to their heavy truck traffic, low property taxes and noisy, 24-hour operations. This makes the entitling and construction of new terminals in major MSAs difficult and means that existing, functional terminals in in-fill locations tend to have high lease renewal rates and can also be re-leased quickly if vacated. We believe this gives these assets a "practical" lease term that is longer than the contracted lease term. When we buy truck terminals we also look to acquire terminals at a discount to replacement cost to add an additional layer of security because it increases the switching cost for a tenant to move to a new facility if one could be constructed. We recently acquired six highly functional cross-dock terminals in major MSA's in a series of separate transactions with an average lease term of approximately 6 years. All are leased to national carriers, all are in in-fill locations and all were purchased at a significant discount to replacement cost. While there is always a risk that a lease may not be renewed, we saw an opportunity to assemble a portfolio of high quality truck terminals in major markets where the market wasn't properly valuing the "stickiness" of tenants in these types of assets. We saw an opportunity to acquire a portfolio where the intrinsic value - in this case the likelihood of lease renewal - wasn't reflected in the price of the asset.

Another relative value trade that we have been looking to exploit is the relationship between contract rents and the underlying market rents for the assets we acquire. Many net lease REITs put significant emphasis on tenant credit and lease term and comparatively less analysis of contract rents per square foot versus market rents. This strikes us as strange because many net leased assets are created in sale leaseback or build to suit transactions where rent levels are set on terms that often do not reflect the underlying market rent for similar space and can result in contract rents that diverge, sometimes significantly, from market rents for similar space in the same market. We also see this in how transactions are publicized - significant emphasis is put on lease term and tenant credit with rarely any mention of rent per foot or other traditional real estate metrics used by typical real estate investors. We believe this presents a significant opportunity (and significant risk) because we believe in today's yield-starved environment net lease investors are showing a bias towards near term yield at the expense of long term value. We think there are great opportunities to take the opposite side of that trade - in other words, we think people are overpaying for lower quality, incrementally higher cash flows in the form of over-rented net leased assets and, conversely, undervaluing higher quality more sustainable cash flows in the form of net leased assets leased at under-market rents or assets with compelling residual values.

As an example, a FedEx (NYSE:FDX) warehouse trades at a given cap rate based upon its lease term and not on whether its rents are at, above or below market. We look to acquire the FedEx warehouses in good markets where the rents are at or below market. We acquired a warehouse in the Philadelphia MSA where the lease had recently been renewed and rolled down to market levels. We could acquire this property at the same cap rate as other FedEx warehouses with contract rents well in excess of the rents that you could get from a new tenant. The difference in return will not be apparent right away - both assets pay the same yield during the primary term. Over time however, the asset with below-market rents will have a higher likelihood of renewal and will also be able to attract a new tenant at similar rent levels if the tenant doesn't renew. This cash flow is inherently more durable and it can be acquired at for the same price as the over-rented asset.

The office building we purchased in Morristown, New Jersey, is another good example of hidden value in the underlying real estate. We acquired a Wells Fargo branch office building at a 7.2% cap rate ($117 per square foot) in a wealthy suburb of New York City. The original Wells Fargo rents were established in a portfolio sale leaseback where rent was allocated on a per foot basis without any regard for market rent for individual assets. While a 7.2% cap rate seems to be in-line with other Wells Fargo assets that trade in the market, Wells Fargo is currently paying a rent that is significantly below market - we just leased the portion of the building not occupied by Wells Fargo for $13 per square foot NNN versus $6 per square foot NNN for Wells Fargo. The Wells Fargo lease runs through 2024 and has renewal options so we will not be able to monetize the value of the space right away, but over time, the intrinsic real estate value of the asset, which we believe is significantly higher than the $117 per square foot that we paid, will begin to be reflected.

Another area where we look for value investments is in specialized assets that fall outside traditional net lease investor parameters but offer unique utility to a tenant or an industry. These assets can offer very compelling risk-adjusted returns but may not be understood by the broader market or are out of bounds for most investors. As an example, we acquired an auto auction facility located in South Dallas and leased to KAR Auction Services for 16 years. The property is basically a 175 acre car dealership and is used to conduct and process wholesale auto auctions. We think KAR is a great company and Dallas is one of their top markets. As an added bonus, the property is a 175 acre site with all necessary infrastructure located in close proximity to the recently constructed Union Pacific intermodal terminal making it a potentially interesting industrial redevelopment play if KAR doesn't renew their lease at the end of the term. This asset doesn't fit in traditional investor baskets - I am not aware of any REIT with an allocation to auto auction sites - but by approaching the asset with an open mind, and doing the work to understand the Company, the site and the redevelopment potential, we found tremendous value that could be acquired at a very attractive yield.
Ben, thanks for taking the time to discuss value investing in real estate. I am deeply grateful for your help with this blog as well as your leadership at Gramercy. I look forward to discussing the public REIT market and the benefits of that structure with Gordon on this blog in the future.