So it was November of 2008 in the depth of the financial crisis. I had a home on the upper east side of Manhattan with a wife and new baby. Each morning I walked to work at a new hedge fund in midtown called Rangeley Capital on the 17th floor of the Fuller Building between Park and Madison. I'd usually slip into the lobby of the Four Seasons next door for a coffee and fresh baked corn muffin before I checked in on the markets.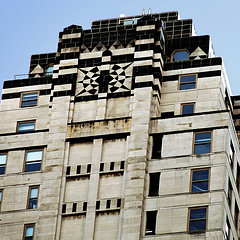 Nothing in the market was doing that well. The voters were turning against capitalism and it was hard to blame them. People made grim jokes about how our windows, unlike those in more modern buildings, could open all the way. I was busily pouring every last dollar that I managed into senior secured debt at prices such that they would have broken even if the US default rate hit 100%. We bought Starz (now STRZA) at -$1.30 per share net of the DIRECTV (DTV) holdings of Liberty. The problem was that there was such a high hedge fund concentration of owners that had to sell, the price of Liberty plummeted towards $10 despite holding securities worth many times that price. But it would take a while for everything to sort itself out.
I really did not have any plan B worth mentioning. I could become a professional card player. I could join the circus and perform my knife throwing tricks. However, I lacked the escape that many friends enjoyed. As bankers were getting driven out of work, many discovered that they had always hated finance and were thrilled to be setting off on new careers as crossword puzzle writers and so forth. I, on the other hand, loved finance and didn't seriously consider career alternatives. I wanted this to work so I determined to hang in there through at least 2012 come what may. I would consider no other future until I had a statistically significant run of this new fund.
Walking home each tough day, I would avert my eyes from the giant tickers flashing from the Bank of America (NYSE:BAC) and ING Groep (NYSE:ING) branches. Incidentally, those huge outdoor tickers proclaiming one's share price were very bad signs. Both Lehman Brothers and Wachovia had recently installed new ones before imploding. But when I glanced at my Blackberry (NASDAQ:BBRY) prices would sometimes catch the corner of my eye by accident. Ares Capital (NASDAQ:ARCC) and KKR Financial (KFN) are both down… again. How could that be? It makes no sense. I guess that prices can do anything for a while.
And that was right about the time I would turn the corner and face Quiznos. The Quiznos had a big neon sign "MMMM… TOASTY" and at eye level a poster advertising jobs at Quiznos,
"THINK ABOUT YOUR FUTURE"
The poster showed a guy wearing a green apron and holding up a massive sandwich next to a face that looked exactly like me. It was haunting. I never before saw anyone including family member who looked more like me. His blue eyes bore into my soul. He smirked a little. He smugly showed me the sandwich that he had freshly made. He beckoned me in. If the loan market and stock market had plummeted again that day, I would shudder as I smelled my future. I tried to break his eye contact, but could not resist a defiant glare back and an, "F your offer, future Quiznos me, DTV is worth at least $40 or $50 per share and I can buy all I want under $25. How do you expect that to last, Quiznos me of the future, huh? Just you wait - AT&T (NYSE:T) will step in and buy it and then who will be standing there smirking?" I was cracking up and could not take that much more of him. I thought about asking for the poster, so that I could put it up at work to permanently taunt my working hours, to stay under his menacing watch.
It took a full half year for everything to really start to work, six months of hitting the gym, wandering through Central Park at night, and staring down the future Quiznos me every day before the losses were made back, before it became clear that the default rate was well under 100%, and that -$1.30 per share of Starz turned out to be a good price. DTV never got bought by T, but it tripled nonetheless and DISH might be looking at a deal as soon as this coming weekend.
Meanwhile, every last alternative employer disappeared - Bear Stearns gone, SAC poof, Goldman (NYSE:GS) has friends in high places, but its prop desk can only go out in drag. There was never any point in finding job security because it does not exist. And Quiznos? The poster is gone, they just shut down locations across Manhattan and today they prepared to file for bankruptcy-court protection, unable to pay back their $570 million of debt. Think about your future, Quiznos guy.
Disclosure: The author is long STRZA, DTV.
Additional disclosure: Chris DeMuth Jr is a portfolio manager at Rangeley Capital, a partnership that invests with a margin of safety by buying securities at deep discounts to their intrinsic value and unlocking that value through corporate events. In order to maximize total returns for our partners, we reserve the right to make investment decisions regarding any security without further notification except where such notification is required by law.