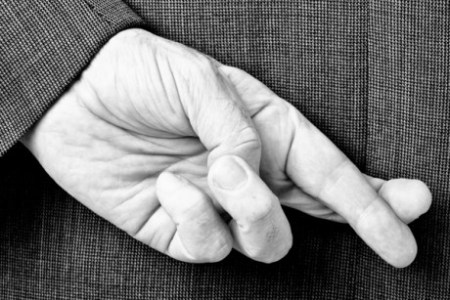 There are some statements that are always lies, because they involve topics that never tend to arise when the statements are true. Two of my favorite examples are liquidity and fidelity. Deadbeats and cheaters find themselves discussing these respective topics with great frequency, typically denying illiquidity and infidelity. However, if you have plenty of cash and are faithful to your spouse, the topics never really have any reason to arise. Therefore, for all intents and purposes, it is a safe assumption to distrust anyone who needs to spend a lot of time promising, swearing, and guaranteeing just how liquid and faithful he is. Sure, there must be counterexamples somewhere. But the point is that this distrust is a useful working assumption. If you require any further evidence to draw your attention to such lies, listen for the liar to add an "honestly" (as honesty itself rarely comes up in conversation with actually honest people. Honest people know that the truth is true, and thus it requires little amplification).
If you are interested in learning more about evasion and deception detection, I would recommend Business Intelligence Advisors (BIA) for training. I have benefitted enormously from the training that they gave me. It makes listening and reading more fun because it gives you a winnable game to play. I will not give away any of their secrets but will mention a little about the theme of the education that I received from BIA. Telling the truth is simple and lying is more complicated. There are tricks that an analyst can use that exacerbate the difficulties involved in lying. These tricks make lies so noticeable that you can catch lies so consistently that you will almost feel sorry for liars. Almost.
If you would like to read further, my favorite books on the topic include Detecting Lies and Deceit, Liespotting, The Unspoken Dialogue, Spy the Lie, and Effective Interviewing and Interrogation Techniques. I have gone through these books as well as several others that focus more specifically on accounting fraud so that I could synthesize my own system for fraud detection - in order to play defense on the long side and offense on the short side.
The core assumption of my efforts at fraud detection is this: the basis of fraud is not evil or greed or any such permanent human condition. Instead, the basis of fraud is pressure. It is a specific kind of pressure: extreme responsibility for certain outcomes out of proportion to the authority and control over those outcomes. Once this pressure is established the next variable is this: little flexibility over decisions, but lots of flexibility over how decisions are subsequently described, communicated, and accounted. Then the environment is prepared.
In every one of the many frauds that I have followed over the past decade, there were different variations on the following pattern. An executive knows that he could be fired for a failure and lavishly compensated for a success in period of time that is so short as to lack any statistical significance. He knows that it is all a matter of luck whether he succeeds or fails. It is not fair and he knows it. His ego is at stake as is his very livelihood. There is not much that he can do except… except in describing the outcome. No lie is required, only exaggeration and clever omissions. Nothing more as of yet. However, in subsequent quarters, the newly exaggerated claims have to be continued - and expanded - for the sake of logical continuity. Then at some point, probably not even a point that our executive notices, the exaggeration becomes a lie. That night, he goes to bed and sleeps the sleep of the just because he knows that what is said is something that he can make true in the future. By the time anyone notices, he can reconnect his claims with reality and no one will get hurt.
The antithetical job of preventing instead of uncovering fraud is to take apart this environment. Setting aside the few angels (who will not break under massive pressure) and demons (whose evil needs no such pressure), most people lie if given the right circumstances, but will also tell the truth if the circumstances are changed. First, forgive fixable mistakes. Have a system and culture that casually, constantly, comfortably expects mistakes to be aired and corrected in the open. Lead on this by airing one's own failures in front of family, friends, and colleagues. Secondly, make hiring, firing, and compensation decisions that are directly related to factors under an employee's control. This requires that one gives up a lot of discretion so that enough authority is transferred to people with responsibilities that they will be judged on. Thirdly, borrow the Goldman Sachs (NYSE:GS) mantra to "be long-term greedy" because long-term greed places a great value on reputation and relationships that come with a radically honest culture. Fourth and finally, give decision makers no flexibility over the accounting for their successes and failures. In the case of money managers, portfolio management and fund administration should be two wholly separate functions. If someone allocates capital, they should have no role in administering that capital.
All of that brings us to the following release from (NQ):
NQ Mobile Inc. Announces Management Changes

BEIJING and DALLAS, Aug. 15, 2014 /PRNewswire/ -- NQ Mobile Inc. ("NQ Mobile" or the "Company") , a leading global provider of mobile Internet services, today announced certain changes to its management team.

KB Teo, Chief Financial Officer of the Company, has resigned from his position for family reasons effective Friday, August 22, 2014. Dr. Vincent Wenyong Shi, Co-Founder and Chief Operating Officer of the Company, will take over as Acting Chief Financial Officer until a suitable replacement is found.

The Company noted that Mr. Teo's departure is not related to the Company's operations, policies, or accounting practices and is due to family reasons. The Company values the contributions made by Mr. Teo during his tenure with the Company.

"I would like to thank KB on behalf of the Board of Directors and management team for his service over the past year," commented Dr. Henry Lin, Chairman and Co-Chief Executive Officer of NQ Mobile. "He has been very supportive of the Company and we wish him well."

The Company remains fully confident in all of its previously reported financials and filings as to their accuracy and does not expect any material changes.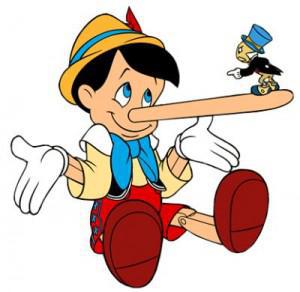 If you have studied evasion and deception with BIA, your attention was probably grabbed by at least seven different aspects of this press release. It is like a "Where's Waldo?" illustration of nothing but Waldos. But the short version is that these are not the kind of statements that ever tend to be said when they are true. The people in question are under enormous pressure. The whole situation started innocently enough with exaggerations. They had a lot of discretion in terms of how they described and accounted for their business. Now, they are working tirelessly at the job of maintaining logical continuity between their prior claims and the current reality. It is hard work that only gets harder with time and scrutiny.
Disclosure: The author is short NQ.
Additional disclosure: Chris DeMuth Jr is a portfolio manager at Rangeley Capital, a partnership that invests with a margin of safety by buying securities at deep discounts to their intrinsic value and unlocking that value through corporate events. In order to maximize total returns for our partners, we reserve the right to make investment decisions regarding any security without further notification except where such notification is required by law.
Disclosure: I am/we are short NQ.
Additional disclosure: Chris DeMuth Jr and Andrew Walker are portfolio managers at Rangeley Capital. Rangeley invests with a margin of safety by buying securities at deep discounts to their intrinsic value and unlocking that value through corporate events. In order to maximize total returns for our investors, we reserve the right to make investment decisions regarding any security without further notification except where such notification is required by law.