What is a vote worth?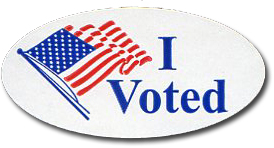 The preening implies that it is mighty impressive.
However, voting is among the least virtuous, least productive activities that still manages to make people feel smug. It is an activity, but it is not quite an accomplishment. I would just as soon wear an "I flossed" lapel sticker. There is nothing wrong with voting, but in a stable democracy, it is not a heroic act.
Does It Even Matter?
Probably not.
The odds of an individual American voter determining a presidential election can be as high as 1 in 10 million in some states to 1 in 100 million in others. In my state of Connecticut, an uncompetitive one in presidential politics, the chance can be safely rounded down to zero. Public opinion surveys indicate that average voters grossly overestimate their significance, estimating the chance that their vote decides presidential elections at a 0.1% chance, off by a factor of at least 10,000.
If You Don't Vote, Who Will?
People very much like you.
For example, 44% of non-voters approve of President Obama, which is 1% different than the approval among all adults. Non-voters have similar views to voters regarding immigration. Non-voters are not particularly enthused by either major party, with views similar to other adults. Views on Obamacare are similar. They are similarly skeptical about government performance. There are concerns that the government is wasteful and inefficient, but these concerns are shared by voters. Non-voters are not very interested in politics or elections; their level of apathy is high while their level of information is low. Is there a particularly important principle at stake that says people should make decisions when they don't care or know much about those decisions? Maybe there is. But meanwhile, their decisions would not impact the outcomes of elections too much.
So What is a Vote Worth?
It is hard to quantify, but much of the value is from one's sense of purpose and identity. It also can matter if you have friends in elected office. I am ably represented in our state legislature by a friend who I hope runs for higher office someday. While he is a good man and a fine legislator, he will have a rough time in the inevitable poor-athon, in which candidates compete on the basis of which one had the more pitiful background. Yes, he was born into wealth and yes he added to that problem by sound stewardship. But his politically toxic problem will be his 72-foot ketch.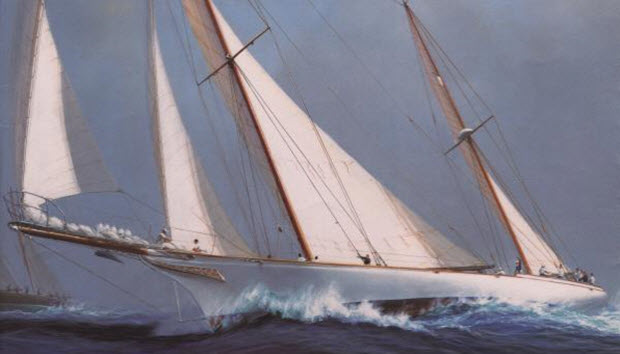 I will propose an amicable solution in which I will not only support his campaign, but also borrow the ketch until things cool off after Election Day.
Selling Votes (Legally and Ethically)
Selling political votes has enough legal and ethical shortcomings to be discouraging. However, selling shareholder votes is legal, ethical, and can be lucrative. In fact, shareholder votes occasionally have a negative cost. In the case of Gray Television, their common stock, GTN is identical to their class A common stock in almost all respects except that the "A"s have ten votes each. GTN costs $12.55 while GTN.A costs $10.99, valuing each vote at about -$0.17. Based upon recent deal prices, GTN.A is worth at least $16 and could be worth much more over time. GTN is worth no more than GTN.A. One can write calls on GTN to capture some premium and hedge some GTN.A risk.
Betting on 2016
If you want to bet on the winner of the 2016 presidential election, you can do so on prediction markets. If you want bet that it will be extremely expensive, you can do so with GTN. GTN reaches 8% of US television households in forty-four markets. Those markets include swing states such as Ohio, Virginia, North Carolina, Florida, and Colorado. Last year, only 15% of GTN revenue was political, but that could grow materially over the next year. One of Hillary Clinton's top advisors estimated that their campaign will cost approximately $1.7 billion. The Republicans will probably have to come close to matching that number to remain competitive. So, overall the campaigns could cost at least $3 billion. Some fundraisers expect the total to reach $5 billion.
Why Is There So Much Money In Politics?
There is less money in politics than there is in potato chips, so it is unclear whether this is a misplaced priority.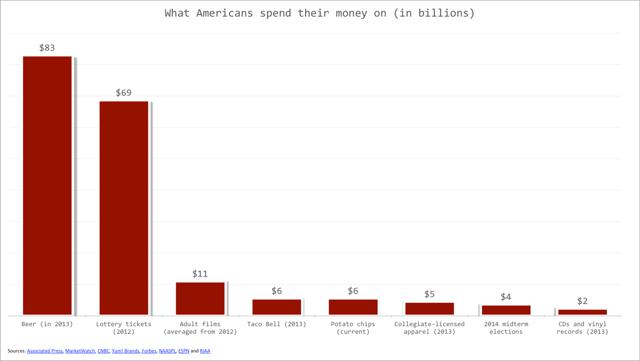 The winners could take half of what you make next year and heavily regulate much of the other half, so probabilistically, spending a few percent of one's earnings on attempting to influence the outcome could make sense to a lot of people. But even if there is not too much money in politics, there is a lot. One reason could be that elections have become increasingly competitive since the mid-nineties.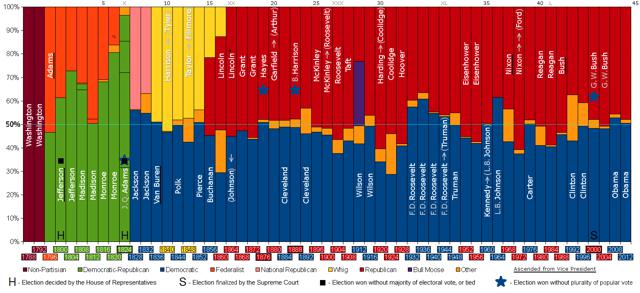 There are probably going to be few Goldwaters and Humphries in the future, because political statistics and analysis have drastically improved. Today, you would know if you were Goldwater or Humphrey. So would primary voters. The result of a modern political polls is that primary voters can make more strategic choices and candidates can moderate unpopular positions. More and more elections are likely to be close. In 2016, the prediction market currently estimates Hillary Clinton's chance of winning the election as 50%. The prediction market also estimates the chance that the Republicans hold onto the Senate as 50%. Parity is expensive because no one can afford to coast and no one should shrug and give up early. There is no shortage of media companies that could benefit from our current state of expensive parity - one might look to Time Warner Cable (TWC), DIRECTV (NYSE:DTV) CBS, SSP, or JRN for other long ideas. But based on its price, value, and exposure to key political markets, GTN is my current favorite.
Disclosure: The author is long GTN.A, TWC, DTV, SSP, JRN.
Additional disclosure: Chris DeMuth Jr is a portfolio manager at Rangeley Capital. Rangeley invests with a margin of safety by buying securities at deep discounts to their intrinsic value and unlocking that value through corporate events. In order to maximize total returns for our investors, we reserve the right to make investment decisions regarding any security without further notification except where such notification is required by law.