Summary
HNT is getting bought in a deal valued at $72.16 per share
The deal will probably close early next year
HNT shareholders can capture a 14% annualized return
Deal Target Description
Health Net (NYSE:HNT) provides managed health care services through health plans and government-sponsored managed care plans.
Deal Terms
On July 2, 2015, Centene (NYSE:CNC) and HNT announced a definitive deal in which HNT shareholders will get 0.622 CNC shares and $28.25 in cash for each share of HNT.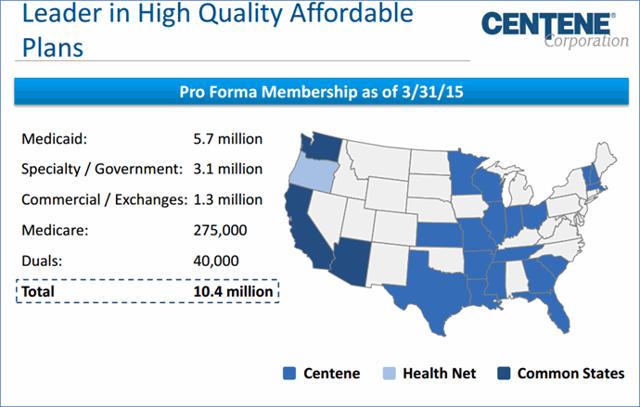 Deal Financing
The deal is not conditioned upon receiving financing. HNT worked with JP Morgan (NYSE:JPM) on the deal.
Deal Conditions
The deal is subject to approval by CNC and HNT shareholders, antitrust approval, approvals by relevant state insurance and healthcare regulators and other typical closing conditions. State approvals are needed in Arizona, California, and Oregon.
Deal Price
The deal price is within the range of historically comparable transactions.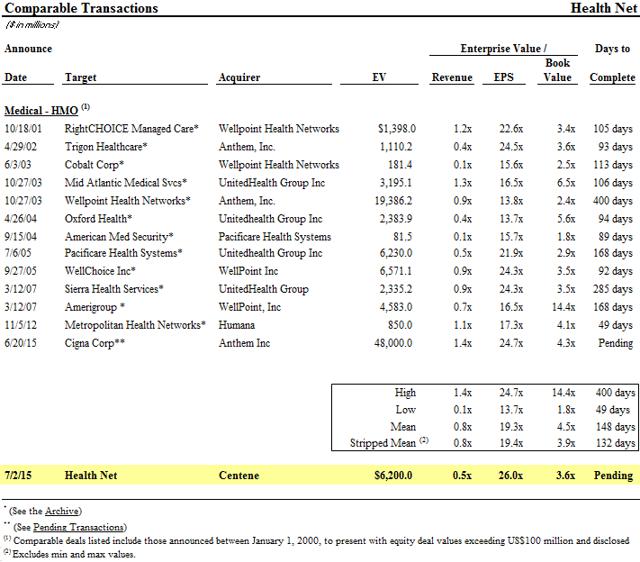 Assuming that the deal closes around early February of next year, the annualized net return will be around 14%.
Event Driven Investing with Equity Options
This is probably best set up using equity, but one option worth considering writing is the January 15, 2016 $67.50 HNT put. It last traded for $5.10, but has a wide bid/ask spread with a bid of $3.30 and an ask of $7.00.
Conclusion
HNT is an attractive long opportunity.
Disclosure: I am/we are long HNT.
Additional disclosure: Chris DeMuth Jr is a portfolio manager at Rangeley Capital. Rangeley invests with a margin of safety by buying securities at deep discounts to their intrinsic value and unlocking that value through corporate events. In order to maximize total returns for our investors, we reserve the right to make investment decisions regarding any security without further notification except where such notification is required by law.